SGInnovate Helix Immersion Programme
SGInnovate's Helix Immersion Programme (HIP) is a one-year, full time on-job-training programme for biomedical research and academic professionals.
As an on-job-training programme, the HIP will provide a platform for candidates to gain experience in the industry, and apply your research expertise to commercial biotech operations. Applicants may select from roles available with our programme partner companies in a variety of biotech domains (not limited to the below listed):
Chemistry and Manufacturing Controls
Drug Metabolism and Pharmacokinetics (DMPK) / Absorption, Drug Metabolism, Excretion – Toxicity (ADME-Tox)
Pharma-level (Therapeutics) project management
Regulatory affairs
Interested parties may apply for open roles all-year-round, but submissions will be assessed on a first come, first served basis.
Check out the roles available on the next tab, or find out more about how the programme works below.
 

Gain hands-on working experience with fast-growing biotech companies

 

Receive monthly stipends of up to S$7,000 throughout the fellowship

 

Access further career opportunities in the biotech industry upon completion with support from SGInnovate
Learn more about the roles currently available for application through HIP (job descriptions are accessible on the tab to the right). 

Each of these roles must be completed through a full-time, 12-month programme.
Submit your application via SGInnovate's application form. You will need your updated CV, as well as scanned copies of educational certificates (tertiary and above) and other relevant supporting documents.
SGInnovate will screen all submissions, and reach out to shortlisted candidates to arrange a first interview with our programme managers. 
Following the first interview, SGInnovate will arrange further interviews for candidates assessed to be suitable with the relevant industry partner companies.
Successful candidates will complete their 12-month fellowship with the assigned industry partner company.

Full-time roles with the industry partner company may also be available upon completion of the programme.
If you were not successful in your first application – do not fret!

New roles will be made available throughout the year – do check this page regularly for further updates. You may submit applications for new roles via the same process.
Who Should Apply?
Profile​
Biomedical research professionals who have an interest in the following biotech areas:
ADMET- Toxicity
Chemistry and Manufacturing Control
Pharma-level Project Management
Clinical & Regulatory Affairs
The HIP is currently only open to Singaporeans / PRs. International students interested in Deep Tech industry experience may explore our Summation programme.
Skills
Possess research or lab-based background in at least one of the following fields:
Biochemistry/Pharmacology/Life sciences
Analytical sciences
Chemistry/Chemical Engineering
Qualifications & Experience
Has:
MSc, with at least 2-5 years of lab-based or academic experience, OR
PhD in related fields, and have recently graduated, OR
PhD in related fields, with 2-5 years of lab-based or academic experience
Please check FAQs for more details
The Helix Immersion Programme is open for applications.
APPLY NOW
---
Learn more about how Deep Tech is driving healthcare forward through SGInnovate's other initiatives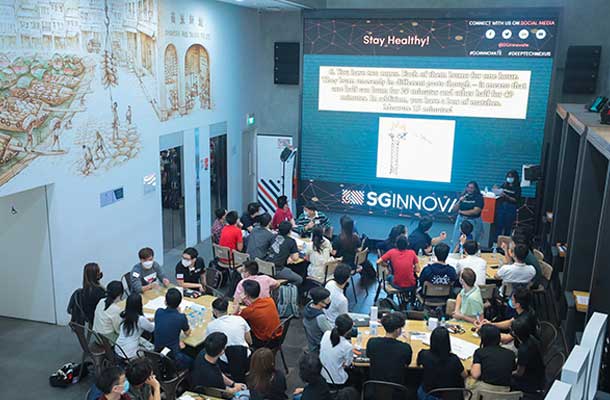 Events & Activities
SGInnovate regularly conducts events such as fireside chats, panel discussions and startup pitch activities and more. Join us at our upcoming events and be a part of the latest conversations in biotechnology.
Explore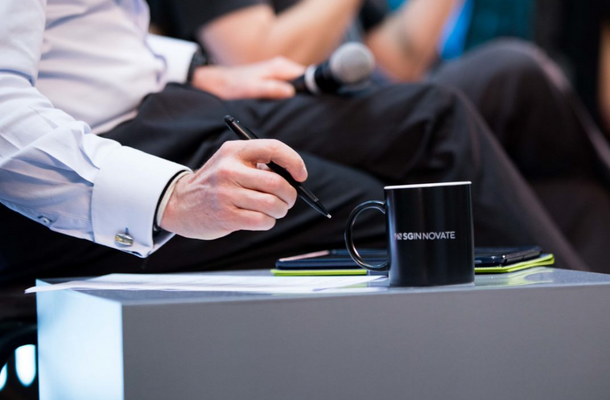 Stories & Insights
Gain new perspectives about the biotechnology industry and learn more about how innovative companies are pushing frontiers with the use of emerging technologies.
Explore
Frequently asked questions
The Helix Immersion Programme aims to produce talent that will help drive growth of the biotechnology sector in Singapore. For this phase of the programme, we are looking for talent to be trained in Drug Metabolism & PharmacoKinetics (DMPK)-Toxicity, Industry-standard Project Management, Chemistry & Manufacturing Controls (CMC) & Process Engineering, and Clinical/Regulatory Affairs.
You may apply for the programme directly through SGInnovate's application portal. Descriptions for each role are available on our website.  
Yes, you must be able to commit to a full-time traineeship role over a period of 12 months to enrol in the Helix Immersion Programme.  
You will need to prepare your CV for upload to the application portal. CVs can be uploaded as either Word or PDF files.  
Role rotations may be possible, but will have to be discussed and agreed upon by the Helix Immersion Programme industry partner, SGInnovate and the individual trainees. 
Trainees will be assigned a mentor / mentors for the duration of the traineeship, with regular progress-check and feedback sessions scheduled. Formal updates between the industry partner mentor, SGInnovate and the trainee will also be scheduled on a quarterly basis.  
No certificates will be issued. However, the traineeship provides multiple platforms to build industry knowledge and experience, as well as key networks with established industry partners.  
SGInnovate and the Helix Immersion Programme industry partners will shortlist candidates for interviews based on the CVs submitted. 
Shortlisted candidates will then be co-interviewed by SGInnovate and the industry partners for the final selection and placement of the trainee.  
No additional tests or assignments will be involved in the selection process. 
SGInnovate and the Helix Immersion Programme industry partners expect to confirm and award the traineeships with selected candidates within 3 months after closing of applications. 
The stipend will be paid directly to you by the industry partner company. It will not include CPF contributions.  
The list of employee benefits available to trainees will be subject to the agreement signed by SGInnovate and the industry partner company. SGInnovate will ensure all agreements are aligned with standard terms and conditions for traineeships according to Singapore Law. 
In the event of early termination of the traineeship, there will be a collective appraisal and decision-making process between SGInnovate and the industry partner company to determine if a penalty will be levied.  
Full-time roles with the industry partner company may be available to trainees upon completion of the programme, but are not guaranteed. Offers of full-time roles will also depend on additional factors including the performance of the trainee throughout the programme, company priorities etc.  
SGInnovate will work with the individual trainee and industry partner companies to understand why full-time roles were not offered. Where performance of the trainee is not a factor, SGInnovate will continue to assist trainees in their search for appropriate placements through its Talent network and resources.  
See All
Applications are open for the Helix Immersion Programme.
Find a job role that suits your development in the next tab, "Roles Available".
APPLY NOW