Overview
SGInnovate's Corporate-Startup Pitch Event series brings together a community of Corporates, CVCs and Startups for thought leadership discussions, knowledge sharing and networking.
In this edition, we will be focusing on the AgriFood industry. Over the last few years, Singapore has made trailblazing moves to establish itself as a leader in food innovation- from alternative proteins to cell-based ingredients. Discover several up-and-coming startups leveraging frontier technologies that address high priority industry themes including: Next Generation Foods – Production of food and beverages we know and love using emerging technologies. Enabling Technologies – Novel methods that contribute to the sustainability of our food system. These range from technologies that make alternative protein production cheaper and more efficient to supply chain traceability solutions. Functional & Healthier Ingredients – Pivotal in helping food producers meet nutritional targets and expand product offerings. Programme: 3:00pm - 3:15pm: Industry insights by Jennifer Morton, Corporate Engagement Manager at Good Food Institute APAC 3:15pm - 4:00pm: Startup Pitches Pitching Startups: - Allium Bio (www.alliumbio.com) - Ants Innovate (www.antsinnovate.com) - Dietrics (www.dietrics.sg) - DiMuto (dimuto.io) - ImpacFat (www.impacfat.com) - Prefer (prefer.bio) - tHEMEat Company (www.themeatsg.com)
Schedule
Date: 18 Jul 2023, Tuesday
Time: 3:00 PM - 4:00 PM (GMT +8:00) Kuala Lumpur, Singapore
Location: Online
Speakers
Speaker's Profile:
Jennifer Morton, Corporate Engagement Manager, GFI APAC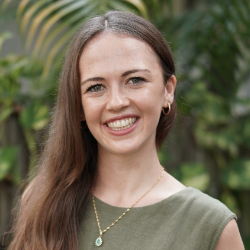 Jennifer is a Corporate Engagement Manager at GFI APAC and leads the team's work with the private sector in the region to accelerate the growth of alternative proteins across the supply chain. Prior to joining GFI, Jennifer was a strategy consultant in the Netherlands and Singapore focused on sustainability, social impact, and agriculture. She has worked with multinationals, SMEs, agribusinesses, governments, financial institutions, and nonprofits in the agriculture sector and beyond to design sustainability strategies, develop inclusive supply chains, and forge multi-stakeholder partnerships for systems-wide change.