Overview
Hear from experts about the considerations and challenges to adopting and scaling cost-effective healthcare innovations in digital healthtech.
Join our event for trial design, planning, implementation guidelines, process re-design, cost-effectiveness, robust quality, and scalability of healthcare tech. Learn about integrating digital healthtech into the healthcare system.
Only 10 to 30 per cent of healthtech innovations are clinically adopted in a widespread and long-term manner. Underlying this statistic, there is a need for clearer pathways and frameworks for new innovations in digital health to be adopted clinically, with impact and sustainability. Programme: 3:15pm – 3:30pm: Registration 3:30pm – 3:45pm: Welcome Address by SGInnovate and NHIC 3:45pm – 4:30pm: Sharing on Cutting-edge Clinical Study Designs and Methods for Effective Implementation of Potential Healthcare Innovations by Dr Khin Lay Wai, Principal Epidemiologist – Clinical Research and Innovation Office, Tan Tock Seng Hospital 4:30pm – 5:00pm: Sharing on IHiS Solution Review Process by Henry Kang, Director – Innovation Capabilities Enablement, Integrated Health Information System (IHiS) 5:00pm onwards: Networking and One-on-One Clinic Sessions About the Partnering Organisations Centre for Healthcare Innovation (CHI) CHI developed the CHI Evaluation Framework (CHIEF) in consultation with the Public Healthcare Clusters in Singapore to ensure robust quality and scalability assessment of healthcare innovations to transit to adoption in various care settings. IHiS Innovation Capability Enablement (IHiS ICE) The ICE unit aims to facilitate innovation between the Public Healthcare Clusters and Industry Partners and spearheads the development of foundational innovation enablers to facilitate and support the Clusters and Industry Partners to collaborate. National Health Innovation Centre (NHIC) NHIC is a nationally-appointed Innovation and Enterprise Office that works with Public Health Institutions across Singapore to identify and commercialise promising clinical innovations. NHIC's programmes catalyse the translation of clinical innovations towards commercially viable products that benefit patients and healthcare. SGInnovate SGInnovate is Singapore's catalyst for opportunities in the global Deep Tech Economy. We forge new pathways for tomorrow's promising talent and emerging tech startups by accelerating the translation and commercialisation of research. Closely aligned with Singapore's Research, Innovation and Enterprise (RIE) plan, our work is centred on three key pillars: building and growing a robust Deep Tech talent pipeline, engaging Deep Tech communities to advance corporate-startup collaboration and investing in as well as supporting disruptive companies. To drive maximum impact, our our efforts are prioritised around frontier technologies in the strategic areas of Sustainability, Healthcare & Biomedical Sciences, AgriFood and Advanced Manufacturing. SGInnovate is a private-limited company wholly owned by the Singapore Government.
Schedule
Date: 06 Jul 2023, Thursday
Time: 3:30 PM - 5:00 PM (GMT +8:00) Kuala Lumpur, Singapore
Location: 32 Carpenter Street, 059911
Speakers
Speaker's Profile:
Dr Khin Lay Wai, Principal Epidemiologist, Clinical Research and Innovation Office, Tan Tock Seng Hospital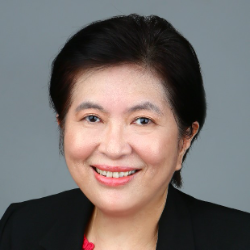 Dr. Khin Lay Wai is a Principal Epidemiologist at Tan Tock Seng Hospital's Clinical Research and Innovation Office (CRIO). With a medical degree and a master's from NUS Yong Loo Lin School of Medicine, she trained in epidemiology, clinical trials, and biostatistics at top institutions in the USA. She has worked as a quantitative epidemiologist in prestigious healthcare organisations, publishing numerous articles in high-impact journals. Her expertise lies in evaluating treatment strategies, biomarkers, diagnostic tests, healthcare programs, and digital health technologies. She also offers consultation on regulatory submissions and contributes to novel prognostic modelling and clinical trial experience, including MedTech evaluations.
Speaker's Profile:
Henry Kang, Director, Innovation Capabilities Enablement, Integrated Health Information System (IHiS)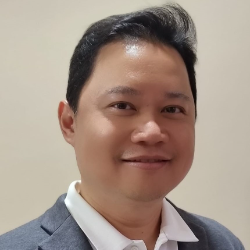 Henry Kang is the Director of Innovation Capabilities Enablement (ICE) at the Integrated Health Information Systems (IHiS), a HealthTech Centre of Excellence for Innovation member that enables HealthTech innovations across the healthcare ecosystem to benefit public healthcare. He leads a team that develops enablers to support and catalyse HealthTech Innovations. Henry had spent more than two decades in the public HealthTech domain and took on various roles spanning areas in planning, project/programme management, solution development/product management, data privacy management and others. Henry holds a Bachelor of Computing majoring in system development from the Monash University in Australia, a Master of Business Administration from the University Western Australia Business School and a Master in Gerontology from the Singapore University of Social Sciences.