Overview
A 1 day short course to explore a brief history of Web 1.0 and 2.0. You will also learn about Web 3.0; the direction of Web 3.0 as it is being developed, and the core and the limitations of Web 3.0 from not only the technology perspective, but from an ownership perspective.
Course Description & Learning Outcomes
Introduction to Web 3.0 is delivered by Ngee Ann Polytechnic and co-marketed by SGI. The internet has gone through two successful iterations: Web 1.0 during the 1990s and Web 2.0 during the early 2000s. Web 1.0 was a collection of decentralised static webpages where there were distributed computers directly communicating with each other. It was a "Read-only" era: you could read but could not easily add your own voice to other's content. In Web 2.0, internet was transformed from read-only content to content that allowed interactivity, social connectivity, and user-generated content. Web 3.0 promises to hand some ownership back to users by rewiring how the web works. Web 3.0 envisions to adopt some tenets of decentralisation seen in Web 1.0 together with the functionality of Web 2.0 that is community driven and self-governing. While all of this sounds great, it does not come without its own drawbacks. This programme is offered in partnership with Singapore FinTech Association (SFA) and will be co-delivered by SFA and Ngee Ann Polytechnic. Learning Outcomes: 1. The evolutions of Web 1.0, Web 2.0 and Web 3.0 2. Be acquainted to: - Machine learning, big data web application - AI driven bots based on machine learning - Augmented reality, metaverse virtual world 3. Web 3.0 and the use of decentralised technologies such as blockchain and inter planetary filing system (IPFS). 4. Web 3.0 and the rise of cryptocurrencies such Bitcoin and Ethereum. This would also include Decentralised Finance (DeFi), Non-Fungible Tokens (NFT) and even Decentralised Autonomous Organisations (DAOs) which help groups of people organise and make decisions. 5. Web 3.0 inefficiencies such as high energy consumption, scams, and scalability. 6. Government policy with regards to treating ownership of your own data together with protecting privacy that are being developed as well.
Recommended Prerequisites
Entry-level executives and officers in the banking and finance industry who wish to: - Equip themselves with essential FinTech concepts - Keep up-to-date with emerging technologies and to know how these technologies will impact their work and the industry - Discover ways to prepare themselves for digital transformation
Pre-course instructions
Lesson plan will be sent to participants approximately 1 week before course starts.
Schedule
Date: 03 Oct 2023, Tuesday
Time: 9:00 AM - 6:00 PM (GMT +8:00) Kuala Lumpur, Singapore
Location: 80RR, 80 Robinson Road, 068898
Pricing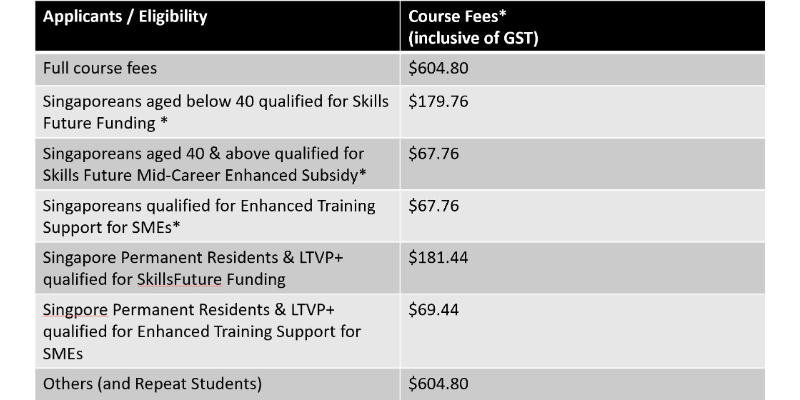 Partners