Overview
Uncover the secrets to successful leadership in the realm of innovation during this captivating fireside chat with Mihir Pershad, the visionary CEO of Umami Meats.
Join us as Mihir delves into his experiences and provides invaluable insights on navigating the challenges and opportunities inherent in leading ground-breaking advancements in the food industry. As the driving force behind Umami Meats, Mihir and his team are revolutionising seafood by crafting cultivated fish that are both delectable and sustainable. Drawing from his academic background in protein biochemistry and a career centred around commercialising deep tech innovations, Mihir has emerged as a trailblazer at the intersection of biotechnology and aquaculture. Throughout this event, Mihir will share his unique perspective on leadership, highlighting the essential skills and strategies necessary to propel innovation in the cell-based protein sector. His expertise in transforming scientific breakthroughs into commercially viable products positions him as an invaluable resource for aspiring entrepreneurs and established leaders alike. Discover the leadership principles that Mihir has refined throughout his career, gaining insights into how to foster a culture of innovation, effectively communicate a vision, and overcome obstacles in a rapidly evolving industry. Whether you are an experienced professional or an aspiring entrepreneur, this fireside chat promises to inspire and equip you with the knowledge to lead with confidence and drive innovation within your own organisation. Do not miss out on this incredible opportunity and join us for an engaging discussion that will revolutionise your approach to leadership and inspire you to make a lasting impact in the world of innovation. Programme: 5:00pm - 5:30pm: Registration and networking 5:30pm - 6:30pm: Discussions 6:30pm - 7:00pm: Networking
Schedule
Date: 16 Aug 2023, Wednesday
Time: 5:00 PM - 7:00 PM (GMT +8:00) Kuala Lumpur, Singapore
Location: 32 Carpenter Street, 059911
Speakers
Speaker's Profile:
Mihir Pershad, Co-founder & CEO, Umami Meats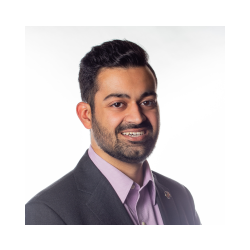 Mihir Pershad is Founder & CEO of Umami Meats, where he is building a team pioneering cultivated, 'not caught' seafood by crafting delicious, nutritious, and affordable cultivated fish that is better for our health, our oceans, and our future. Mihir was previously Venture Partner at Early Charm Ventures and author of Cultivated Abundance.