Changing the World, One Toilet at a Time
Monday, December 24, 2018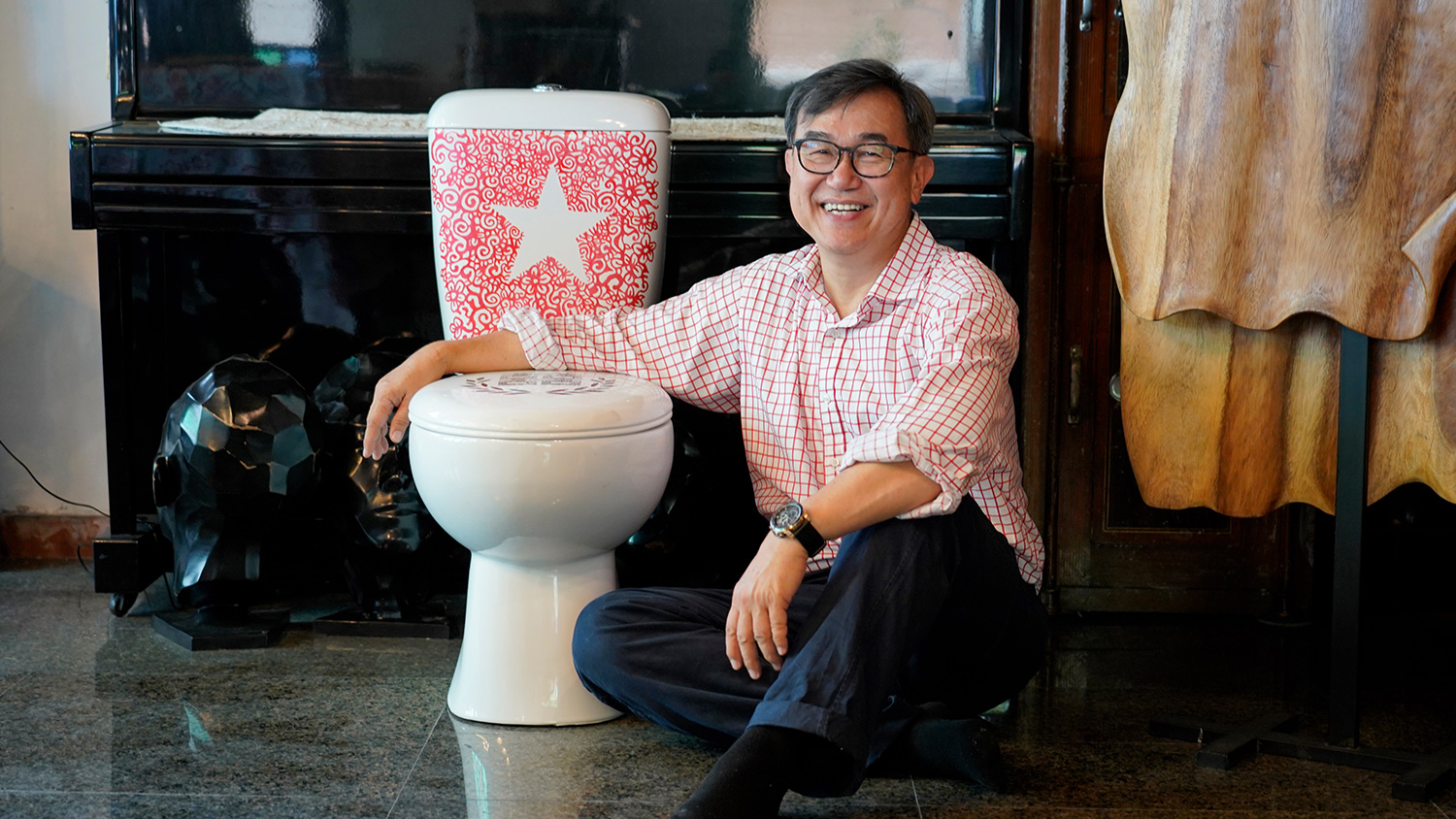 Topics: CleanTech / Green Tech, Sustainability, Others
Industry: Health and BioMedical Sciences
From loo-building projects to social enterprises and even smart toilets, World Toilet Organisation founder, Mr Jack Sim, turns to innovation to address a neglected public health crisis: poor sanitation.
---
As a young child growing up in Singapore in the 1960s, going to the toilet was a traumatic experience, recalls Mr Jack Sim. The kampung he lived in didn't have any proper plumbing, and residents would have to go outside their home to urinate or defecate in buckets. Squatting over the makeshift toilets was a terrible sight: you could see what other people had done before you, and in the sludge, there would often be intestinal worms wiggling about or sanitary napkins soaked with blood. Large green flies would buzz above the buckets, which gave off a stench that was suffocating in the heat.
Decades later, it would be these experiences, in part, that would lead Mr Sim to become a champion for good sanitation. Now 61, Mr Sim is often called 'Mr Toilet', 'toilet man', or 'king of the throne'—badges he wears with honour. He is recognised throughout the world for the work his foundation, the World Toilet Organisation, does to tackle the problem of poor sanitation and to break the taboos surrounding toilets.
"When we were younger, our parents told us not to talk about shit," says the straight-talking Mr Sim. "This is a really serious problem because what you don't talk about, you can't improve."
The Sanitation Crisis
Today, toilets remain a pressing global health issue. Around the world, 4.5 billion people, or 60 percent of the world's population, live in homes without toilets or facilities that safely and sustainably dispose excreta. 862 million people defecate out in the open, a practice that can be dangerous to women who use toilets alone late at night. Water contaminated with faeces facilitates the spread of many water-borne diseases such as cholera and typhoid, with more children dying every year from diarrhoeal diseases than measles, malaria and AIDS combined.
"This is an issue of crucial importance to public health and human dignity, but one that is not discussed enough," says Mr Sim. So in 2001, he founded the WTO to address this neglected issue. The organisation's goal is simple — to create "a clean and safe toilet for everyone, everywhere and at any time it is needed".
Now in its 17th year, the WTO has brought together 235 organisations—including toilet associations, academic institutions, governments and private stakeholders—across 58 countries in a bid to improve global sanitation. WTO works with partners such as the Bill and Melinda Gates Foundation, Google Singapore and the United Nations Secretary-General's Advisory Board on Water and Sanitation, to provide education and training, build infrastructure, and leverage public health policies around the issue.
From Summits to New Business Models
Every year, the organisation hosts the World Toilet Summit, which provides a platform for key stakeholders to get together to discuss the challenges of global sanitation, and to share ideas and best practices for innovation in the sector. It celebrates World Toilet Day on 19 November, the date of its inception, to raise awareness that better sanitation is an important humanitarian and development goal to strive for. It's a day that Mr Sim successfully lobbied the United Nations General Assembly to adopt, which they unanimously voted to do in 2013.
In addition, the WTO runs social enterprises such as the World Toilet College (WTC) and SaniShop. The latter strives to empower local entrepreneurs, helping them to create sustainable business models selling low-cost, high-quality toilet products. The WTC, on the other hand, focuses on offering training courses to people involved at different points of the sanitation value chain. Courses focus on the sharing of effective cleaning and maintenance techniques with toilet caretakers, and teaching school representatives and local government officials how to enact behavioural change to promote better hygiene, among others.
Getting Smart about Toilets
Mr Sim is also working to create a new smart toilet that can analyse a person's faecal matter to determine if he or she has any medical conditions. It is a collaboration that arose out of Mr Sim's time spent at Singularity University, a Silicon Valley think-tank that partly serves as a business incubator for emerging technologies such as robotics and artificial intelligence. His partner is a US-based colorectal cancer expert, and the two are currently organising clinical trials to test the new smart toilet. Mr Sim was unable to share details due to proprietary concerns but did mention it will be a kind of "sensor technology that's a combination of many things" and will likely be ready next year.
Twenty years after leaving a career in construction to devote his time and energy to humanitarian work, and decades away from the kampung boy who didn't have a toilet, Mr Sim has certainly come far. He continues to travel the world promoting sanitation, and other issues such as good nutrition and poverty alleviation. Mr Sim encourages his fellow countrymen to have the vision to enact change through creative solutions, saying, "I believe there are very innovative Singaporeans."
At SGInnovate, we welcome change and innovation that can build a better tomorrow – more inspiring stories in innovation here.
Sandy Ong
Topics: CleanTech / Green Tech, Sustainability, Others
Industry: Health and BioMedical Sciences


Share this with your network!
You may also like the following: