Back to all blogs
Spotlight on Deep Tech Summit 2021: Developing holistic leaders in biomedical innovation
A conversation with Dr Mary Kan, Programme Director at Singapore Biodesign. Singapore-Stanford Biodesign was initially launched as a joint partnership between Singapore's Agency for Science, Technology and Research (A*STAR), the Economic Development Board (EDB) and Stanford University in the US. Since its rebrand to Singapore Biodesign, Dr Kan has been at the forefront of nurturing the next generation of innovators to meet Asia's healthcare needs. She will be speaking at the 'Shaping tomorrow's leaders in biomedical innovation' session at Deep Tech Summit 2021.
---
Could you tell us more about your work to build Singapore's Health and Biomedical technology ecosystem at Singapore Biodesign? What drew you to this exciting field?
I started in the translational research space and realised that I lacked the know-how to effectively develop and deliver the projects I was working on. I then chanced upon Singapore-Stanford Biodesign (SSB) and was offered the fellowship in 2015. This was a major turning point in my career that equipped me with a new arsenal to battle the unknowns. I further honed the Biodesign pedagogy in the various roles that I took on after. Coming back to SSB — now Singapore Biodesign (SB) — and assisting with the manpower narrative for the Human Health and Potential (HHP) domain was a meaningful way to give back.
How do you define success in your work at Singapore Biodesign? What capacities do you think still need to be developed?
As a national health and MedTech innovation training platform under the manpower domain, SB's primary goals are around training innovation and enterprise talent for the HHP domain. One of the ways we measure success is by the quantity and quality of talent trained and the number of successful projects and follow-on funding raised.
However, our role is also that of an ecosystem builder. We organise many events, such as our lunchtime Open Access Lectures and Thought Leaders Series, while growing a blossoming global network with partners in the US, China, Europe and Australia. Through these activities, we strive to elevate the vibrancy, best practices, and knowledge transfer to our local healthtech ecosystem.
The local ecosystem still lacks the maturity of other sectors. One area that needs further development is the competency frameworks for various roles in the healthtech innovation landscape. These frameworks will form the foundation for talent training and unite the talent needs of the public and private stakeholders in the healthtech space.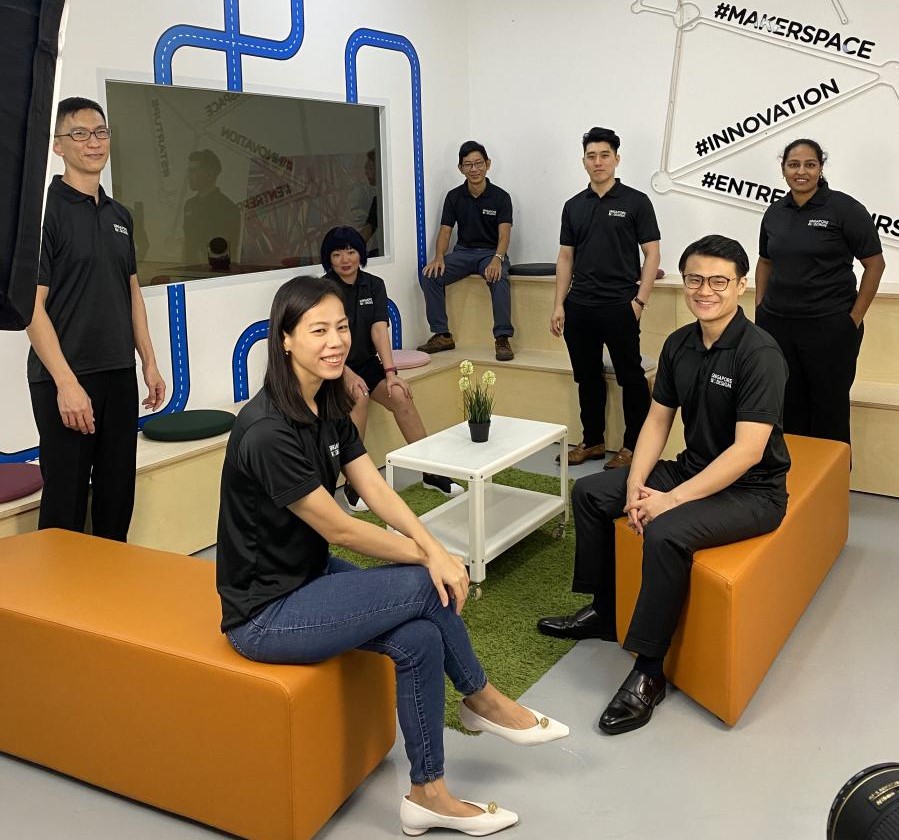 Caption: Dr Mary Kan (front) enjoying a light-hearted moment with the Singapore Biodesign team
You led the transition from Singapore-Stanford Biodesign to Singapore Biodesign. How are the focus areas different, and what has that experience been like for you?
The needs of the Singapore healthtech ecosystem have been evolving over the years, and we have started seeing gradual maturation of this space in my time with the programme. With the growth of the healthtech ecosystem in Singapore, we felt the need to evolve our programme to focus more on providing regional relevance and shifting our curriculum towards the implementation phase of the Biodesign innovation process.
Through the professionalisation of our curriculum and team, we have been able to develop our own nuanced interpretation of the renowned Biodesign methodology founded at Stanford more than 20 years ago. We have been acknowledged for our success and sustainability, and were conferred the Global Affiliate Status from Stanford Byers Center for Biodesign in 2021.
Why is it important for leaders in the Health and Biomedical technology sphere to develop both tech and business skills?
At Singapore Biodesign, we believe that successful leaders in the health and MedTech space need to have a holistic understanding of the entire innovation cycle. This is particularly pertinent in healthcare because of its multi-faceted and complex nature, which means risks can surface from multiple sources. The ability to identify and strategise around them, through areas such as regulation, reimbursement, clinical studies and intellectual property, will lead to a higher chance of success.
What issues should leaders in the Health and Biomedical technology sector focus on?
Delivering value-based innovations continues to be crucial in the current MedTech landscape. It is no longer enough to only provide better efficacies and outcomes. Innovators must also deliver overall cost savings. Alongside this, it is also vital to be aware of developments in reimbursement and regulatory requirements, especially in the still-evolving software-as-a-medical-device space.
What is the one biggest takeaway you hope to share with audiences at Deep Tech Summit?
Aside from the tech, it is important to invest in people too!
Dr Mary Kan will be speaking on Day 2 of the upcoming Deep Tech Summit 2021: Shaping tomorrow's leaders in biomedical innovation. Be part of the discussion at Asia's leading Deep Tech conference here.