Back to all blogs
Singapore's Emerging Tech Startup Landscape
In SGInnovate's "Singapore Early-Stage Emerging Tech Startups 2021" report, we segment local emerging tech startups into four verticals and highlight the opportunities for development in each.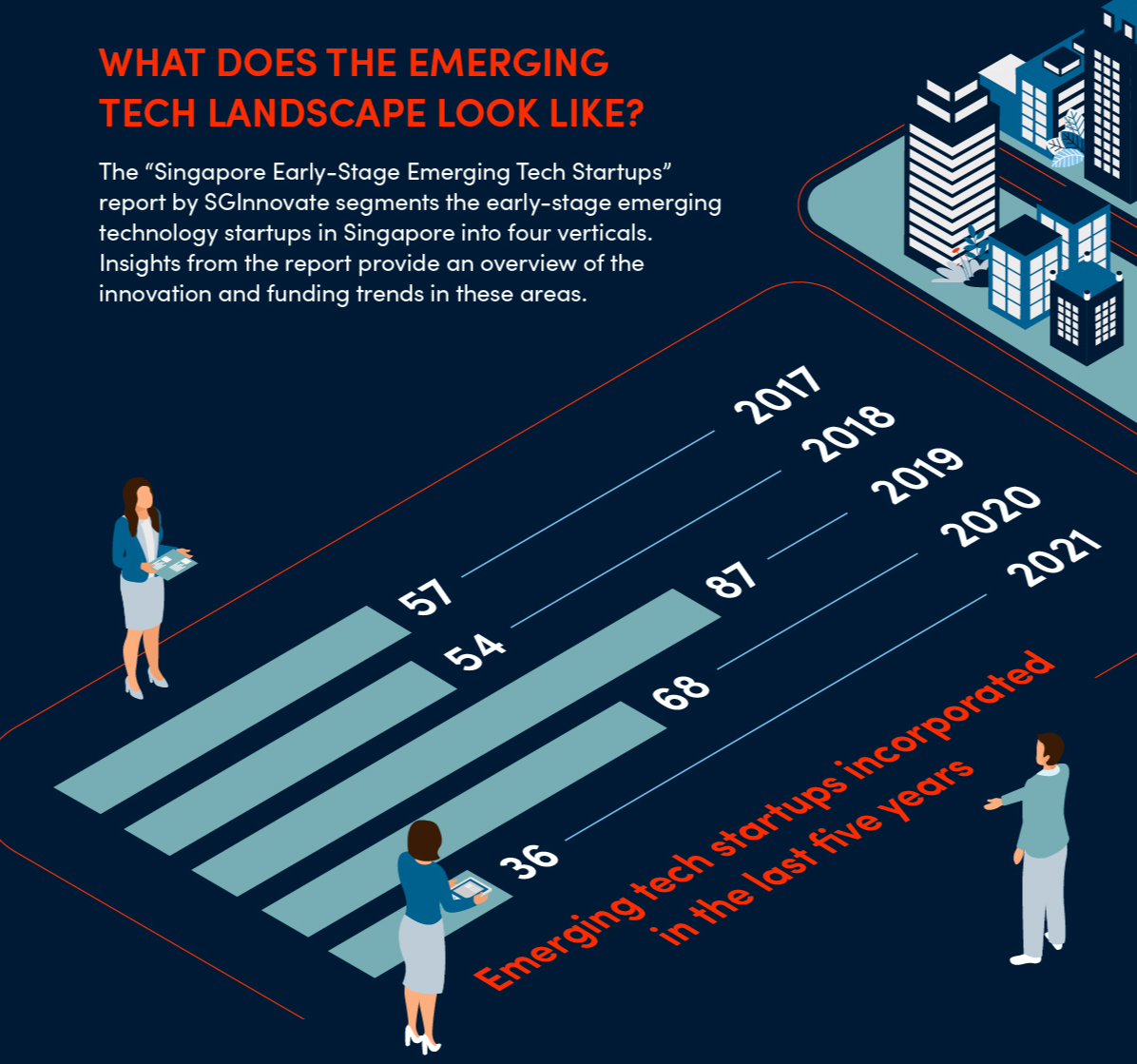 Singapore is renowned for being a tech innovation hub. The city-state is attracting more investments into technology, driving the demand for tech talent. The number of newly incorporated emerging tech startups peaked at 87 in 2019, but dipped to 68 and 36 in 2020 and 2021 respectively. The fall in numbers may have been the result of work-from-home measures implemented to deter the spread of COVID-19, an arrangement that proves challenging for emerging tech startups, whose research and development efforts may rely more heavily on in-person interactions and physical settings.
To design better support systems for early-stage emerging tech companies, SGInnovate recently published a report highlighting trends in Singapore's emerging tech startup landscape.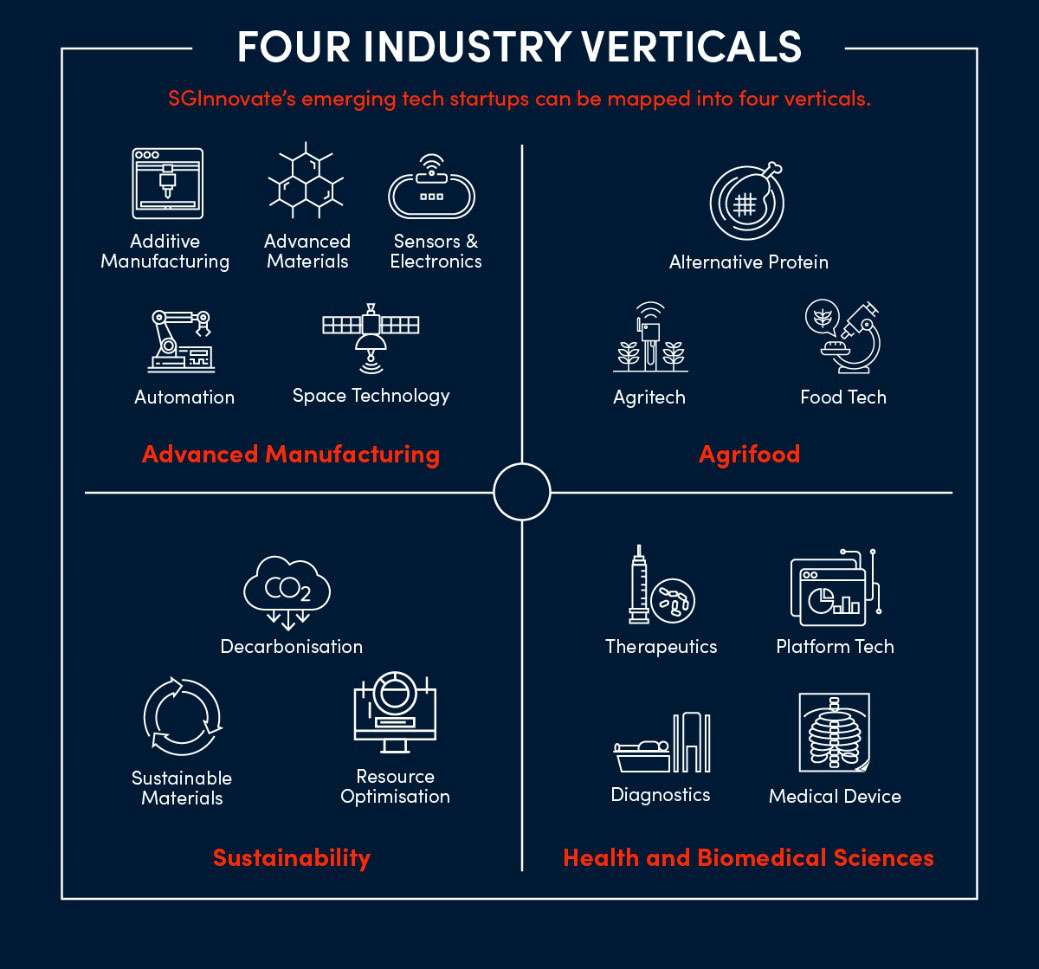 SGInnovate has segmented emerging tech startups into four broad verticals: Advanced Manufacturing, AgriFood, Sustainability and Health and Biomedical Sciences.
Rethinking manufacturing to meet changing demands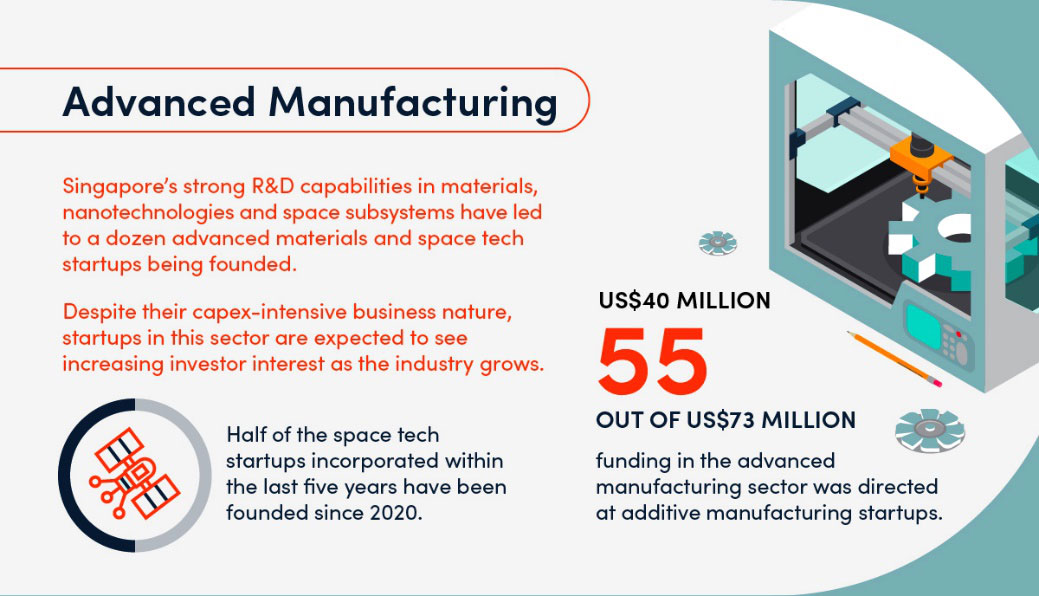 In the advanced manufacturing space, developments in automation and additive manufacturing are providing businesses with increased production efficiency and lowered costs. From industrial robots to printing biological components, these innovations can improve precision engineering in industries such as aerospace and healthcare. There is a growing demand for such capabilities, as consumers seek customisation of parts with specific properties like complex geometries and biocompatibility.
At present, Singapore is looking to grow the manufacturing sector by 50 per cent within the next decade, with advanced manufacturing playing an important role in reaching this target. From 2017 to 2020, at least 20 advanced manufacturing startups were newly incorporated every year. As businesses look to transform their production to drive economic and societal impact, emerging technologies will play an important role in building smarter, more automated and cost-effective factories.
Interest has remained steady in 3D printing, nanomaterials, space tech, IoT and semiconductors. Strikingly, however, the space tech subvertical enjoyed a recent surge, as half of the eight startups founded in the last five years were incorporated in 2020 or later.
Singapore's space tech industry primarily focuses on satellite components and emerging technologies for small satellites. By leveraging existing strengths in electronics and aerospace, startups are developing high-efficiency engines to keep small satellites in orbit or building radiation hardened circuits to prolong satellite lifespan.
With the increased support from the government to grow Singapore's manufacturing sector, combined with research strengths in materials science and nanotechnologies, this will likely encourage further advanced manufacturing innovation and see more spinoffs in the years to come.
Growing interest in AgriFood innovation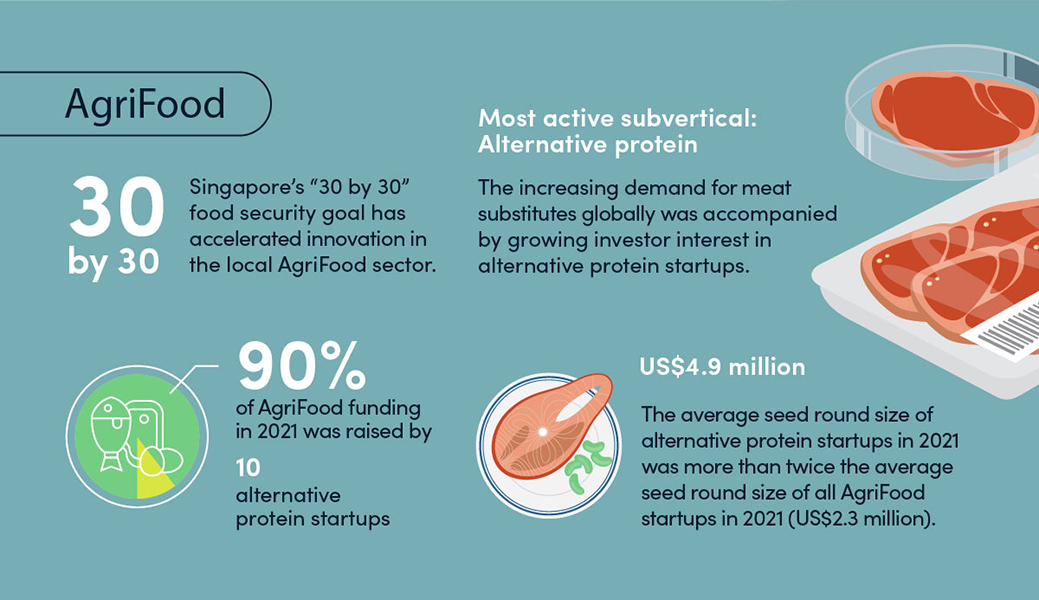 While we are aware of only three new AgriFood startups being incorporated in 2021, the sector collectively secured a total of US$119M in funding last year — nearly 90 per cent of which went to the alternative protein subvertical. Increased interest in these firms may have been the result of multiple factors, ranging from the impact of pandemic restrictions on food supply chains, a growing awareness of zoonotic diseases that reshape consumption habits, to the need to meet Singapore's 30 by 30 food security goals.
Indeed, the industry looks to be on the uptrend. In December 2020, Singapore authorised the commercial sale of cultivated meat, becoming the first country in the world to do so. Meanwhile, the market size for plant-based meat alternatives in the Asia-Pacific region is poised to increase by 25 per cent from 2020 to 2025, according to a DuPont Nutrition & Bioscience study.
Recognising the momentum in the industry in Singapore, several stakeholders along the global AgriFood innovation chain are sharpening their focus on the ecosystem here. Temasek has committed to investing over S$30 million into the Food Tech Innovation Centre alongside the Agency for Science, Technology and Research (A*STAR), while leading players such as Oatly and Eat Just, Inc have also announced plans to establish facilities in Singapore. The sustained influx of funding and public sector support will be a key driving force behind the industry's rise.
All this points to an opportunity for AgriFood tech startups to capitalise on the region's increasing demand for high-value protein by introducing an alternative that is sustainable and scalable to the market.
Increased demands for sustainability initiatives drive a rise in number of startups
While the Asia-Pacific region, particularly Southeast Asia, has enjoyed rapid economic growth in recent years, this progress has come with a hefty environmental cost. Amidst the need to pivot to a green and circular economy, Sustainability emerged as the only vertical to see an uptick in the number of startups established from 2020 to 2021.
Achieving carbon neutrality emphasises the use of renewable resources as well as more efficient carbon capture and recovery systems. Startups that specialise in this critical space have looked at developing renewable energy, with Asia hosting some of the world's largest solar projects.
In Singapore, the launch of the Green Plan 2030 cemented a nationwide push to advance the country's national agenda on sustainable development. With buildings accounting for over 20 per cent of emissions in Singapore, one of the pillars in the Green Plan 2030 focuses on an Energy Reset. Within it are goals such as for 80 per cent of the new buildings to be Super Low Energy Buildings by 2030 and 80 per cent improvement in energy efficiency by 2030. This has led to a spotlight on constructing a sustainable built environment in Singapore to ensure buildings are sustainable and energy efficient. To achieve more ambitious standards for energy performance, the sector will need sustainable materials to work with, whether for new urban spaces or retrofitting old buildings. Some examples are precast concrete slabs and engineered wood. Hence, this subvertical therefore has much potential for growth.
Singapore fast becoming a hub for Health and Biomedical Sciences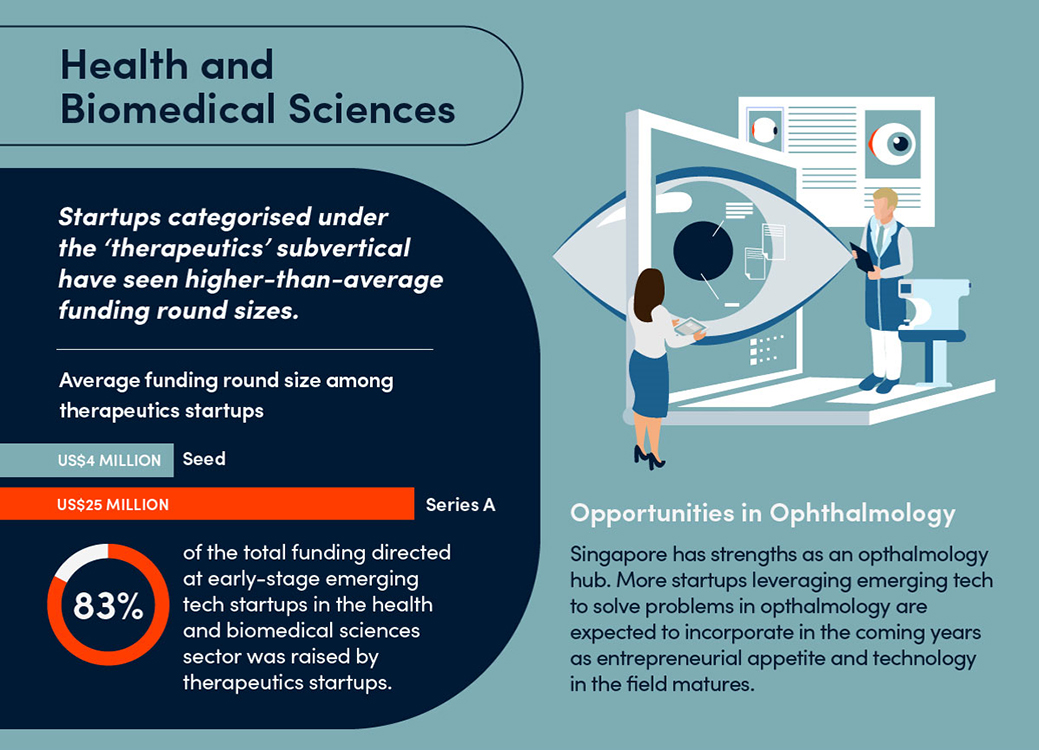 Of the four verticals, Health and Biomedical Sciences has been the most active in the startup space in the last two years, driven in part by the COVID-19 pandemic. Singapore must also meet the needs of its ageing population, from detecting and treating chronic diseases to helping the elderly lead healthy and independent lives. The city-state is turning to emerging technologies to enhance patient experience, increase efficiency in diagnosis and provide more effective care. In 2021, two of the early-stage tech startups secured funding of more than US$5 million each, compared to the average seed round size of US$2 million, demonstrating the large public and private stakeholder interest in this sector.
Interest has rapidly grown in the therapeutics sector, receiving higher-than-average funding rounds in contrast to the other subverticals. This is driven by the Singapore government heavy investments in infrastructure to support pharmaceutical companies in setting up manufacturing activities and a strong encouragement for companies to transform their existing plants with advanced manufacturing solutions.
Another segment that is drawing interest is ophthalmology, where innovators are potentially moving beyond software-based applications into emerging technologies. With one of the most rapidly ageing populations in the world, Singapore is seeing increasing demand for eye care, to cope with visual impairment and blindness from eye diseases. The development and implementation of emerging technologies can help in early diagnosis of various ocular diseases and pathologies while improving efficiency and accessibility to eye care services to increase patient satisfaction.
As investors recognise the urgent need to support innovative yet affordable healthcare, benefits in clinical outcomes and overall well-being can be realised at population level. With the sector's continued growth, Singapore is solidifying itself as a major biomedical and biotech hub in the region.
Post-pandemic outlook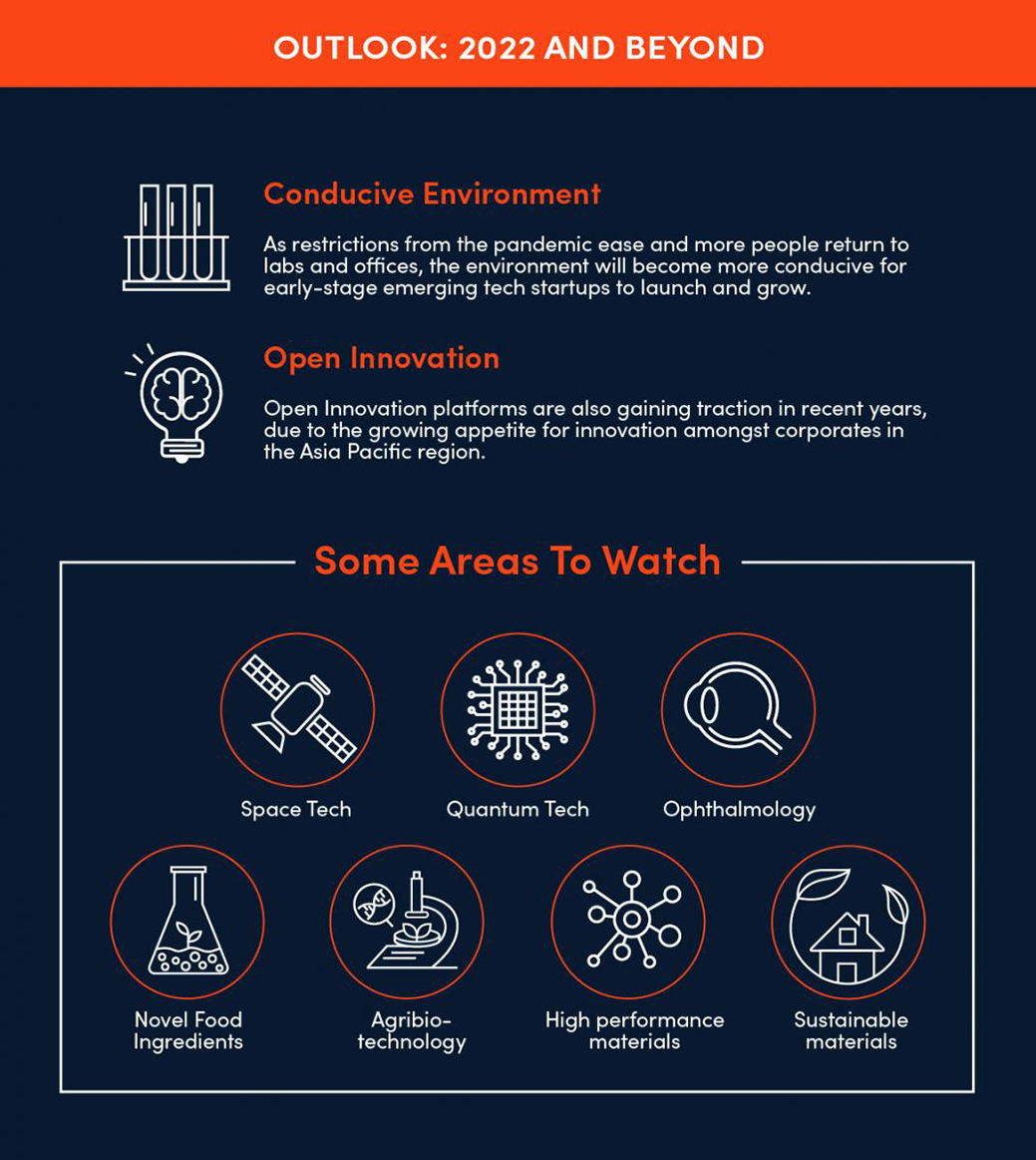 Despite hurdles faced during the pandemic, the number of emerging tech startups is expected to increase in the coming years as Singapore transitions to an endemic normal. In a COVID-resilient nation, these startups can find a more conducive environment where they can thrive. Likewise, firms have flocked to Singapore to open corporate ventures, demonstrating a growing interest in accelerating innovation in the region. This sustained interest across company sizes and various stakeholders bodes well for Singapore's growing emerging tech ecosystem.
Data on these startups were gathered in collaboration with A*STARTCentral, the National Additive Manufacturing Innovation Cluster, the National University of Singapore Industry Liaison Office, NTUitive, Innovation and Enterprise Company of National Technological University, the Singapore Eye Research Institute Technology Development and Commercialisation Office, Singapore Space & Technology Ltd., and Singapore University of Technology & Design, Grant Partnership & Management. 
Login to Download Report