Back to all blogs
Building a Startup that Thrives on Deep Tech
Want to build a startup? Here's an advice from Dr Tan Geok Leng: You will need a strong team with deep technical capabilities, the domain know-how and the right business relationships.
With a strong team in place, your startup will be well-placed to develop solutions and products of superior performance for your target market.
Building a startup is something that Dr Tan, CEO of AIDA Technologies, is familiar with.
He set up AIDA Technologies, which provides solutions for the insurance and banking sectors, just two and a half years ago. But it has already received multiple accolades.
AIDA Technologies won awards at the Singapore FinTech Festival in 2016 and 2017. Last year, it won the National TechBlazer Award 2018. AIDA was also identified as one of the top 25 Most Recommended AI Company 2017 by APAC CIO Outlook Magazine.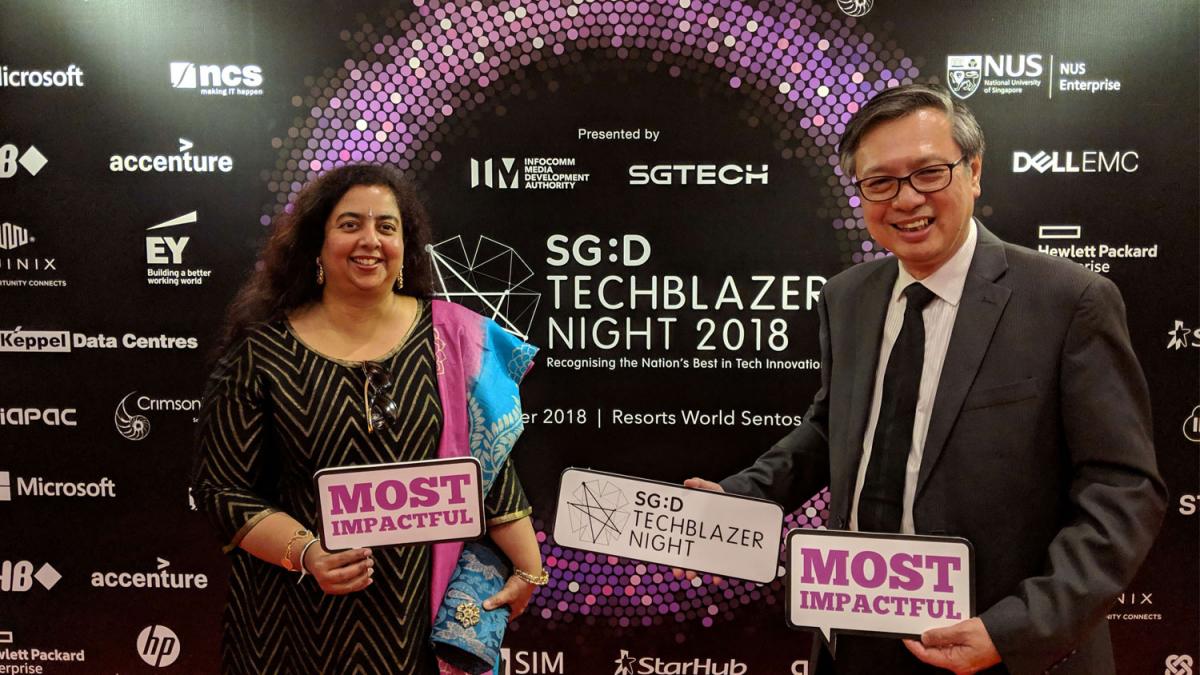 AIDA's CEO Dr Tan Geok Leng (right) and CTO Dr Shonali Krishnaswamy receiving the National TechBlazer Award (Bronze) in 2018. Photo: Dr Tan Geok Leng
In addition, since its founding, AIDA has secured over 20 Tier-1 banking and insurance customers in Singapore, Malaysia, Indonesia, Thailand, Hong Kong and India. In January 2017, it raised a seed round with Kuok Ventures. More recently in April 2019, AIDA closed its Series A round which was led by Mastercard and supported by Kuok Ventures and SGInnovate.
Back in September 2016, Dr Tan founded AIDA Technologies together with a team of data scientists from the Agency for Science, Technology and Research (A*STAR)'s Institute for Infocomm Research (I2R). Before starting AIDA, he was the Executive Director at I2R. The goal for AIDA was to develop artificial intelligence (AI) and machine learning solutions for the banking and insurance industries.
AIDA's key competitive advantage lies in its industry-proven capabilities in AI and machine learning technologies arising from their data scientists' research, and real-world experience in the application of such technologies derived from working with industry partners.
Despite their successes, the journey has been an exciting one that is filled with challenges for the company, Dr Tan shares.
For instance, banks and insurance companies are very conservative, and it is an uphill battle to gain their confidence. Fortunately, some were able to recognise the talent and capabilities that AIDA provides.
AIDA's deep AI/ML expertise, coupled with their real-world domain experience, has made all the difference.
"Because of our experience, our success rate to secure follow-on discussions with a customer is very high, and when good results can be demonstrated, we have been able to close some large deals," says Dr Tan.
AIDA's advanced AI/ML tools and algorithms can be applied to other verticals such as healthcare, Fast Moving Consumer Goods (FMCG) and transportation. However, as a strategy, Dr Tan shares that AIDA is currently "very focused" on achieving market leadership in the banking and insurance sectors before entering other verticals.
In its initial phase, the startup has leveraged its Singapore roots and network to secure customers in Singapore and the ASEAN region. What's next for AIDA then?
There are plans to deepen penetration in existing markets such as Singapore, Malaysia, Thailand, Indonesia and India, and to open up markets in the Philippines and North Asia, especially in Hong Kong and Japan. For the new markets, AIDA will draw on its existing customers' networks and relationships to create the openings by way of direct introductions, thus reducing the barriers to entry.
"We are already making plans to ensure that we have the organisational structure to rapidly deliver products and solutions, and to ramp up our sales and marketing network in the targeted markets," Dr Tan says.
For now, the startup has set its sights on becoming a key player in AI/ML for the banking and insurance sector for the region and then, the world.
This article was first published on National Research Foundation's RIE News Magazine.

AIDA Technologies is one of SGInnovate's portfolio companies. SGInnovate first invested in AIDA in 2018. In April 2019, SGInnovate participated in their Series A round of funding.