Embracing the Contact Sport of Innovation
Guest Writer
Friday, April 12, 2019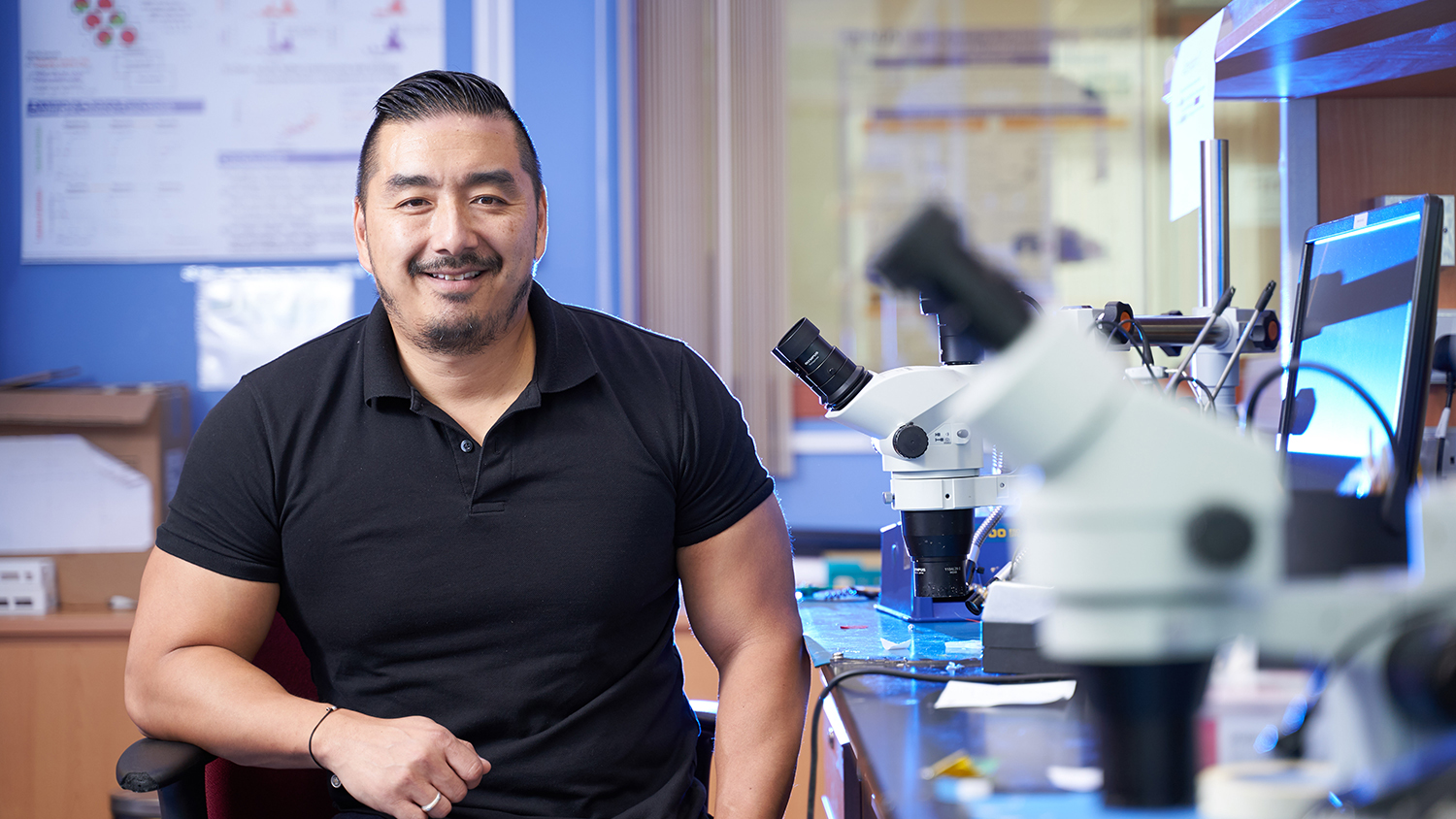 Topics: AI / Machine Learning / Deep Learning, Data Science / Data Analytics, Investments, MedTech / HealthTech / BioTech
Industry: Health and BioMedical Sciences
To truly harness the power of personalised medicine, we had to bring our technology out of the lab and into the marketplace. Here's how we did it with KYAN Therapeutics.
This article is written by Professor Dean Ho, director of the Singapore Institute for Neurotechnology (SINAPSE) at the National University of Singapore and co-founder of KYAN Therapeutics.

---
No two people are the same, yet many of our treatments for serious diseases fail to see the patient as an individual. Because of this, many therapies work sub-optimally, or patients experience side effects. By delivering the right amount of drugs to the right location at the right time, we can enhance treatment outcomes and improve the lives of patients, and I believe that we can achieve these goals with nanotechnology.
Over the years, my research team and I have been using nanodiamonds to improve drug delivery systems, biomedical imaging and even wound healing following root canal treatment. However, we soon discovered that there are ways that nanomedicine can be further enhanced. In drug development—whether it is for nano or non-nano drugs—the predominant approach is to pick the drug combination and then go looking for the right dose. In reality, one of the reasons that so many clinical trials fail is that if you deliver good drugs at the wrong dose, you may observe no efficacy at all for many patients. The challenge is that you have to find the right drugs and the right dose at the exact same time when developing new drug combinations.
But simultaneously optimising for the right drug combination and the right dose very quickly becomes an intractable problem as more variables are added. For example, imagine a scenario where the best possible drugs and their respective dosages need to be identified from a pool of 50 candidate therapies. Even if one of these drugs had no efficacy on their own, the most effective combination may require this drug, but only if it is combined with specific drugs, and only if all drugs are given at the right dosages. One would have to interrogate an insurmountably large parameter space in order to identify these optimal conditions.
Unleashing AI on Disease
While artificial intelligence (AI) is already making waves in medicine for its ability to diagnose diseases, we believe it could make a truly revolutionary impact in personalised medicine. In particular, AI platforms that we have developed could help make it quick, easy and inexpensive to not only optimise drug doses and combinations, but also enable us to dynamically modulate both dose and combination as the patient's condition evolves during the course of treatment.
Our team has a saying that in order to really find the best possible drug combination from a large pool of potential drugs, the drugs need to find their best doses and the best doses need to find their best drugs. We've shown that achieving drug synergy alone, which is a major objective of traditional combination therapy, is not sufficient to optimise treatment outcomes.
To address this very challenging problem, we developed an AI platform called Optim.AI that correlates drugs and their doses with quantifiable measures of efficacy and safety. Starting with a small set of experiments or clinical data, Optim.AI generates a smooth curve that allows us to immediately pinpoint which drugs and dosages will result in the best possible outcome—the globally optimal. Importantly, Optim.AI confirms drug synergy after the combination is validated, and we don't require the use of synergy to determine how the combination is first derived.
Rather than guess which variables are relevant, Optim.AI directly correlates drugs and their respective doses with efficacy and safety while implicitly encompassing genetics, pharmacokinetics, and other factors that drive the disease. Using Optim.AI, we can create unexpected drug combinations and rank them from the best to the worst. And in the over 40 disease indications upon which we have used Optima.AI so far, we have found that the standard of care combination is never the best.
N-of-1 Patient Care
Going one step further, we developed another AI platform that allows us to optimise a patient's treatment over the entire duration of care. Currently, clinical trials are conducted by selecting a drug combination and a standard dosing regimen, then testing it on hundreds or thousands of people that will all respond differently. With CURATE.AI, we can use a single patient's own data to calibrate and optimise their care on a continuous basis, resulting in what we call true N-of-1 medicine.
This approach has already been validated in liver transplant patients, a patient with prostate cancer, as well as multiple infectious disease patients. The prostate cancer patient had metastatic disease, meaning that the cancer had already spread to other parts of the body. However, he was also facing toxicity issues from the drugs he was taking, leading his team to reduce his dose to manage his symptoms.
In oncology, there is this notion that patients should be given higher doses, potentially even near the maximum tolerated dose, in order to increase treatment efficacy. While this seems to make sense, we were able to show with CURATE.AI that for this particular patient, a 50 percent reduction in dose would actually improve the efficacy of the drug that he was on.
Much to the amazement of his medical team, this patient registered his lowest levels of prostate specific antigen—a serum measure of treatment efficiency—within just one week of reducing the dose. Subsequent computed tomography (CT) scans showed that the patient's lesions were shrinking while on this unconventional, ultra-low dose regime. At the completion of the study, the patient resumed an active lifestyle, more than 16 months after our initial intervention.
With this personalised N-of-1 care, different patients are given treatments that have been tailored specifically to them. This approach allows us to completely re-examine how we evaluate efficacy in medicine, changing everything from statistics to policy. The result is that more people are going to respond to treatments that may have been previously deemed futile.
Don't Innovate Alone
What is perhaps most exciting about our results is that we have built a disease-agnostic, interventional platform, making it applicable towards virtually any disease as long as there is a way to quantify efficacy, be it via imaging, blood or urine samples, or any other readout. Our platforms have already been clinically validated.
At the moment, my company KYAN Therapeutics has ongoing programmes for everything ranging from infectious disease (tuberculosis), to oncology (haematologic cancers) and even liver disease, which is rapidly growing into a global challenge. While we have our own pipeline of novel drug combinations, we are also actively partnering with companies both big and small that see the radical potential of our work.
One of our early supporters and investors is Roy Doumani, a founder, director and investor of chimeric antigen receptor T-cell therapy company Kite Pharma, which was purchased by Gilead for nearly US$12 billion. While people don't normally link combinations with cell therapy, the fact of the matter is that our technology is broadly deployable, and we've successfully completed a multi-project collaboration with the Kite team.
Ratan Tata, a visionary businessman and chairman emeritus of Tata Group, has also been supportive of our clinical successes in tuberculosis (TB) treatment. In fact, our TB programme found that the standard of care drug combination was ranked nowhere near the top in terms of efficacy. By using a combination identified by Optim.AI instead, we found that the treatment time could be nearly halved, a result that could improve patient compliance. Our ongoing work in this space could make a life-or-death difference for patients facing drug-resistant TB.
When I first started my career as a nanomedicine researcher, I focused on building my lab and developing technologies that progressed from in vitro to in vivo and finally to people.
Now that I am interested in moving from benefitting tens of patients to hundreds, thousands or even more, I'm discovering that innovation is a contact sport.
I love how entrepreneurship blends solid technical skills with face-to-face interactions with such a diverse range of people, from other companies to the regulators, clinicians and of course, the patients themselves.
All over the world—and in Singapore in particular—academia is evolving in such a way that the stakes are getting higher and the impact of your work is increasingly being measured in terms of patient welfare and how it helps society. Personally, it's been an exhilarating journey for me, and I know we have only just gotten started.
At SGInnovate, we are committed to realising the commercial potential of innovation and have invested in various promising deep tech MedTech startups.
Keen to share your thoughts on deep tech? Connect with us here.

Topics: AI / Machine Learning / Deep Learning, Data Science / Data Analytics, Investments, MedTech / HealthTech / BioTech
Industry: Health and BioMedical Sciences


Share this with your network!