Fighting COVID-19 with Deep Tech: Solutions from Singapore
Thursday, June 25, 2020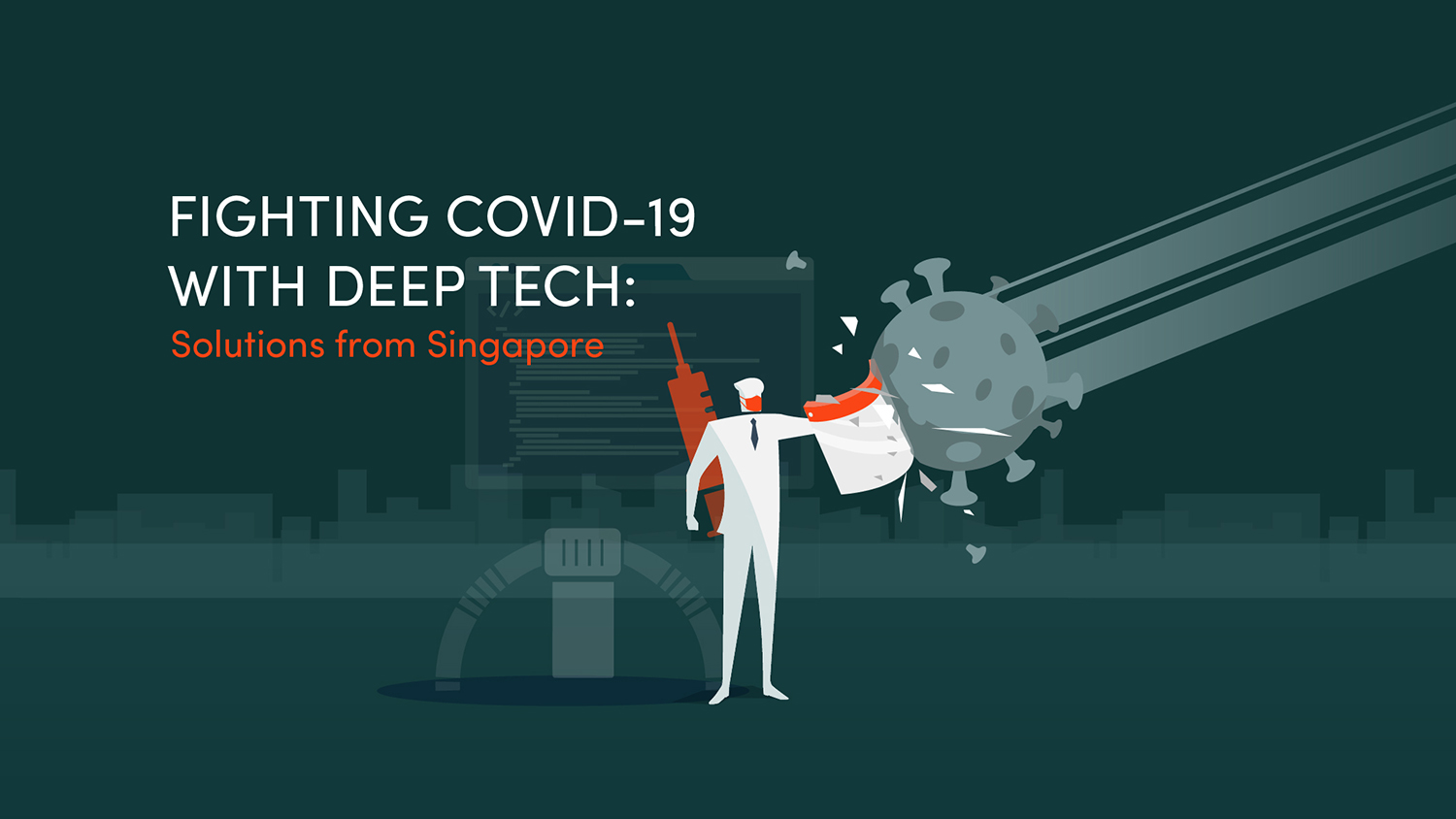 Topics: MedTech / HealthTech / BioTech, SGInnovate Insights, Startup and Corporate Open Innovation
Industry: Health and BioMedical Sciences
In this second part of our Fighting COVID-19 with Deep Tech: Solutions from Singapore Insights Paper, we feature two of our portfolio companies—Lucence and Biofourmis.
---
COVID-19 Saliva Sample Collection Kits for Greater Scale and Speed: Lucence
The fight against COVID-19 is a multi-pronged battle that goes beyond developing an effective cure, which experts say will require a minimum of 18 months. While some scientists are busy developing vaccines, other teams are creating more efficient ways to test for the virus at scale.
In that vein, Singapore-based precision oncology company, Lucence, has developed SAFER-Sample™, a saliva sample collection kit for coronavirus detection.
There are two novel advantages to this approach. First, SAFER-Sample™ allows for samples to be transported back to the lab at room temperature, in contrast to existing sample collection systems that require samples to be constantly chilled.1 Allowing samples to be kept at room temperature thus avoids potential logistical bottlenecks, especially when one is conducting tests on a large scale.
Lucence's innovation liberates the COVID-19 testing system from the limiting constraints of chilled storage and transportation. Second, saliva testing with supervision is less invasive, allows for more accuracy, and reduces aerosols. Most importantly, it preserves precious personal protective equipment (PPE) for use in hospitals.
"A great test is nothing without a good sample, and SAFER-Sample™ can enable easier, safer and more accessible mass testing on saliva samples," affirmed Dr Tan Min-Han, Founder, CEO and Medical Director of Lucence.
With his background as a trained medical oncologist and clinical cancer geneticist, Dr Tan founded the precision oncology company in 2016. Lucence specialises in liquid biopsy tests for disease detection and treatment selection and is headquartered in Singapore and California. It supplies molecular diagnostic services for innovative cancer testing worldwide through its US CLIA-licensed and CAP-accredited laboratory.
Medical Care in the Age of Social Distancing: Biofourmis
Vaccines, swabs, and test-kits aside, Singapore-based technology companies have also come up with innovative solutions for remote medical screening and care services at a large scale. Unlike SARS, which quickly made its presence within infected humans known and thus enabled authorities to quarantine them to prevent further spread of the disease, patients infected with COVID-19 might not exhibit symptoms for up to 14 days.2 The need to isolate large numbers of potentially infected patients and monitor their physiological changes over this relatively long period of time opened a space for MedTech companies to intervene meaningfully.
Founded in 2015, Singapore-born company Biofourmis leverages big data analytics to deliver personalised healthcare solutions to patients. Its Biovitals® Sentinel platform is Artificial Intelligence (AI)-powered and uses remote monitoring technology for clinicians to provide healthcare services from afar and at a larger scale than previously possible.
With its recent acquisition of Gaido Health, a company that uses AI to monitor post-discharge patients for cancer recurrence, Biofourmis is certainly going from strength to strength and shoring up its dominance in the AI-powered medical services sector.3
Unsurprisingly, this dynamic company has also employed its technology in the fight against COVID-19 since the start of 2020. According to Professor David Chung Wah Siu, MD, Department of Medicine, The University of Hong Kong, this platform helps clinicians to "remotely monitor patients and identify COVID-19-related physiological biomarkers that indicate deterioration in patients".4 Such remote monitoring methods will ensure that medical infrastructure and hospitals do not become overcrowded and medical practitioners can focus their energies on the most serious of infected patients.
More importantly, Biofourmis is perfecting its methods of extracting and analysing big data to predict COVID-19 infections. Its patented technology of using large data sets to predict heart failure has already received approval by the FDA and has been adopted for use in US hospitals. As such, Biofourmis does not require new FDA approval to use the same technology to collect data points that could help predict COVID-19 infections.5
By pivoting from heart disease to COVID-19, Biofourmis demonstrates its agility as a MedTech business. Furthermore, it showcases the versatility of Big Data and the breadth of its potential uses within the medical field. The expansion of Biofourmis from Singapore to Boston, where one quarter of their staff are located, suggests greater vistas lie ahead for this energetic startup.
At present, Biofourmis' platform is already being deployed in hospitals located in Australia, Hong Kong, and the UK. There are further plans to implement it in Singapore, Thailand, and the US and to onboard over a thousand more patients by May 2020.
In our Fighting COVID-19 with Deep Tech Insights Paper, we share three Singapore-based organisations and their roles in building technologies in the fight against COVID-19. Download the paper to read about their work.
---
1The Straits Times, "Coronavirus: New kit allows Covid-19 test samples to be transported at room temperature", 24 March 2020 [https://www.straitstimes.com/singapore/transport/coronavirus-new-kit-to-allow-for-transport-of-covid-19-test-samples-at-room]
2Wölfel, R., Corman, V.M., Guggemos, W. et al. "Virological assessment of hospitalized patients with COVID-2019", Nature, April 2020 [https://www.nature.com/articles/s41586-020-2196-x]
3Tech in Asia, "Biofourmis expands into oncology with Gaido Health acquisition", 17 April 2020 [https://www.techinasia.com/biofourmis-expands-oncology-gaido-health-acquisition]
4PR Newswire, "Biofourmis' AI-Powered Remote Monitoring Platform to Provide New Insights to Fight COVID-19 in Disease Monitoring Program in Hong Kong", 4 Mar 2020 [https://www.prnewswire.com/news-releases/biofourmis-ai-powered-remote-monitoring-platform-to-provide-new-insights-to-fight-covid-19-in-disease-monitoring-program-in-hong-kong-301016019.html]
5The Boston Globe, "Can AI predict a coronavirus infection before doctors even do a test?", 24 Mar 2020 [https://www.bostonglobe.com/2020/03/24/magazine/can-ai-predict-coronavirus-infection-before-doctors-even-do-test/]

Topics: MedTech / HealthTech / BioTech, SGInnovate Insights, Startup and Corporate Open Innovation
Industry: Health and BioMedical Sciences


Share this with your network!
You may also like the following: