Finding Meaning in Deep Tech During a Global Pandemic
Monday, May 18, 2020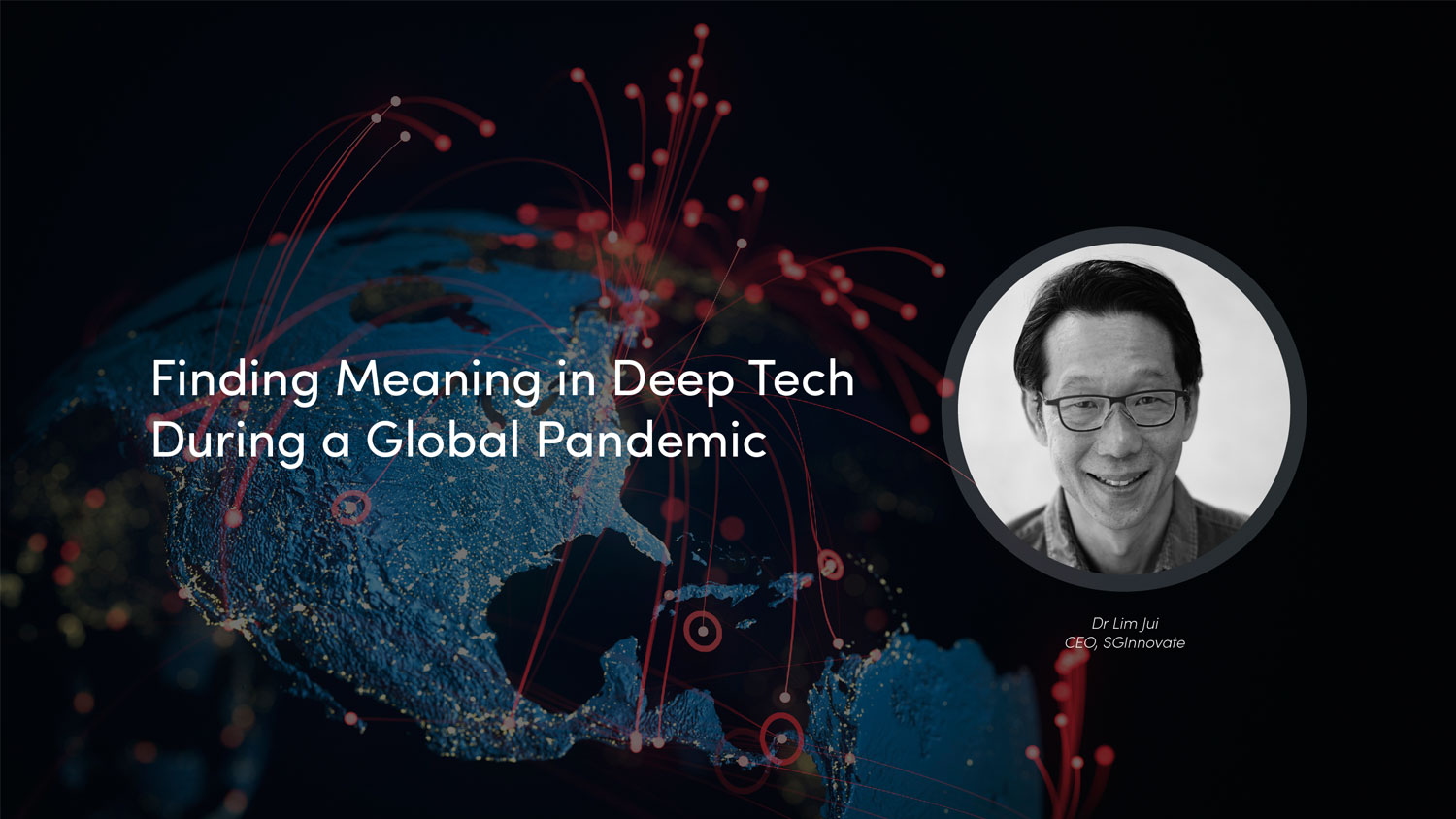 Topics: Investments, SGInnovate Insights, Startup and Corporate Open Innovation, Talent and Mentoring
Industry: Others
I'm now into my third week as CEO at SGInnovate and what an exhilarating ride it has been. I have spent much of my time connecting with my new team on virtual meetings, to better understand the ins and outs of this unique organisation. The commitment, knowledge and passion for Deep Tech displayed by our people have left me incredibly humbled.
I am fortunate to have experienced science and research through multiple lenses – as a medical practitioner, an investor, a startup CEO and an active supporter of research commercialisation. While the roles and responsibilities might differ, I am constantly guided by my firm belief in tech for humanity – that innovation can change lives for the better.
Undoubtedly, we are facing a challenging period. The ongoing global pandemic has had a massive impact on every economy, business and individual, on a scale that we have not seen in recent times. The International Monetary Fund predicts that the global economy could shrink by 3 per cent in 2020, in what would likely be the worst recession seen since the Great Depression in the 1930s. Closer to home, the Monetary Authority of Singapore has warned that Singapore's economy could contract by more than 4% this year if the outbreak drags on.
Going into my new role during this public health crisis has given me a lot to think about on many fronts. What are the most immediate concerns for SGInnovate and the Deep Tech community? How can we best mitigate the impact and help the Deep Tech community navigate this storm? What does this all mean for the innovation landscape in Singapore, the region and globally? How can we plan for a better future? I hope to be able to bring some of my experiences and add new perspectives into the organisation.
The breadth, depth, and speed of the global scientific community's response to fight and contain the outbreak is one of the uplifting developments in the midst of this crisis, and is a source of inspiration for me. It reminds us of our humanity and illustrates the centrality of deep scientific and innovation capacity in solving the world's greatest challenges.
Over the past two months, the Deep Tech community has poured its energy into research and applications, from vaccines, test kits, clinical tools and protective equipment, to wearables for remote patient care and AI that can help clinicians make sense of medical data. And these have started to make a real difference.
In Singapore, the teams led by Assistant Professor Shao Huilin from NUS Biomedical Engineering and Professor Wang Linfa, Director of the Duke-NUS Medical School Emerging Infectious Diseases, as well as researchers from NTU and the Singapore-MIT Alliance for Research and Technology – including Professor Peter Preiser, Associate Vice President for Biomedical and Life Sciences – to name but a few, have pivoted to focus on COVID-19. And they are on the verge of breakthrough solutions and products that may alter the course of the pandemic and bring about a return to relative normalcy. We salute them all.
I'm also proud to see our portfolio companies stepping up to not only create but also adapt their current technologies in the battle against the novel coronavirus. For example, Lucence has developed the SAFER-Sample™ saliva collection kit that allows for samples to be transported back to the lab at room temperature, in contrast to existing collection systems that require samples to be constantly chilled. Allowing samples to be kept at room temperature thus avoids potential logistical bottlenecks, especially when one is conducting tests on a large scale. On the other hand, Biofourmis has pivoted its technology to monitor patients remotely and identify COVID-19-related physiological biomarkers that indicate deterioration in patients. These startups have showcased their agility in responding to immediate needs, as well as the potential of Deep Tech in addressing big global problems. You can learn more about their work in our latest SGInnovate Insights Paper.
Other startups in our portfolio are also facing a massive test of their abilities to ride out the storm. But as my colleague Hsien-Hui has rightly pointed out, we believe that these entrepreneurs have started to execute plans to explore other opportunities with the products that they have developed, amongst others. At SGInnovate, we will be supporting them with all the resources that we have.
While COVID-19 has disrupted the usual business operations, I am happy to report that the team has adapted well, and it's "all systems go". My team has also been working tirelessly to reimagine new ways to continue building connections, enabling technical skills acquisition, and facilitating career opportunities within the Deep Tech space during this time, while planning for a changed world in the eventual path to recovery.
Since coming on board, I have been very impressed by the breadth and depth of our Deep Tech community – which spans across various sectors and areas of specialities, and covers entrepreneurs, budding talent, investors, academics, corporates and partners from across the world.
In the coming months, we are going to tap on this network to take the pulse of the broader ecosystem. We will reach out to more of you to better understand the situation on the ground. The advice and suggestions that you provide will help us to anticipate, plan and act better during this challenging period. We want to be able to deploy our existing Talent and Community platforms to create relevant programmes or fine-tune existing ones to best address the anticipated disruptions.
We are already working with a number of government agencies on several initiatives, and also constantly assessing good ideas. For example, we have spoken to some of our stakeholders as well as student groups, and heard the concerns about the possible drop in Deep Tech career and skills development opportunities in the current climate. Noting this, we will be enhancing some of our talent-focused initiatives, such as the Summation Programme and virtual workshops, as well as launching new ones very soon. So please stay tuned!
Let us stay positive and press on. I am confident that our Deep Tech community will emerge stronger.
I look forward to engaging everyone in the next few months and learning from all of you.

Topics: Investments, SGInnovate Insights, Startup and Corporate Open Innovation, Talent and Mentoring
Industry: Others


Share this with your network!