Five Lessons COVID-19 Taught Us About Communications and Branding
Friday, November 20, 2020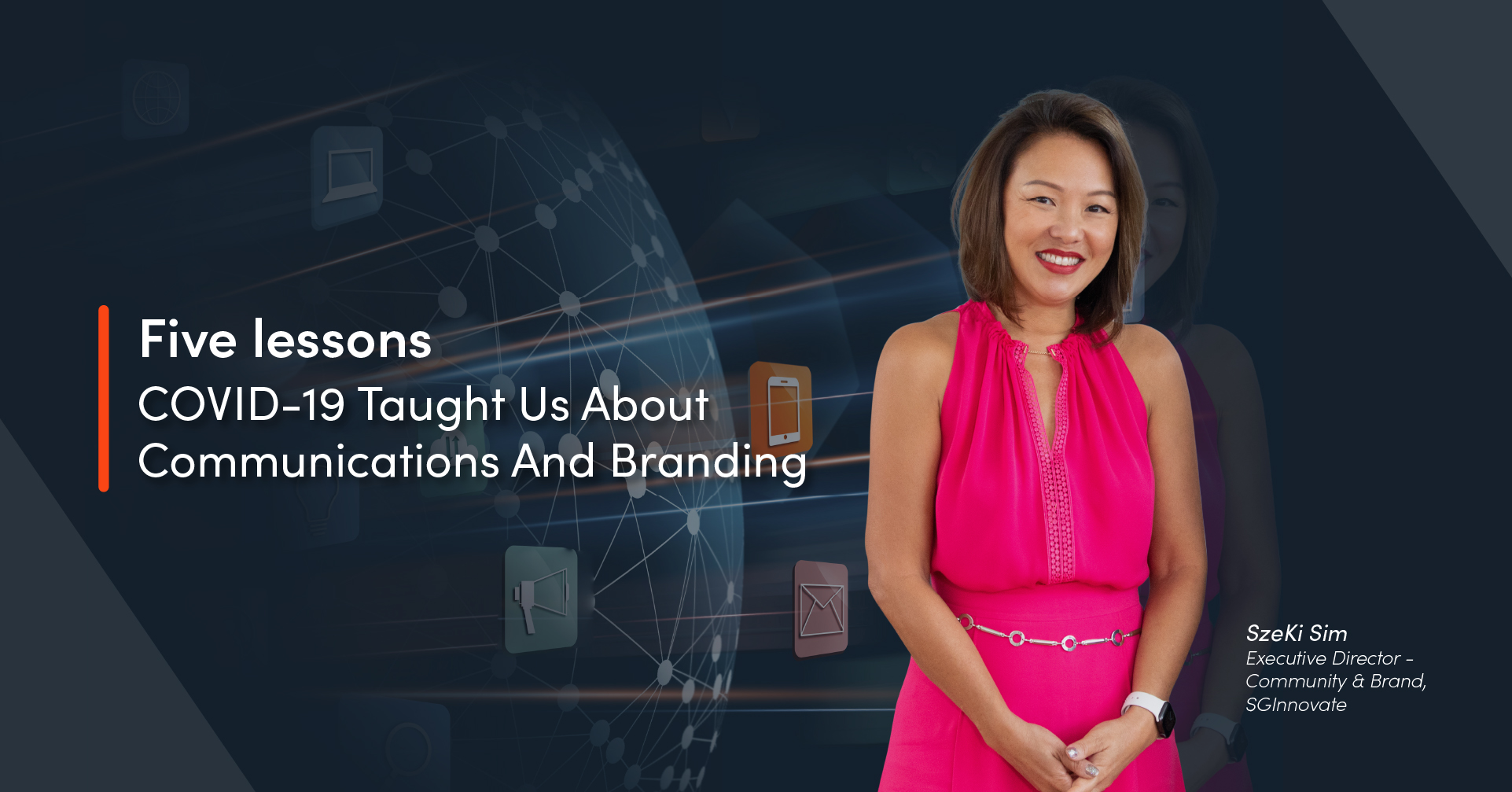 Topics: SGInnovate Insights
Industry: Others
It's no secret that the COVID-19 pandemic has put a lot of strain on marketing, brand and community building. Since our inception, we have always been focused on building an engaged Deep Tech community. During pre-COVID-19 days, we would typically organise three to four physical events on a myriad of topics every week. When the pandemic first forced us to stay at home and maintain safe distancing, we were concerned – about the execution of activities we had planned, how we could reach out to our audience, how we could continue to support and engage the Deep Tech ecosystem.
As we navigated through the economic standstill, the importance of staying positive while pushing ourselves to experiment and explore new grounds really hit home and helped us to fight on.
Here are five lessons that I have learnt about communications, marketing and brand building during these uncertain times.
1. Stay true to your purpose: Keep grounded to the foundations
Never forget the fundamentals of good storytelling in marketing and effective communications! This is especially important for businesses and startups who are fairly new in their industries, to clearly explain the basics of who they are, what they do, and to who they want to speak to. This was the strategy I embarked on from the first days of SGInnovate, when we were still an unknown brand, and it carries us to this day.
Keeping aligned to your key purpose and what your brand stands for will help to tell great quality stories that will leave an impact on your audience. Remember that effective communications need not be complicated. Beyond having clear messages and objectives, businesses and startups should also pay attention to the various channels of delivery that they have on hand, be it earned or owned.
For example, our portfolio company See-Mode Technologies shared their recent Series A announcement through a considered, integrated approach across a mix of channels. This allowed See-Mode to maximise the reach of the news, achieving media stories across key publications in Australia, Singapore and regionally. Sharing and interactions via their social channels also extended into offline opportunities for the founders.
2. Empathy first: Listen, respond and be trusted
More than ever, organisations need to lead with empathy and be authentic. Before embarking on communications efforts, one should carefully consider and be aware of the challenges faced in the community because of COVID-19. It may not be a good time to celebrate achievements in a big, lavish manner. Be sensitive, listen to the community and try to focus on the positive ways that your company can value-add.
During this challenging period, brand trust has emerged to become highly important for all organisations, big or small. Startups too need to incorporate trust elements into their entire business model and communicate these transparently to stakeholders and their teams. This could be in areas such as their response to COVID-19 and the impact on future business plans.
Trust builds credibility and loyalty, which will certainly go a long way for all organisations.
3. Be thoughtful: Create and share quality, relevant online content
Online and virtual platforms have made it easier for organisations to push out content quickly, especially in bite-size digital formats. But we need to strike a good balance between quality and quantity. Rather than being overly aggressive and churning out a large amount of content just to get more eyeballs, creative or customised execution will allow you to connect more thoughtfully with your target audience.
For a start, leverage on the experiences and learnings from your past campaigns. Having built a strong foundation in digital and content marketing, we had good data points on what worked best for our community. Upon moving all our events online, we tapped into these existing insights and our knowledge resources to create a range of content across all our digital and social channels – the SGInnovate blog, LinkedIn, Facebook, Twitter, YouTube and even launched our Instagram account. Instead of planning from scratch, we built on a content strategy that offered a mix of long-form insights, digestible takeaways from our virtual events and also short videos, to quickly provide startups with the knowledge and industry trends that they need to navigate through the challenging times.
Similarly, startups can leverage good quality content to drive conversations on key topics for them, to inspire ideas, spark new conversations and build networks.
4. Take action: Turn adversity into advantage
With remote working and video conferencing as the norm, distance is no longer a factor – use it to your advantage. This is exactly what we have done.
The digital platform negates the need for travel and gives us great access to world-renowned speakers from across the globe and the ability to reach out to audiences beyond Singapore. Earlier in June, we organised 'AI for Good', a dialogue session between 2 luminaries in AI - Prof Yoshua Bengio and Dr Kai-Fu Lee. This attracted over 2,000 attendees from over 30 countries joining the insightful discussion on the promise of AI for humanity - even when it took place during the wee hours of the morning for some attendees!
Prior to this, we have always had the notion that physical human interaction was what made our events special. But we quickly found that it is the ability to connect with people that is of the utmost importance to the community. So, we continued pushing forward with our calendar of virtual events while enabling interactions through online chat functions and Q&As. The result? We are finding a similar, if not higher, level of quality engagements during our events! Attendees are more outspoken when they can pose questions or share their thoughts behind the screen. They are also more than happy to share their contact details over chat functions, to take the conversation further offline.
Since our inception in 2016, SGInnovate has built the largest and fastest growing Deep Tech community in Singapore. When COVID-19 hit, we anticipated that moving our events online would have a negative impact on its growth. To our surprise, it has been the opposite – we have in fact seen a higher increase in our community – with over 55,000 contacts in our community to date!
5. Continue investing in your community: It is where connections and partnerships are born
Conversations bring about connections and foster partnerships. As a Deep Tech catalyst, community-building is a very critical part of our work. Beyond casual chit-chat, our Deep Tech community brings together like-minded people from different roles across the ecosystem, who may otherwise not have the opportunity to meet. It has been most rewarding to watch these engagements grow and inspire ideas of innovation.
However, it does take time to get there. Community building is a long-term journey, but a community with a strong purpose can engineer awareness into interest, and interest into action. Especially during these challenging times, the connections made, support provided and your response to the current crisis will be remembered and may very well trigger new initiatives in the future.
So to all founders out there: don't be too quick to give up on your marketing, communications and engagement activities. Press on and we believe you will be able to reap the fruits of your efforts in the eventual recovery!

Topics: SGInnovate Insights
Industry: Others


Share this with your network!
You may also like the following: