Global Deep Tech Landscape
Tuesday, September 17, 2019
Scientific discoveries have had a long history. Penicillin, electricity, the internal combustion engine and others have had profound impact saving lives, improving healthcare and enhancing transportation. Deep Tech will create a similar impact in the coming years. Governments around the world are stepping up their involvement and investments in this sector.
EUROPE
Deep Tech investments have seen a significant increase in Europe in recent years. An Atomico report stated that in 2017, US$3.5 billion1 were invested in 600 Deep Tech deals compared to only 120 in 2012. The prospect of the United Kingdom leaving the European Union is expected to benefit Europe. Private sector research and innovation activities will likely move across the British Channel in anticipation of this move.
Talent and market size are two key advantages for Europe. Germany, Britain, France and other countries have many of the world's top educational institutions which turn out many PhDs in the sciences, engineering and mathematics.
The Atomico report also highlighted that software developers number about 5.5 million in Europe, 25 per cent more than the US. With a population of over 700 million, the region has a large domestic market for its startups.
Innovation is also strong in Europe. VC funding grew from €4.1billion euros (US$4.65 billion) in 2012 to €19.1 billion (US$21.67 billion) in 2017. According to Dealroom2, Deep Tech funding rose even faster, by nearly 10 times over the same period.
The world's largest automotive giants are in Europe namely German firms Daimler and BMW. They are working to produce new transportation methods based on autonomous technology.
UNITED STATES
The uniqueness of the US Deep Tech startup environment is its rich ecosystem. Investors and entrepreneurs there have been investing in both general and Deep Tech sectors for decades. They have subject matter expertise in Deep Tech, possessing in-depth knowledge and technology skills. Most importantly, the investors have large funds. At least five VCs including Lightspeed Venture Partners have raised over US$1 billion in funds in 2018. There are also specific funds for Deep Tech like Global Life Sciences which has several funds, each of which is about US$55 million.
First, it is consistently among the top three countries to file the most patents globally. And the patents3 do translate into products and services. For example, the Recombinant DNA technology pioneered by Genentech has resulted in new drugs, generating income for the pharmaceutical industry.
Second, the US has some of the best universities in the world. Two of them, Stanford University and Massachusetts Institute of Technology (MIT) have world renown computer science, business studies, engineering and science programmes. Their alumni have founded big impactful companies such as Ginko Networks, Google, Nvidia, and Qualcomm.
Third, there is an established network comprising students, academic staff, universities and industry. This network has the inside track to the disruptive business ideas of young students as well as access to discoveries by scientific staff and new technology developments in the research labs.
Professors in this network are also clued in to what the market appreciates, that is when ideas will turn into gold. They recognise "winners", from the new ideas and findings that emerge from students and labs and which will lead to successful products.
One of the best-known academics who does this is Professor David Cheriton.
The Professor Billionaire as he is known, has a net worth of US$5.8 billion. He made his fortune from an early investment of US$100,000 in Google.
These three factors make up the "DNA" that has been baked into the startup and scientific communities in the US, giving it a unique differentiator from other countries and regions.
The US will remain a key centre for scientific research and technology development. Its highly developed ecosystem supports and accepts new disruptive and transformational technologies. It is also supported by a sophisticated investor community.
ASIA
China is obviously the elephant in the room. It is debatable whether China or the US is at the top of AI or life sciences development. Without a doubt, China is among the global world leaders in these scientific domains. Its thriving startup landscape helps push AI innovations further. Besides, its large population of 1.3 billion people create a huge domestic market. China's New Generation AI Development Plan launched in 2017 has also influenced key industries across its economy to use AI.
The Chinese Government has also invested in advanced manufacturing and robotics, blockchain, agricultural technology and new food production techniques. It is firing on all cylinders, providing large financial support to bolster its activities in the Deep Tech sector.
In other parts of Asia, Deep Tech investments are slow in picking up. In India, the Government aims to deploy Deep Tech to discover new climate resilient agricultural species, fog vision systems for road and rail and predictive maintenance of rolling stock. Japan4 was set to spend US$107 billion in 2017 in hard core science and research. Most of the Deep Tech investments take place in North Asia and Taiwan where the developed economies there have good universities and access to large investment funds.
In Southeast Asia, the Deep Tech landscape is in its nascent stage. Of the 11 countries in the region, Singapore has the most advanced startup ecosystem but Deep Tech investments are still few and far between.
SINGAPORE
The Republic's startup ecosystem is pretty well-developed, with about 5,000 startups, a strong and growing community of VCs including angels, and more than 100 incubators/accelerators. However, the Deep Tech sector in this ecosystem is in an embryonic stage.
Professor Wong Poh Kam, Director of NUS Entrepreneurship Centre, observed that despite significant R&D investment over several years in various Deep Tech fields, Singapore is still a laggard5. Said Prof Wong: "Singapore still lacks the depth and specialisation of other high-tech startup hubs, such as Boston and San Diego in life sciences, Silicon Valley in semiconductor/digital devices, big data, clean tech, and energy, and Munich in advanced engineering and manufacturing.
Indeed, while several internet/mobile ecommerce startups from Singapore have successfully scaled up regionally and achieved valuation of above S$ 500 million (US$360 million) in recent years (e.g, SEA, Grab, PropertyGuru, Carousell), there has so far been virtually no Deep Tech startup in Singapore that has successfully scaled up."
Chart 1 (see below) shows that general tech startups is in pole position with Deep Tech trailing far behind. Despite several years of Government funding, the Deep Tech sector is still small.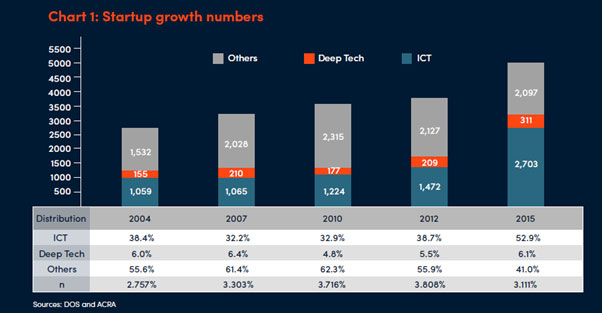 There is also a lack of a sophisticated Deep Tech investing community. Venture capital firms with large funds able to invest in Deep Tech startups are in a small minority.
Another hurdle is the long gestation period. Collaborations Deep Tech startups have with large organisations like hospitals and manufacturing companies frequently take two to three years to jointly iron out the kinks. General tech startups, on the other hand can go directly to the consumers within the first year of operations.
It is not that Singapore lacks scientific research. For a small country, about S$60 billion (US$43.3 billion) have been invested in hard science and engineering since 1995.
There are many research institutions here. In 2017, there were over 35,000 research scientists and engineers6 in Singapore.
Patents granted by the US Patent and Trademark Office to Singapore inventors have also risen more sharply from 943 between 1996 and 2000 to 7171 between 2011 and 20167. However, the majority of patents are filed by foreign companies and the discoveries are usually commercialised out of Singapore.
In the Republic, Deep Tech startups face different challenges in funding and recruiting talent. Many of the startup investments originate from Government agencies, usually between S$50,000 (US$36,000) and S$500,000 (US$360,000) per investment. This may be sufficient for general Internet startups but inadequate for Deep Tech startups.
Reluctance to invest can be attributed to the same risks identified earlier in this Insights Paper: long gestation period of Deep Tech projects, small funds and lack of evaluation capability.
However, the situation is less grim and is in fact, looking brighter. There is a small community of biomedical startups, some of which have been successful like Veredus Labs8. Autonomous technology as it is used in driverless vehicles have also found a home in the Republic. Government support in form of new policies, funding and creating sandboxes for experiments and trials have led to a clutch of startups in this field and created a global reputation for the country in this domain.
Since the late 2000s, special incubators and accelerators have been set up like Clearbridge Accelerator and Zircom MedTech. A Cleantech Accelerator has also been set up by the Sustainable Energy Association Singapore to provide startups in this area. These are capability development efforts by the Government. In recent years, more specialised accelerators have started operations here.
SGInnovate was also set up in 2016 to build and grow Deep Tech startups. Entrepreneur First and Antler are venture creators and startup generators that emerged in recent years. Entrepreneur First received Government funding while Antler raised venture capital. Several companies have already been formed and "graduated" such as Qritive, which provides pathology labs with a workflow software and AI diagnostics to shorten the time needed to analyse tissue samples, allowing doctors to obtain results for patients more quickly.
Collaborations with global Deep Tech companies have also picked up. A global life sciences company based in Singapore is working with a local data analytics company to develop remote monitoring devices that can monitor vital signs of patients suffering from cardiac disease. Data collected allow for early medical intervention, preventing hospitalisation and ultimately, saving lives.
A push has also started to discover promising local research that can be spun off into Deep Tech startups. The Startup SG Equity scheme, a Government-backed fund, was launched to support among other things, co-investments with private money including from individuals and family offices, in Deep Tech startups.
More initiatives have surfaced from among the local research institutions and universities to commercialise research work. A notable programme is Accelerate, the commercial arm of the Agency for Science, Technology and Research (A*STAR), which seeks to licence the technologies discovered by its scientists and engineers.
Other institutionalised programmes which seek to bring research from their organisations to the market include NUS Grip from the National University of Singapore and NTUitive from Nanyang Technological University.
---
1State of European Tech
https://2017.stateofeuropeantech.com/chapter/deep-tech/article/european-deep-tech-seize-global-opportunities/
2Annual European Venture Capital Report 2017 edition
3World Intellectual Property Indicators 2018
https://www.wipo.int/edocs/pubdocs/en/wipo_pub_941_2018.pdf
4R&D budgets in Japan soaring to record-breaking levels, Nikkei Asian Review July 27, 2017
https://asia.nikkei.com/Business/R-D-budgets-in-Japan-soaring-to-record-breaking-levels
5Developing Singapore's Innovation and Entrepreneurship Ecosystem: From Internet/Mobile Services to Deep-Technology Commercialization? By Professor Wong Poh Kam
6National Survey of Research and Development in Singapore 2016
https://asia.nikkei.com/Business/R-D-budgets-in-Japan-soaring-to-record-breaking-levels
7Developing Singapore's Innovation and Entrepreneurship Ecosystem: From Internet/Mobile Services to Deep-Technology Commercialization? By Professor Wong Poh Kam
8Accuron Medtech divests VeredusLabs to Sekisui Chemical
https://www.businesstimes.com.sg/technology/accuron-medtech-divests-veredus-labs-to-sekisui-chemical
In the Deep Tech Investments: Realising the Potential Insights Paper, we delve deeper into the Deep Tech landscape, in Singapore and around the world. Download our full report to learn more about the opportunities and potential in Deep Tech.

Topics: Investments, SGInnovate Insights, Startup and Corporate Open Innovation


Share this with your network!