Back to all blogs
How one roboticist is using innovations from the lab to make life easier for others
For Huang Zefan, or 'Ziggy' to his peers, his love for robotics is a 24/7 affair.
When he's not mentoring budding roboticists in secondary schools or designing and printing 3D parts to make his home more functional, he's in the Advanced Robotics Centre (ARC) at the National University of Singapore (NUS), chipping away at his latest "obsession" and subject of his PhD thesis – navigation for autonomous vehicles.
"Imagine a robot in a very narrow corridor," explained Ziggy, "Traditional algorithms dictate drawing a line from the robot to the end of the corridor for it to get across. But the assumption is that the environment is static. We're trying to imbue robots with a sense of intelligence and awareness needed for a dynamic environment."
The second-year PhD student in mechanical engineering at NUS has been working to integrate "social compliance" into an autonomous wheelchair at the ARC over the past year. Kitted out with LIDAR sensors that detect movement up to 8 meters away, the wheelchair "senses" the world around it and uses the data points to navigate tight corners. The hope is that one day, this robot can be used to aid those with limited mobility.
Freeing people from the "4Ds"
(Left) Ziggy and his teammate Christina Lee with the autonomous wheelchair they've both been working on. (Right) A close-up of the map developed by the autonomous robots from data obtained from LIDAR sensors on its wheels.
Rather than replacing humans with autonomous vehicles, Ziggy's work aims to relieve humans from what he terms the "4Ds" – work that is dull, dirty, dangerous and demeaning. His sentiment echoes Professor Marcelo Ang, who specialises in control and mechatronics and is director of the Advanced Robotics Centre in NUS, where Ziggy's lab is. Prof Ang also supervises him on his thesis.
"What is a good project?" said Prof Ang. "I will suggest that (a good project) is one that contributes to knowledge and ultimately improves quality of life for everybody." Prof Ang believes deeply in translating research into solving real-world problems and regularly links his students to industry partners.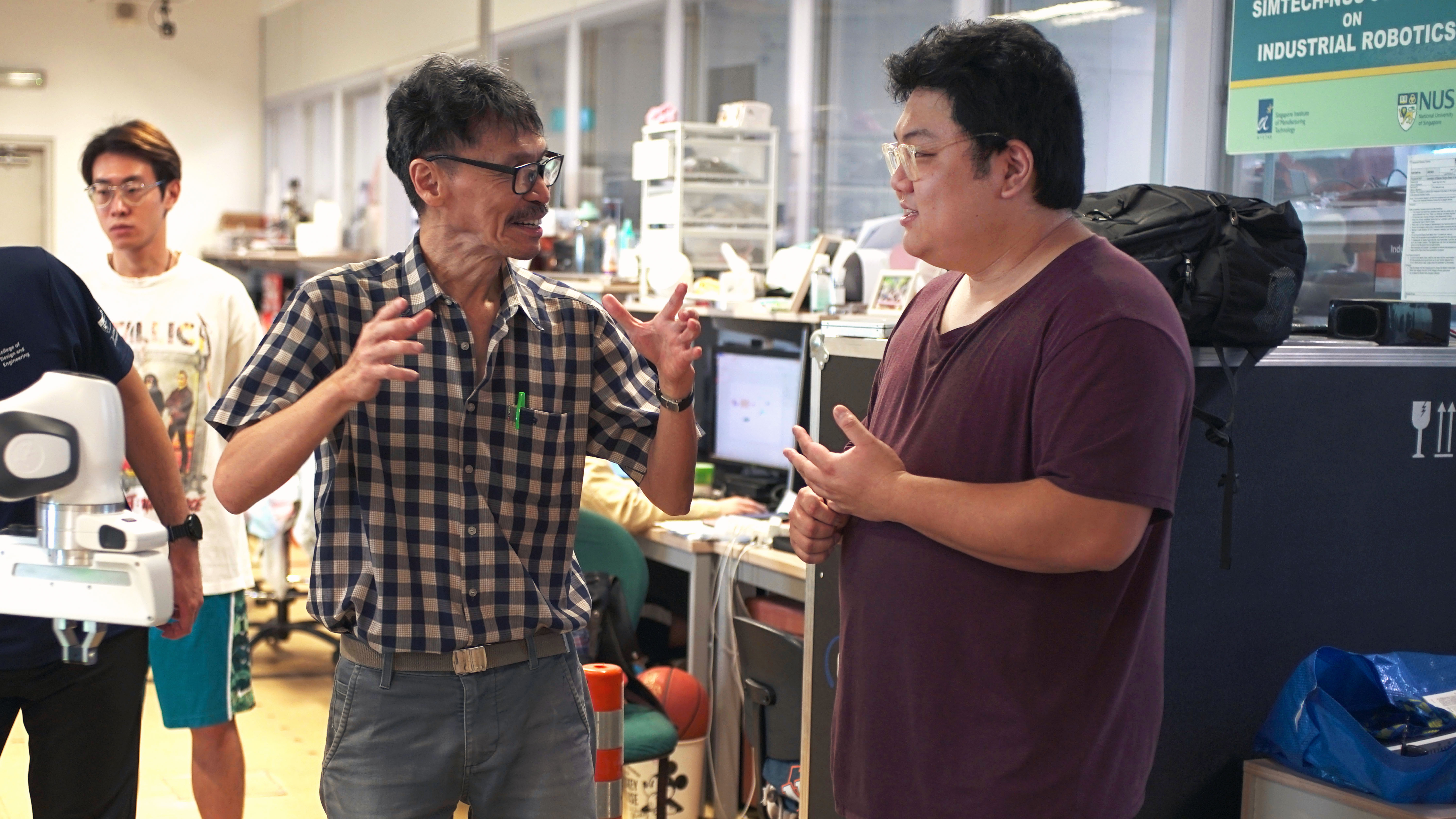 Prof Marcelo Ang with Ziggy at the Advanced Robotics Centre (ARC).
"When you're doing pure research, you may not really understand the value of it," said Ziggy, "it's only through interaction with different stakeholders that you will start to realise how the robot can benefit the economy and the people using it. Sometimes this dynamic is not found in a purely academic environment – you must go into industry to find out more about how it works behind the scenes."
With the support of his supervisor and driven by a natural-born sense of curiosity, Ziggy applied to do an apprenticeship through SGInnovate's Talent Programme and was placed in Venti Technologies, a fast-growing autonomous logistics startup that develops autonomous vehicles for ports, airports and more.
From lab to real life
Ziggy's journey at Venti has brought him beyond academia and into the fast-paced, dynamic world of industry.
Watch the video of Ziggy's journey.
He describes the experience as "free-form". As an apprentice, his role was to provide expertise in navigation and trajectory planning – topics which his PhD thesis also revolves around. He was also pushed out of his comfort zone. His tasks included everything from testing out hardware in a carpark to high-stakes presentations to the big bosses. Barely a month into his apprenticeship, he found himself working on localisation – how an autonomous vehicle situates itself in the world – and safety analysis, both of which were areas he was not familiar with.
"It's been an interesting change," he observed. "In academia, you're often devoting resources to push the state-of-the-art. But in the startup world, you have to balance costs, effort and the benefits it will bring to the customer."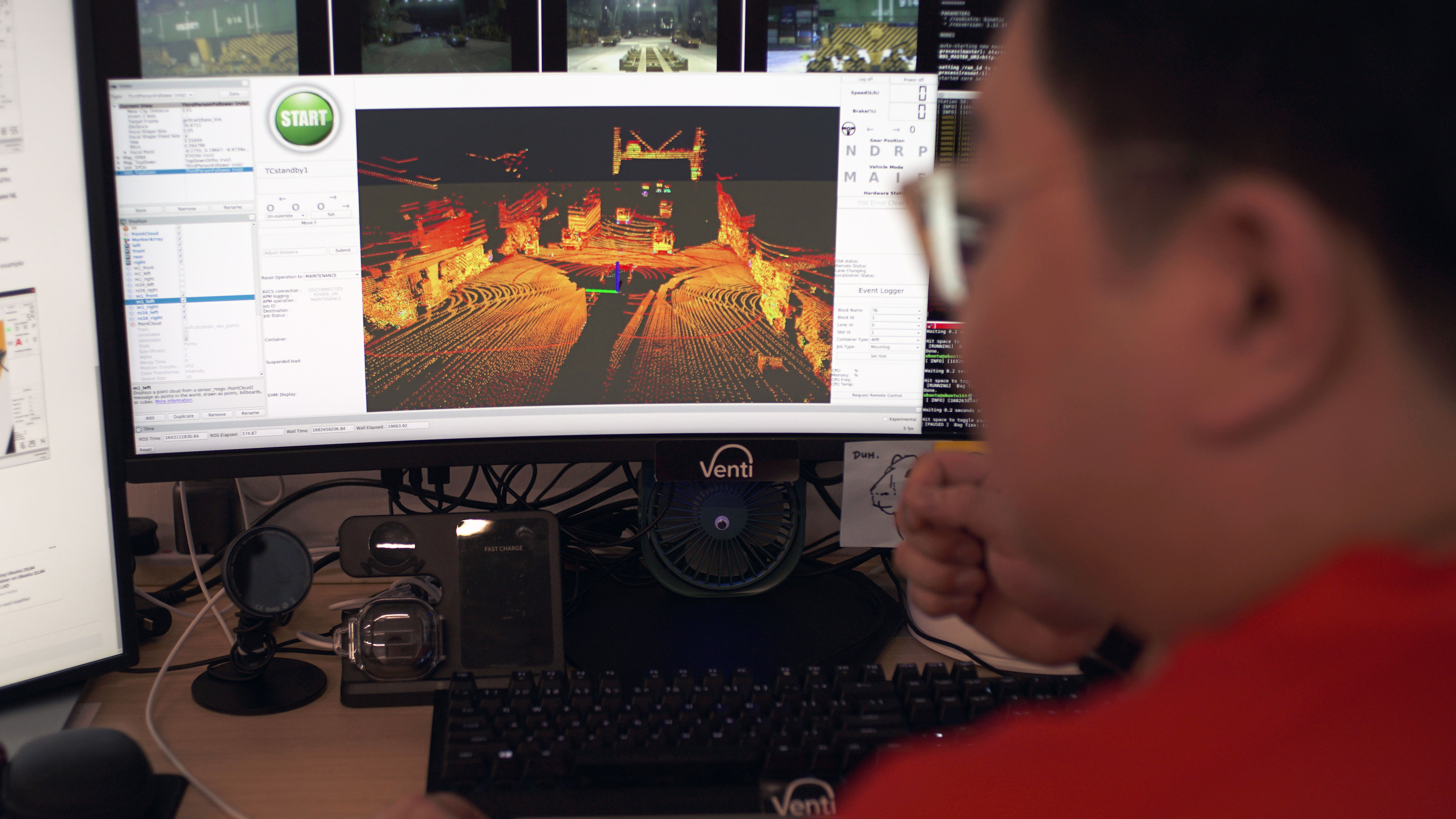 Ziggy watching video footage from LIDARs attached to a prime mover truck travelling through a wharf at night.
Perhaps what set this experience apart from his experience in academia was the opportunity to meet the folks who would benefit from his work at Venti – prime mover truck drivers in ports. "As a roboticist, it's very exciting to meet the people who are actually going to use your products," he said, adding that the driver shared some "unwritten rules" with him that he could then integrate into the code for the autonomous vehicle.
"The job (of port truck drivers) is inherently dangerous," he noted. "You're operating around heavy machinery." This means that if accidents do occur, they are likely to be more serious."
Instead of being replaced, prime mover truck drivers can move up the value chain with the help of autonomous vehicles like the ones Venti builds. "They can operate more than one vehicle at a time from a comfortable workstation," said Ziggy. "This will improve their efficiency and also give them a more humane working environment."
"Industry experience is crucial," said Scott Pendleton, Senior Director of Autonomy at Venti Technologies. He was one of Ziggy's mentors during the 6-month apprenticeship. "We're operating 24/7 – you see challenges that you wouldn't see in a lab." He added how programmes like SGInnovate's Summation Programme creates an important pipeline of local talent, especially in niche domains such as robotics.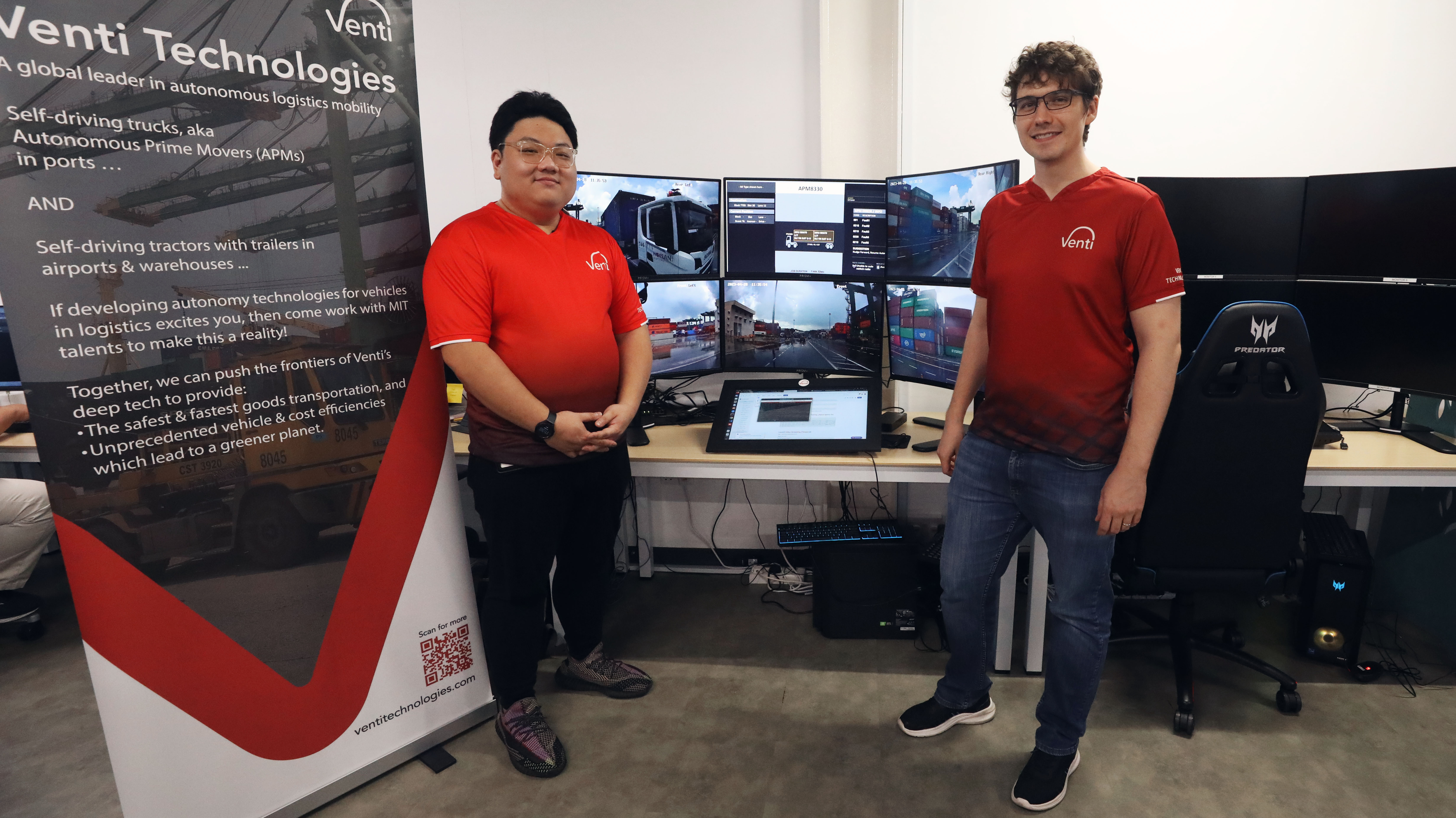 Ziggy with one of his mentors at Venti Technologies, Senior Director of Autonomy, Scott Pendleton.
While the shift to industry came with its own learning curve, it also led to Ziggy's "eureka moment".
"It's satisfying when you find out that your changes (to the programming stack) have been reviewed, accepted and merged – and are actually running on a vehicle."
Coming full circle
While Ziggy's apprenticeship has concluded, he has since accepted Venti's offer of a full-time position to be taken up alongside his PhD. "PhD students are often torn between academia and industry," he noted. In his case, however, the apprenticeship has helped him realise how his passion can benefit the entire ecosystem. 
"We're working on the less glamorous autonomous vehicles than the ones you see on the roads," he said, "Venti is working in warehouses, in ports, and all these benefit way more from autonomy because they fulfil a very important role in sustaining the economy."