Back to all blogs
Investing for Profit and Purpose
A conversation with Von Leong, General Partner at Purpose Venture Capital, an early-stage investment firm that builds tech ventures to deliver on United Nations Sustainable Development Goals.
1. Tell us more about Purpose Venture Capital
Purpose Venture Capital is an early-stage investment firm that builds tech ventures to deliver on United Nations Sustainable Development Goals. We support entrepreneurs to build sustainable and profitable tech businesses through purpose-aligned capital.
Instead of the spray and pray strategy that many venture capital firms adopt, we focus on investing in a handful of companies a year we believe have the team and drive to succeed. We work closely with the founders, leveraging our capital and network to help them grow.
2. What inspired you to set up Purpose Venture Capital?
As a former grant maker for social enterprises and non-profits, I was often frustrated to see that grant-fuelled growth does not necessarily ensure operational efficiency, financial health or program impact against its social service missions.
Along with my co-founders Sharon Sim and Sertac Yeltkein, both former bankers, we recognised a gap in the market. We believe the time is right to invest in early-stage companies with the potential to generate sizeable financial returns and outsized positive impacts on people and the planet.
The team has a proven track record and are proud to have two unicorns and one exit in our collective portfolio. And we hope to continue this success with Purpose Venture Capital as our key vehicle for sustainable tech investments.
3. How has the wider community played a role in your journey as an investor?
I only started tech venture investing two and a half years ago. And this journey in fact started as a result of an event at SGInnovate I attended in mid-2018 while I was the Chief, Digital Health marketplace at IHiS, Singapore's public healthtech agency.
That event left an indelible impact on me as I had the opportunity to cross paths with two individuals that got me started on this journey: a mental health startup founder and an early investor in the e-commerce space. They recommended two books that inspired me to begin this journey in impact and venture investing. Building Social Business: The New Kind of Capitalism that Serves Humanity's Most Pressing Needs by Muhammad Yunus and Angel: How to Invest in Technology Startups by Jason Calacanis.
I began to only look for startups that have a minimum viable product with strong monetisation strategies. I am grateful that my first participation as part of an early-stage investing syndicate in ATAI Life Sciences was recently listed on NASDAQ.
I also started to support entrepreneurs and women-led businesses by being a judge, mentor and community business leader.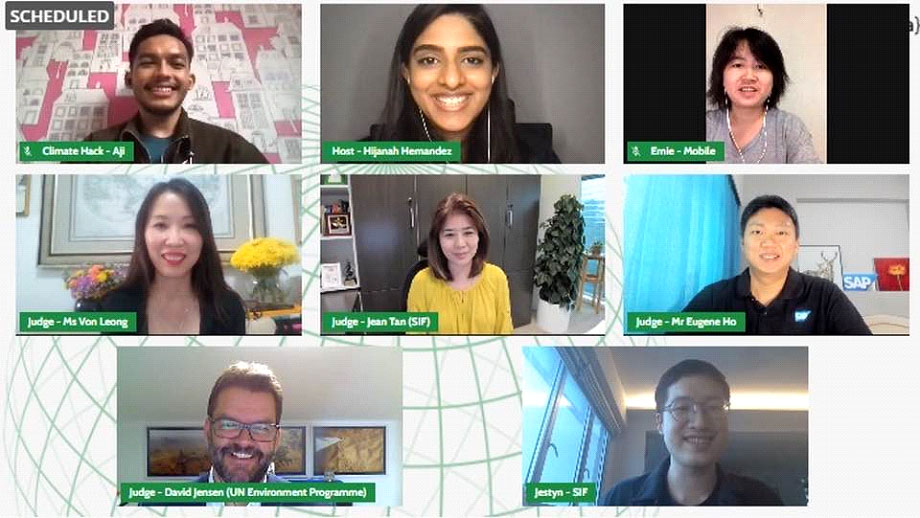 Von on the judging panel for Climate Hack 2021, a virtual hackathon focused on climate action
With the increasing momentum towards impact and sustainability and the convergence of multiple stakeholders - governments, charities, businesses and investors, I felt the need to connect these dots by combining purpose with profit, leveraging the twin engines of private capital and philanthropy. To me, investing is about investing in the future we want.
4. Can you share an important lesson you've learnt on this journey?
For me, the past two and a half years have been a wonderful yet often highly challenging process of unlearning, learning and developing ideas to bring real-world impact. I am grateful that all my portfolio companies are still in business despite the pandemic! Especially when research showed that 70 per cent of angel-backed firms lose money and 9 out of 10 startups fail.
Venture investing is certainly not for the faint-hearted, especially as private investors who are using our own money. This is why it is critical to be disciplined in how we source for deals, be thorough in due diligence, and always invest in the founder and the teams. I really believe in trusting our instincts, especially about people. As an organisational psychologist by training, I spend time learning about the founders' motivations, purpose in life, and their abilities to execute, which will help me to decide if this is a calculated risk worth taking.
5. What are some of the most important criteria when assessing a company's potential to contribute to sustainability?
For us, it all starts with the founders. What are their personal missions? Are they responsible entrepreneurs and willing to incorporate environmental, social and governance considerations into their operations and management? We expect our companies to adopt a sustainability mindset. For example, using non-toxic materials, waste minimization, collaborating with local governments, providing good quality jobs, especially for women etc.
We also like companies that will perform well across these five key drivers: social & environmental impact, business and go to market strategies, economic viability, scalability, capability and capacity to deliver.
6. What lessons have you applied from your experience in the philanthropy and social services sector?
For many years, the thought of integrating philanthropy and investing is far-fetched. Today, impact investing, which aims to generate social or environmental benefits while delivering a financial return, is fast expanding as a tool for both investors and philanthropists. As of 2020, according to the Global Impact Investing Network, the global impact investing market size is US$715 billion and is expanding rapidly.


Von with the Co-founders (left) and volunteers (right) of Masks For All SG, a social movement to advocate mask-wearing and distribute masks to vulnerable groups
I think impact investments and philanthropic dollars are especially powerful when deployed together. At the same time, there are also many parallels between the two. I have seen how philanthropy as a form of risk capital can catalyse social innovation. Meanwhile, impact investments, including venture capital, can act as growth capital to scale and amplify the impact of the innovations.
For instance, here are some points that are applicable to philanthropy and investing:
Stay interested in the progress, leverage data & AI and only measure what matters.
Scale is a verb, not a noun. High impact innovations must scale to their full potential to make a real dent in a wicked problem.
Seek collaboration and not competition. Like charities rely on networks for fundraising, it will require a network of partnerships to develop resources, leads and co-investing opportunities.
No two companies are the same, and the due diligence process is different each time – look at both commercial and impact factors.
7. What advice would you give to entrepreneurs looking to build impactful companies?
Firstly, commit to your vision of business as a force for good. You can make money while doing good. You need not sacrifice profit for purpose.
If it's an idea that no one has tried before, adoption will be a key issue. However, if you believe in your moonshot idea, especially in deep tech, as commercialisation is more complex, don't give up. Enthusiasm can be contagious; you will be able to find your tribe who will fund and support you.
Be ambitious and think global. If you truly believe in your solution that will build a better world, go all out to scale it and amplify the impact.
Finally, just get started and make an impact today.