SoyakaAI: In Search of a Co-founder
Thursday, September 03, 2020
Topics: AI / Machine Learning / Deep Learning, Investments, Startup and Corporate Open Innovation, Talent and Mentoring
Apart from maritime logistics, supply chain issues also arise in e-commerce—and this is the playing field that startup SoyakaAI has planted itself in.
After its founding in 2018, SoyakaAI launched a Shox mobile app for Indonesians to easily shop products featured in photos. However, the startup is currently focusing its efforts on Shox Rumahan—a new app that will help users shop for entire villages in Southeast Asia's rural communities ("rumahan" being the Bahasa Indonesia word for "house").
Founder Sonat Yalcinkaya, who combined syllables in his name to coin "SoyakaAI", shares that e-commerce can be cost-prohibitive for rural communities. With Shox Rumahan however, SoyakaAI will help to accumulate bulk orders from villages with similar shopping patterns and negotiate with suppliers for lower prices on their behalf.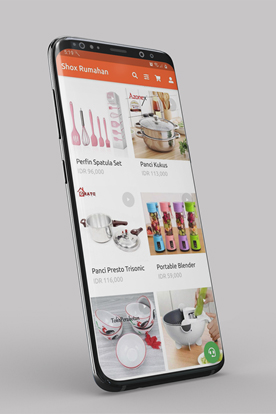 The Shox Rumahan app
Not only do villagers enjoy cost savings this way, Shox Rumahan users are also rewarded with 10% of the amount spent by their entire community.
In addition, from the bigger picture of fintech, SoyakaAI aims to help the unbanked gain access to credit. The Shox Rumahan app uses AI to assist users in accumulating spending histories for the purposes of passing Know Your Customer checks and obtaining credit in the future.
"Attitude Almost Always Beats Experience"
To facilitate its goal of "doubling down" on rural communities, SoyakaAI is currently in search of a co-founder and Chief Technology Officer. Apart from having hard skills in server-side technologies and app programming, the ideal co-founder would also have skin in the game, and "love failure in a progressive way".
To Yalcinkaya, this refers to "someone who is not ashamed of failure", and in fact is smart enough to realise that "failure is the only way to grow". As a result, an applicant who has big-name companies on their resume may not impress as much, unlike someone who previously "tinkered" and started their own company—even if that venture eventually failed.
The ideal co-founder would also have the drive and hunger to succeed, and the willingness to "get their hands dirty". It will be a "big, big win" if they "hustle for extracurricular things after work hours", shares Yalcinkaya.
Accordingly, Yalcinkaya is "flexible" in terms of his co-founder's age and experience level, as long as they have the right attitude. He relates that a 21-year-old whom SoyakaAI hired two years ago impressed him so much that she now single-handedly runs a team of 20. "Attitude almost always beats experience," he says.
In terms of company culture, "radical honesty" and work transparency are the names of the game. There are no "backdoor secret things" at SoyakaAI—within the startup, everyone's salaries are public information, for example.
Yalcinkaya also readily shares the amount of equity that his co-founder can stand to receive: 5% to 10%, depending on their seniority and how much they've given up to join SoyakaAI (it's about having skin in the game, after all).
Passing the Baton in the Bid to Achieve Retail Democratisation
In addition, all new hires are given a "user manual" that transparently details to them how Yalcinkaya operates. For the past five years, Yalcinkaya has gone to bed at 7 pm and risen at 2.30 am and is a big believer of remote and asynchronous working.
Preferring quality over quantity of work, Yalcinkaya shares that he "honestly doesn't care" how his co-founder gets things done, as long as a few of their work hours overlap with those of himself and the rest of the SoyakaAI team.
He describes this as "passing the baton" so that the company is "just revving [its] engines non-stop" in its bid to become the biggest social commerce company in Indonesia.
"Every night, [I want us to be able to] go home [and] say this month, we helped this many housewives start their own business, have this much more money. We helped them access this much funds," says Yalcinkaya.
"That's the impact of social commerce penetration—democratising retail for rural [communities], and fintech-wise, giving proper support: loans and other things for housewives to access the real economy. So that will be the ultimate vision for the company."
Will You Answer the Call?
Although the pandemic has resulted in much global uncertainty, one thing remains clear: the AI B2B sector is abounding with opportunities. Be it for advancing maritime logistics like Portcast, ecommerce like SoyakaAI, or other industries, startups are eager to hire to accelerate their growth and potential impact.
The only question that remains is: are you ready to join the supply chain revolution?
We are always seeking out the best Deep Tech talent, creating a marketplace where talent and startups can connect.
Join us at the New Frontier, a virtual conference for Deep Tech jobs and opportunities on 12 September, where you will be able to explore more than 200 Deep Tech roles!

Topics: AI / Machine Learning / Deep Learning, Investments, Startup and Corporate Open Innovation, Talent and Mentoring


Share this with your network!
You may also like the following: