Back to all blogs
Starting up and starting fresh in robotics
After graduating from university, Roy Koo founded and operated a virtual reality (VR) startup. He later joined the PowerX Robotics programme following the pandemic, and recently completed a traineeship with robotics platform company Augmentus. Roy has secured a full-time role with the organisation as a robotics software developer.
You've gone from a background in mechanical engineering (oil & gas) to working with robotics software. Can you tell us more about your career journey so far?
When I graduated from university, it wasn't a good time for the oil and gas industry. A previous internship experience also made me feel that the industry wasn't for me, so I decided to explore something different.
I had some interest in game development, which led me to my first job as a project coordinator at a serious games company (which made educational games). During my two years at the company, I spoke with software developers and had some exposure to VR, which was a very nascent industry at the time. In that period, I was also learning more about VR technology, attending and eventually organising VR events. These experiences made me very interested in starting my own company – and eventually I founded a VR startup. We started out running a VR arcade, then transitioned to setting up VR booths at events.
When COVID-19 hit, we tried to move fully to software development, but this was difficult for our small team. We met less often in the first two years of COVID-19, and many of us began looking for other ventures. All this eventually led me to the PowerX programme.
Why did you decide to switch over to the robotics industry? What made you choose to join the PowerX programme?
I'd reached a stage in my life where I was hoping to start a family, which made me think more about what I wanted for my personal development, as well as guidance on how to develop my career. All these considerations made me question how I wanted to bring my career to the next stage.
I heard about the PowerX programme from some friends who participated in it previously, and thought it was good for career switchers like myself.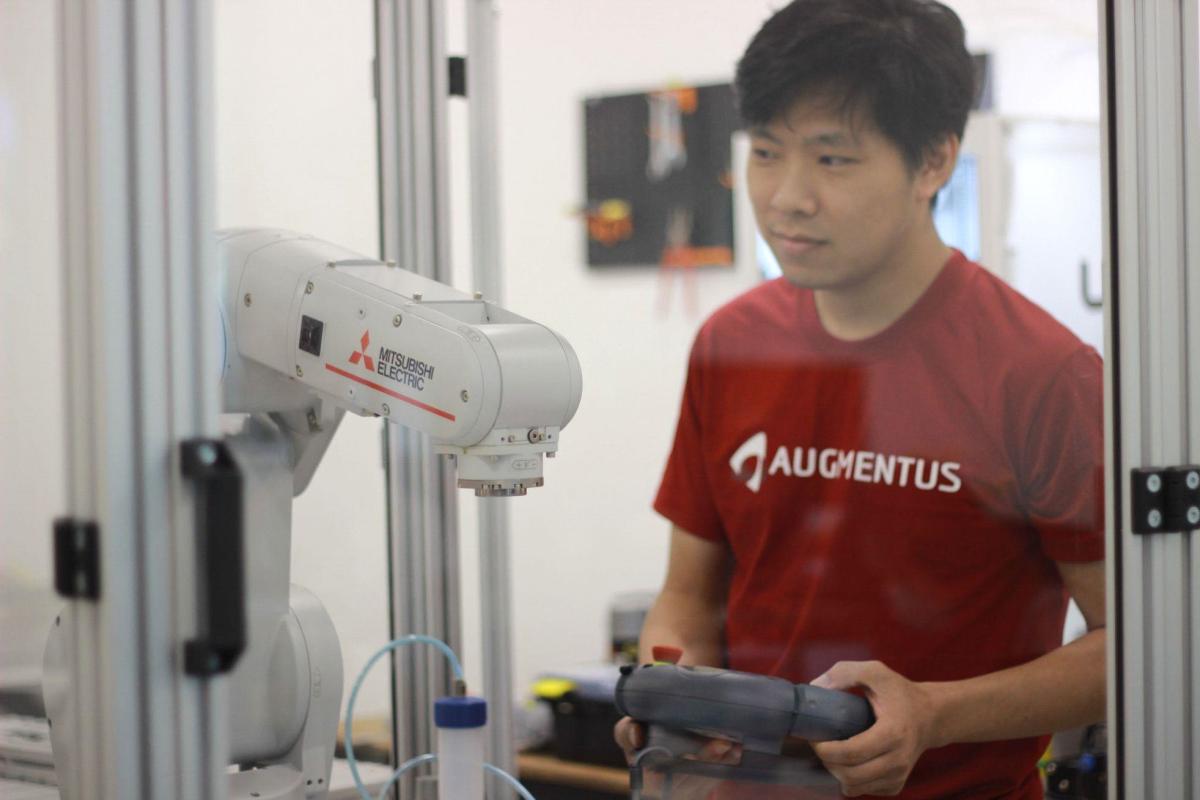 Roy preparing the robot cell to test new features using the Augmentus app.
In my startup, we dabbled in building the software for our own original products, which was very enjoyable for me. At the same time, the robotics pathway would allow me to tap on some background knowledge I had about the field, while the six-month on-job-training phase would help me transition into the company.
Tell us more about your role at Augmentus.
Augmentus is building a local platform to allow laymen to program robots. In addition to a main app, the platform also consists of secondary apps for 3D scanning, hardware integrations for camera vision, AI training, and file storage and sharing. The user doesn't need to be a programming expert, or know how the robots are being programmed. They only require an iPad to launch the app, and can learn how to program the robot from there.
At Augmentus, my responsibilities include both software development and account management. I help to upscale the platform, make it more user-friendly and add more features to help users program their robots more quickly. When I first joined, I was working on localising the robots within the scanned 3D environment in our app, as well as increasing the platform's range of compatibility with additional robot models and brands. Currently, I'm working on an in-app tutorial for new users.
Upskilling is something that is needed in any career. As adult learners, we need to constantly update ourselves about the latest technological advancements.
In a startup like Augmentus, we do many things. We're very agile, so we frequently have meetings on new features to add, test or experiment with. Every week is something different, but doing different things is something that I really like; it challenges me creatively each day.
What challenges did you face in transitioning to your new role? How did the PowerX programme help you navigate these challenges?
My main challenge was that I didn't have a strong foundation in robotics, unlike some of my colleagues who had experience working with robots in university. I also lacked industry knowledge – in areas like manufacturing processes. Although this does not directly affect my ability to code, understanding more about the user's needs helps me to see the big picture and is a big plus when I work on bigger tasks. Thankfully, I was able to learn these things during the on-the-job training phase of the PowerX programme.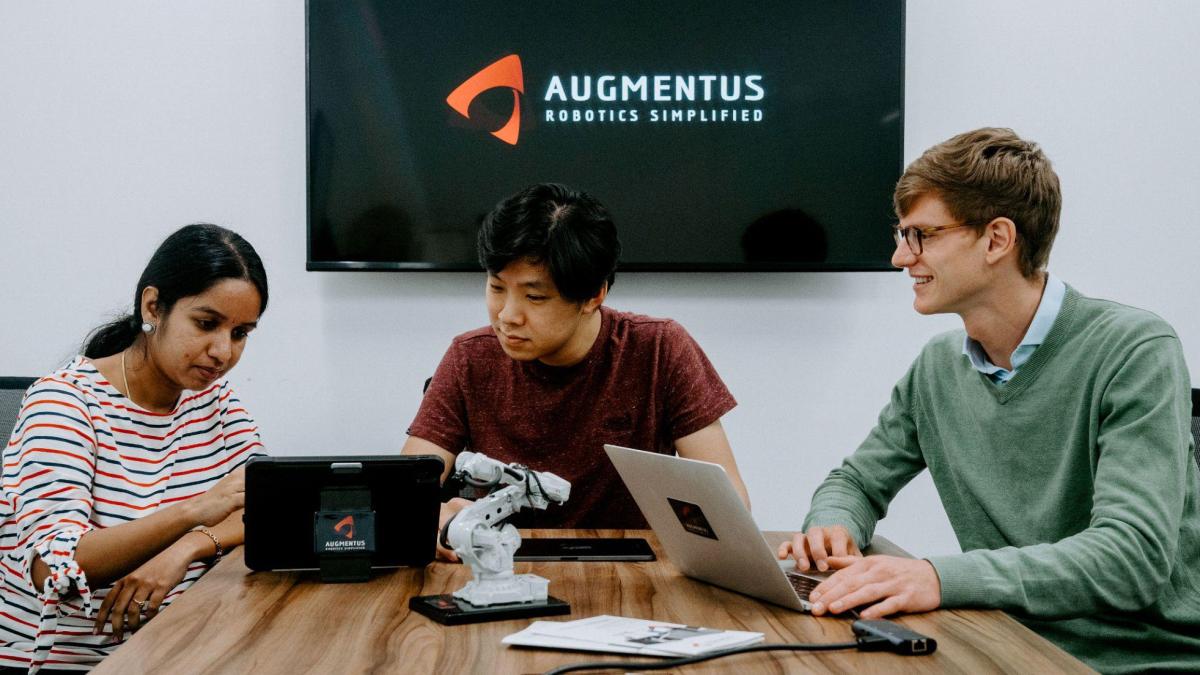 Roy (centre) discusses new feature developments with his colleagues
The programme's three-month modular training gave me a broad introduction to the different things I could do in the robotics industry. I also picked up a lot of common terminology, which is very useful for communicating with people in the field. I think this is helpful for someone new to the robotics industry and does not have a robotics-related background, as it gives them a foundation to start from.
How has your experience been picking up new skills while learning on the job? What are your thoughts about upskilling as a professional?
To me, upskilling is something that is needed in any career. As adult learners, we need to constantly update ourselves about the latest technological advancements. Personally, I'm thinking of taking up courses in cloud deployment – such as Amazon Web Services.
What advice do you have for other professionals looking to switch careers or industries?
Think about your own interests and passions. I personally have strong interests in the robotics industry and software development, so the opportunities and challenges I'm facing every day make me feel very excited about coming to work.
For example, what I'm doing makes robotics programming more accessible and enables more people to work with robots. I look forward to work, knowing that I'm helping to build the future.
Find out more about how you can start your robotics career with the PowerX Robotics programme.