Back to all blogs
A Step-by-Step Guide: Commercialising Scientific Research
The term, entrepreneurial scientists, is related to the emergence of the concept "Deep Tech", which refers to technologies based on genuine scientific discoveries that have produced novel and defensible intellectual property (IP). Swati Chaturvedi, Co-founder of Propel (X), an online investing platform for Deep Tech in Silicon Valley, first popularised the term in 2014 to differentiate those firms from startups engaged in business model innovation, incremental service improvements or the deployment of standardised technologies.
According to Chaturvedi, there are fundamental differences between Deep Tech startups and the rest which investors must appreciate. For instance, their risk profiles are different. E-commerce startups have little technology risk but significant market risk as they compete with online and offline retailers to grow their customer bases. Deep Tech startups, by contrast, are often defined by their technology risk, as they seek to develop and commercialise unproven lab ideas. Compared to an e-commerce startup, a Deep Tech startup will need a longer runway to market and revenue. Deep Tech startups thus often require patient capital from more sophisticated investors.
Below is a list of key takeaways aspiring entrepreneurial scientists should know:
Many of your core skills as a scientist – such as critical thinking and communication of your ideas – are applicable to entrepreneurship
As a principal lab investigator, you will learn how to market and sell ideas, fundraise, manage teams, and face roadblocks with a positive attitude. Cultivate all these.
Part of the reason scientists are able to describe a complicated concept in detail is their granular understanding of fundamentals and first principles. Scientists are driven by an insatiable curiosity, says Subra Suresh, President, Nanyang Technology University, Singapore, which pushes them to explore the underlying mechanisms and workings behind any process.
… but beware of some potential natural blocks
Scientists can become intellectual purists and overlook discoveries with enormous commercial potential. It is important to develop a "360-degree vision", whereby you are constantly aware of, and in contact with potential customers, competitors, investors and other market participants.
Nevertheless, Suresh believes that entrepreneurship can be nurtured in most scientists, if not all, given the right ecosystem and incentives. But he says that the modern entrepreneurial scientists must be comfortable in interdisciplinary work given that much breakthrough innovation is occurring at the intersections of disciplines such as biology and computing.
The demarcation line between mechanical, chemical materials, biological engineering… it's artificial. And increasingly, you will see that the demarcation lines between artificial intelligence, machine learning, material science and biology are artificial.

Subra Suresh
It is important for entrepreneurial scientists to recruit co-founders with complementary skills and personal characteristics, but they may have to look beyond Singapore.
Scientists must identify their strengths and then leverage them at the appropriate points of a startup's evolution. Though some scientists have what it takes to make good CEOs, Louis Phee, Dean, College of Engineering, NTU says, not all do. "The problem with scientists is that many of them suffer from what I call 'founderitis'. They think the founder knows everything." There is merit in exposing oneself to differing perspectives as early as possible.
Singapore's reputation today as a dynamic, innovative and safe city has made it easier to attract talented people to the city, but there are still some obvious entrepreneurial talent gaps. It appears that right startup CXO talent – people who can complement the scientist on the managerial bench – is not yet easy to find locally. Until the innovation ecosystem matures, entrepreneurial scientists in Singapore have to scout for talent anywhere in the world they can.
While it is easy to secure seed funding for promising Deep Tech ideas in Singapore through grants, it is harder raising money in subsequent rounds.
This is partly because venture capitalists are more risk-averse and not as familiar with Deep Tech. For entrepreneurial scientists, getting off the ground is easy; but be mentally prepared for potential funding gaps later.
The close collaboration between academia, industry and government in Singapore offers a responsiveness to innovation not easily found elsewhere.
Singapore's small size, its geopolitical reality of being a city state, its developmental level, and the tight collaboration between stakeholders, all together contribute to it being an ideal living laboratory. This competitive advantage spans many industries, including healthcare, transportation, additive manufacturing and agriculture.
Singapore's small domestic market forces startups to eye large, vibrant economies such as China, India, and Indonesia, but the opportunity is not without its risks.
Be aware of the numerous potential challenges of operating overseas, including issues around cultural and linguistic differences; IP protection; data privacy; cyber security; regulatory differences; policy uncertainty; political stability; and unfair local competition (for example through government subsidies).
If you are thinking of commercialising your research idea, here is a simple step-by-step guide that can help you with just that.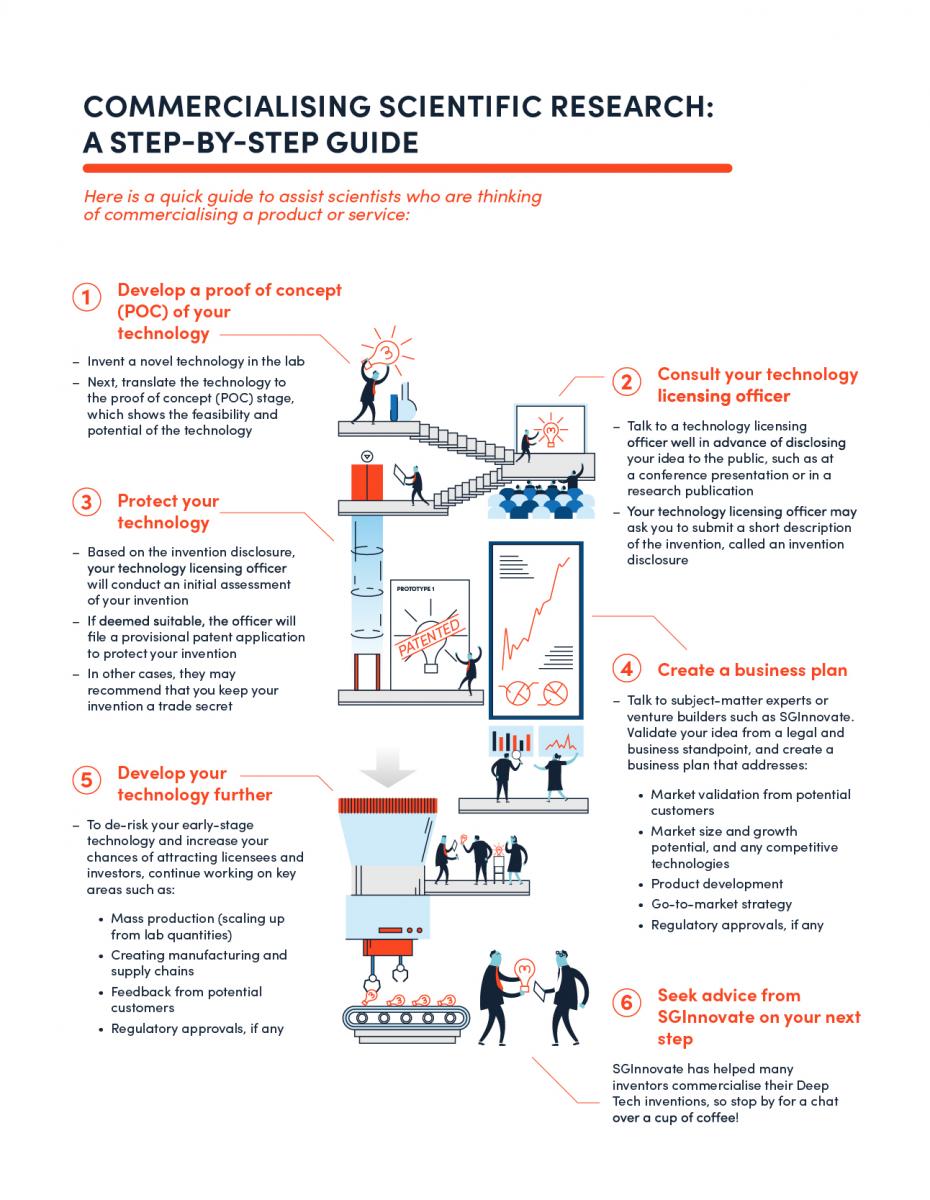 In the Deep Tech Daredevils: The Rise of Entrepreneurial Scientists Insights Paper, we interviewed founders and experts who shared their journey from lab to market. Download our full report to read about their motivations, views and experiences.