Back to all blogs
Tackling Supply Chain and Logistics Challenges with Open Innovation
Kicking off SGInnovate's Open Innovation partnership with the Singapore Economic Development Board (EDB), industry players converged to discuss the future of logistics and supply chain and a reverse pitch event to explore possible opportunities in this sector for collaborations with startups.
The worldwide pandemic has exposed significant vulnerabilities in the global supply chain, ranging from 2020's pandemic-driven factory closures in China to 2021's Suez Canal blockage.
Recent events have forced many companies to reconsider how they build, monitor and maintain their supply chain operations amidst rising certainty. One thing is clear: companies must transform their logistics operations to be more agile, sustainable and resilient—and be better prepared for the post-COVID world.
Kicking off SGInnovate's Open Innovation partnership with the Singapore Economic Development Board (EDB), industry players converged to discuss the future of logistics and supply chain and a Reverse Pitch to explore possible opportunities in this sector for collaborations with startups.
Challenges facing the supply chain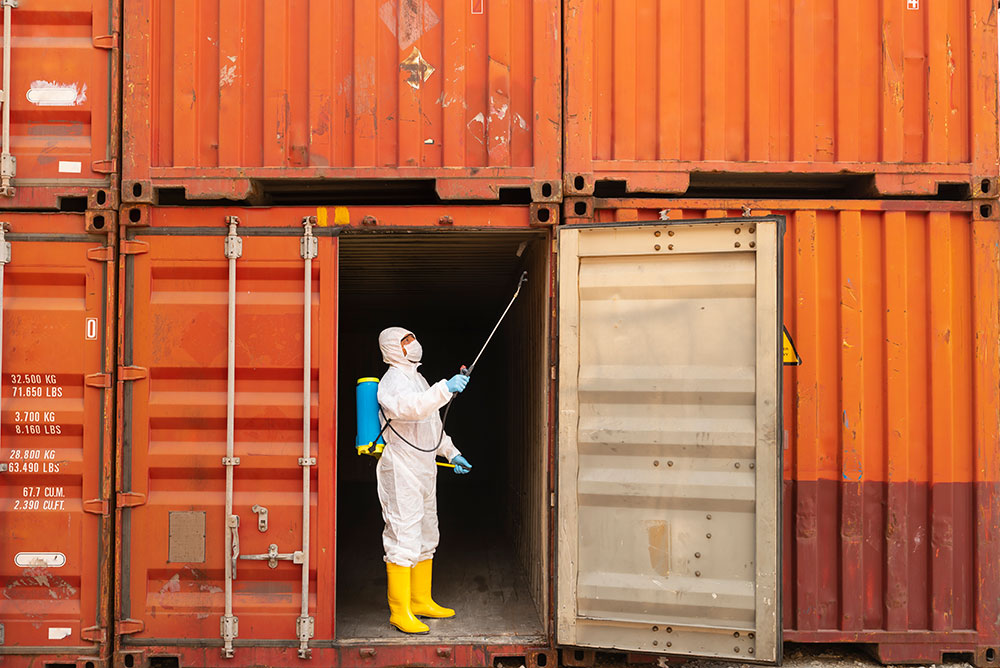 Even though supply chain and logistics companies are not strangers to keeping operations on track despite global disruptions, COVID-19 has aggravated both new and legacy issues. Looking for ways to partner with startups to help address some of these obstacles, SGInnovate's corporate partners participating in the Reverse Pitch shared some of the challenges that require more urgent action.
Digitising processes. Managing a byzantine global supply chain requires enormous amounts of paperwork. "We cover US$50 million worth of freight [involving] piles of freight bills in nine different languages," explained Gillian Sim, East Asia/Japan transport director at Schneider Electric. "We don't see any off-the-shelf solution that can actually manage our problem right now."
Resiliency issues. The shocks of the past year have revealed cracks in the global supply chain. Any accompanying surprises can overwhelm companies already facing a paucity of resources. "It's a real challenge to cope with the dwindling workforce in Singapore, given the [delivery] volume increase," explained Fabien Tertois, Head of Innovation for Bolloré Logistics.
Sustainability concerns. Waste and pollution problems may have been mitigated but not completely eliminated. Empty delivery trucks in transit, for example, "are releasing a lot of carbon dioxide to our environment," said Essam El-Okda, Global Digital Transformation Director for Logistics at Unilever. "We are not doing the best for future generations and for our planet."
The Way Out: Deep Tech adoption and collaborations with startups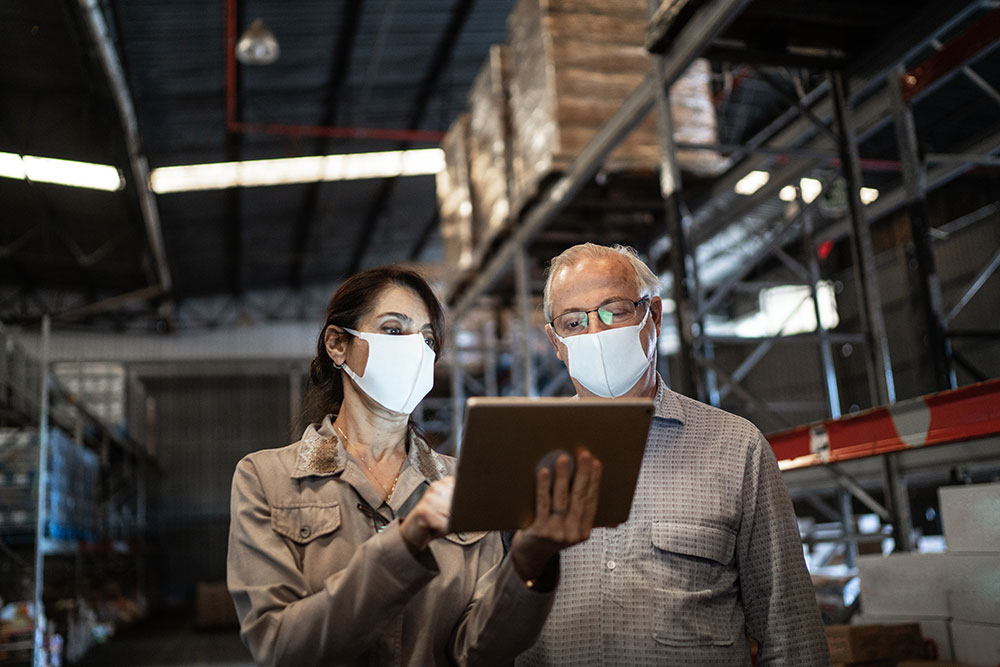 These issues may seem formidable; they're certainly not insurmountable. "Deep tech may unlock vast transformation opportunities," explained Dr Lim Jui, CEO of SGInnovate. "Emerging technologies like automation and artificial intelligence will become necessary tools for maintaining the entire supply chain."
Few logistics companies have the resources to build an in-house deep tech infrastructure from scratch. "Gone are the days where companies have huge R&D budgets, and they just do it alone," explained Chng Kai Fong, EDB Managing Director. "And sometimes, corporate cultures inhibit innovation."
Open innovation—a welcoming attitude to collaboration that contradicts traditional corporate exclusivity policies—offers a possible way forward. Deep Tech startups can step in to do what corporate firms can't build in-house.
"Startups are an opportunity to grow in areas where it's not our core competency," explained Lalitha Bhaskara, Vice President of SAP.iO Foundries. "They play a crucial role in developing new solutions that address our digitisation challenges."
Startups enjoy a level of flexibility and agility that more established corporates lack. They also offer a quick, effortless way to scale up innovation.
"We don't have an R&D lab," explained Bernard Siew, Vice President for Transformation at Changi Airport Group (CAG). "Partnering with best-of-class startups to co-develop new experiences, enhanced operations—this is how we'll continue to keep at the top of our game."
Starting corporate-startup partnerships on the right foot
Insights from a panel discussion with Open Innovation veterans from SAP and Changi Airport Group also showed how both corporates and startups could work better moving forward and lay the foundation for long-term collaborations.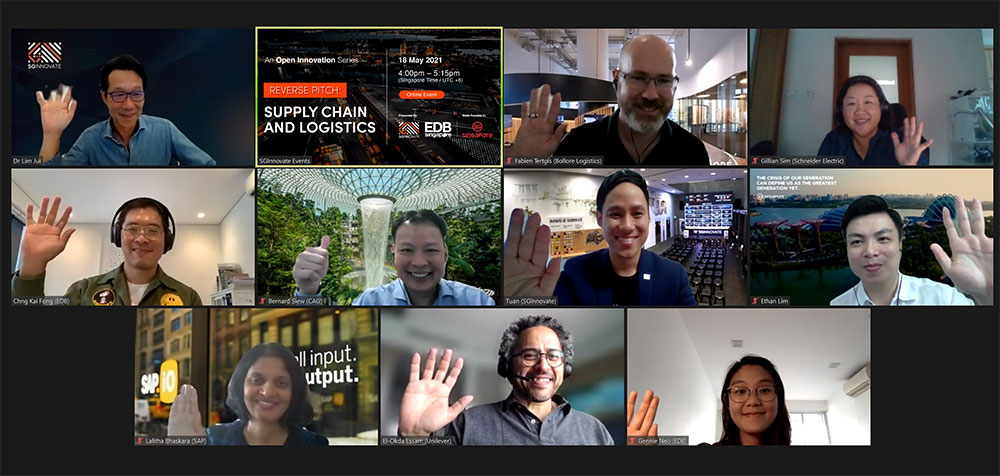 Industry experts shared innovation challenges faced by the supply chain and logistics sectors at a reverse pitch session presented by SGInnovate and the Singapore Economic Development Board (EDB).
Corporates: be open with data. Giving startups a free hand with data can motivate them to find out-of-the-box solutions. CAG's Bernard Liew challenged startups to find solutions for foreign-object intrusions on the airport tarmac. "We actually gave them two weeks of our video footage—go play with it."
One contender, video analytics solutions provider Xjera Labs, used the data to then co-develop the Multi-Signal Surveillance Platform (MSS), an AI product that detects abnormal activity on the tarmac, with low rates of false positives.
Startups: keep channels open. Corporates expect a high level of openness from startups. "If they have a solution, listen to the client's requirements and help develop the solution together," explained Schneider Electric's Gillian Sim. "And over time, we can expand the features to cover the entire supply chain."
Corporates: integrate startups into your ecosystem. Onboarding startups reduces the time-to-value delivered by the partnership without the need to acquire them altogether. "We think about it like a funnel," explained SAP.iO's Lalitha Bhaskara. "Everyone who works with us in our Foundry programme becomes an SAP partner, and we sell their services through our marketplace."
Startups: be open to new roles. "Don't cocoon yourself and say, 'Oh, I'm just a technical guy," advised CAG's Bernard Siew. "You are the solutions provider—you're better at this technology than your clients. How do you use that technology to solve more than what the client has put on the table for you?"
Today's challenges facing the supply chain and logistics industry require Deep Tech solutions that can be catalysed in an open-innovation environment. For corporates, this helps them stay agile in these challenging times; for startups, this allows them to create value for the industry and scale quickly with a larger potential audience.
Join us as we build the Open Innovation community in Singapore and across the region. Whether you're a startup or a corporate, learn more about our Open Innovation Forum and take part in future activities by connecting with us here.
For the latest updates, news and happenings follow us on social media.