Back to all blogs
Top tips for more effective and engaging science communication
"Science is not finished until it's communicated," says Dr Megan Kenna, Executive Director of Schmidt Science Fellows, quoting the saying most often attributed to the British government's former Chief Scientist, Prof Sir Mark Walport. "The way we talk about science determines how willing people will be to support and engage with it in their daily lives." 
Kenna, a dual doctorate holder in Neuroscience and Clinical Psychology, has a passion for communicating science.  She developed and taught a course at the prestigious Dartmouth College on "The Art of Science Writing", and has made frequent media appearances worldwide. Kenna is the founding Executive Director of Schmidt Science Fellows, an organisation that develops and connects science leaders to encourage and empower interdisciplinary research.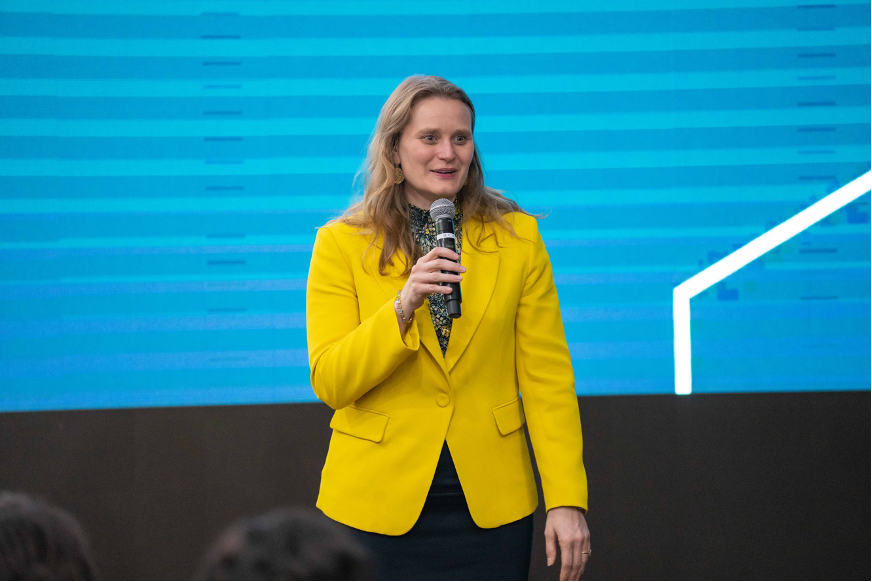 Dr Kenna at SGInnovate speaking to a crowd of scientists on how to effectively communicate their science. 
Whether you're seeking funding, looking to commercialise your research, or encouraging the public to make use of your discoveries, good science communication plays a critical role in achieving your goals.

Dr Megan Kenna
Kenna and Schmidt Science Fellows recently partnered with SGInnovate to host a workshop on effective science communication, followed by "lightning round" pitches from several Fellows and participants from Singapore's startup ecosystem. Improving science communication also improves the support and outcomes for research: as Erwin Schrodinger put it, "If you cannot - in the long run - tell everyone what you have been doing, your doing has been worthless."
Here are Kenna's top tips for science communication that gets scientists closer to their goals:
1. Know your audience to adjust your language.
All science communication addresses a specific audience – from venture capitalists and grants committees to high schoolers or academics from other disciplines. The more you understand your audience's interests and context, the more compelling a story you can craft about your research. 
That also means speaking the audience's language: adjusting your tone and choice of words so that they understand you clearly, without "dumbing down" the science behind your story. Kenna encourages scientists to minimise their use of jargon and employ everyday metaphors that make complicated concepts easier to grasp – for example, comparing blood circulatory dynamics to the flow of traffic on a highway.
When pitching her research into more efficient quantum computing hardware to fellow workshop participants, Clara Fontaine first asks her audience a simple question: "why do you use computers?" The audience's answers give Clara, a PhD student at the National University of Singapore's Centre for Quantum Technologies, the fuel to explore her next point – what we do when our computer can't handle a specific task and what if "even a super computer isn't enough?" By this stage, the audience understands the problem that quantum computing and Clara's research set out to solve without the need for jargon.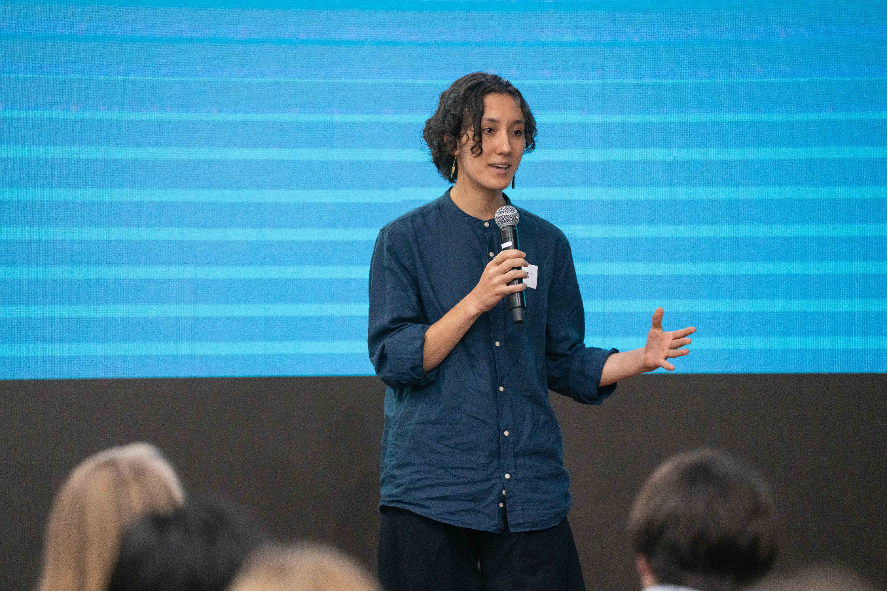 Clara's presentation explores her research in building quantum supercomputers that can effectively and efficiently store, control, and circulate quantum information. Watch her presentation here.
2. Give your work a human face.
No matter your audience, people connect more with human stories than they do with facts or abstract concepts. Tell stories that either make your work relatable to your audience's experiences or reveal something about you that they'd want to know more about. These stories draw the audience into your world, building their emotional investment in your work – and they're not as hard to tell one might think.
"When people say 'storytelling', we might assume we need a beginning, middle and end, strong punchlines, and extended amounts of time," Kenna says. "But really, storytelling is just drawing people into your world. It could be as a few sentences sharing a vivid metaphor or anecdote from your life."
Schmidt Science Fellow Naomi Arita-Merino does this when pitching her research into using microalgae as a sustainable and more secure food source. 
She begins by introducing audiences to her beautiful (and tiny) backyard garden in Zurich. "I can't produce much to eat on my square of land," the postdoctoral Research Fellow at ETH Zurich laments in her "lightning round" pitch. With that as context, Arita-Merino then zooms out to consider the shortage of arable land worldwide, the burgeoning food needs of fast-growing urban populations, and how microalgae can meet some of those needs without requiring much land at all.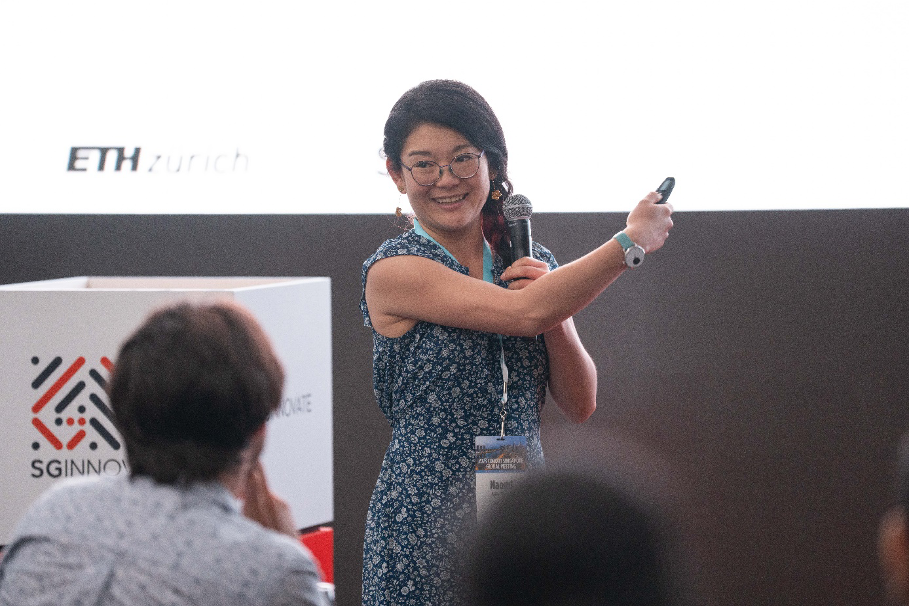 Naomi's presentation explores how she is working to create sustainable food sources from sea microalgae as a response to current problematic farming practices.
3. Make your conclusions your headline.
When writing for academia, scientists learn to start with the background and methodology, continue into results, and only provide analysis and conclusions at the very end. Kenna's advice for effective science communication: turn that model on its head.
"Start by telling your audience what you're working on, what you've discovered, and why it matters," Kenna advises. "This hooks their interest and prompts them to want to know more about how you got there."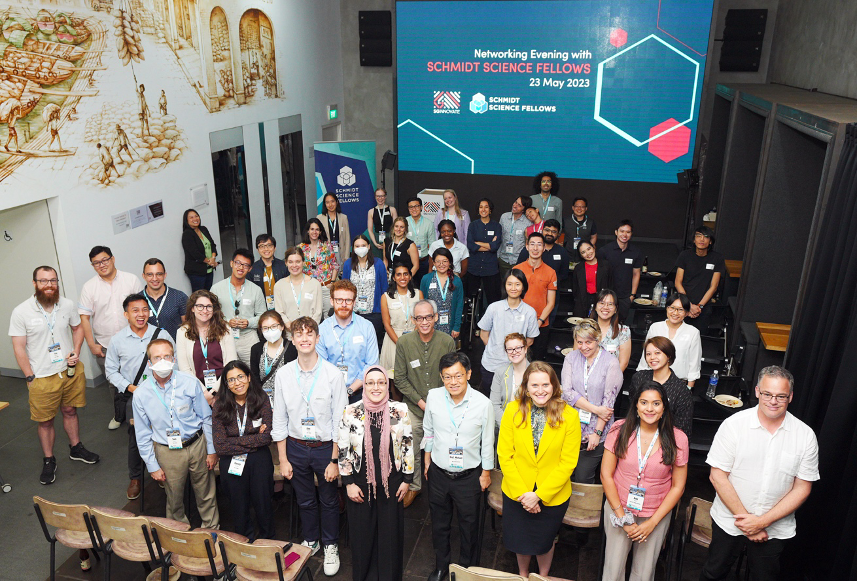 Members of Singapore's Deep Tech ecosystem had the opportunity to meet with the Schmidt Science Fellows.
Kenna cites the inverted pyramid used in journalism as a useful model to follow. The inverted pyramid puts the most important aspects of the story – like what happens, and why readers should care – at the very front, with less crucial background and details coming afterwards. Apply this technique to your science communication draws your audience in and helps them stay interested and invested in the more subtle details you share afterwards. Asking rhetorical questions like "why does this matter?" or "what if we did this?" can further spark your audience's desire to hear more of the story.
4. Measure your communication's effectiveness.
You can't improve what you don't measure. When communicating your research, take time to assess how audiences react or respond to your messages. Use quantitative means like views or shares of a blog post or qualitative ones like the expressions of your listeners or their responses to your questions.
Testing your messages and stories with a friend, family member, or colleague in a different field can also provide invaluable feedback to refine your final communication "product". And as you note your audience's reactions, you can even adjust your storytelling on the fly to capture their attention more effectively.
Sriram Sami, a PhD candidate at the National University of Singapore, does exactly that when sharing the significance of his work on digital sensors' potential risks and opportunities. He starts his lightning pitch by engaging his audience with questions connected to everyday experience, like "how many of you know about the accelerometer in your phone?" and "what's the main use we have for this incredibly precise device?" He sets up a clear and simple contrast between "good guys and bad guys" which we can easily relate to, eventually framing his own research in terms of "trying to get the good, without the bad".
But perhaps most importantly, he reads the audience's mood – increasingly hungry for the dinner being served after the lightning pitches' conclusion – and shortens and adapts his presentation accordingly.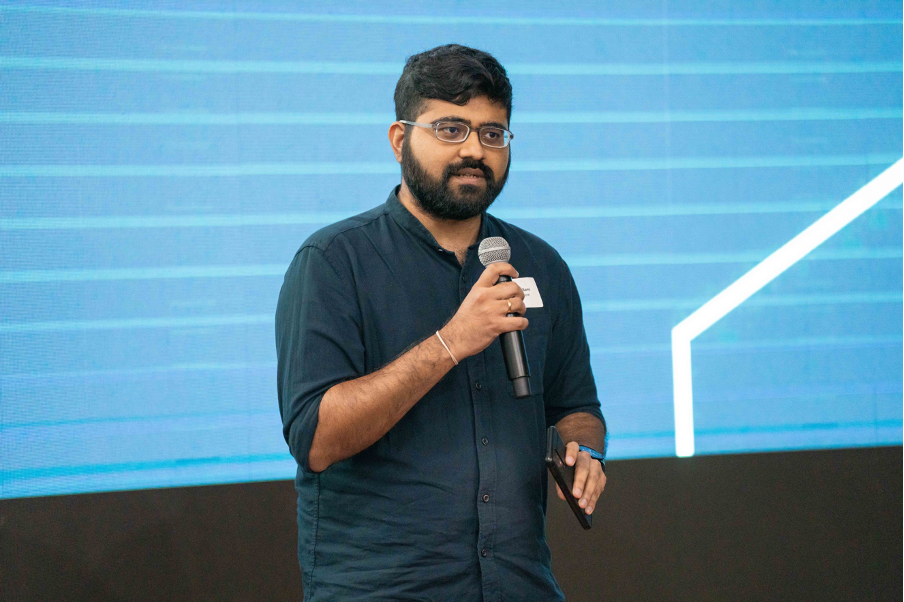 Sriram's presentation explores how LIDAR sensors in everyday appliances can be optimised for good while minimising potential exploitation by hackers. Watch his full pitch here.
How can scientists cultivate these skills? "It takes practice – you don't become a fluent communicator overnight," Kenna says. Practicing may involve regular back-and-forth sessions with your working partner – or it may be as basic as talking about your science more to other people, and learning from the verbal and visual cues they respond with. For the workshop's participants, the lesson was clear: as with any form of research, science communication improves when you try, learn, and try again.
Find out more about SGInnovate's events here: https://www.sginnovate.com/events