Back to all blogs
​​​What 6 months at a Singapore quantum computing startup taught this Bulgarian physics graduate
As a teenager, Bulgarian physicist Kristina Kirova's first love was astronomy. Her passion to "uncover the secrets of the universe" stemmed from learning about the laws of planetary motion and the night sky. In 2019, she completed her bachelor's degree in astronomy and physics.  
Around the same time, tech giants IBM and Google raced to build the world's best quantum computer, and a frission of excitement electrified the community. A co-worker at a bank Kristina interned at recommended that she read Alexandre Zagoskin's book Quantum Mechanics.  
She was hooked.  
"I fell in love with the quantum field because it was funky and spooky, yet with rigorous mathematical fundamentals," observed Kristina. "Quantum seemed to have applications in the real-world and I decided to 'return' from the stars to focus on this technology that promises big impact." 
She devoted herself to the discipline, and after completing her masters in ETH Zurich, was about to embark on the next phase of her academic career when she was tipped off course one night. A notification from a LinkedIn post caught her attention. Her classmate was interning at a quantum software company halfway around the world in Singapore.   
Her interest piqued, she spent the next hour googling the company, Entropica Labs, becoming increasingly "excited" as her search down the rabbit hole revealed that the startup's goals aligned with her own philosophy.  
"It's nice to be to be doing some fundamental science and theoretical research, I think that's very important," she said, "But, for me, I really want to see how the research applies to real devices."  
Something else she wanted to put to the test – if her passion for quantum extended beyond the realm of academia.  
​​​Within a week, she had applied to Entropica Labs, and with help from SGInnovate's Summation Programme, secured a six-month apprenticeship there. In November 2022, she flew halfway across the world to begin her journey.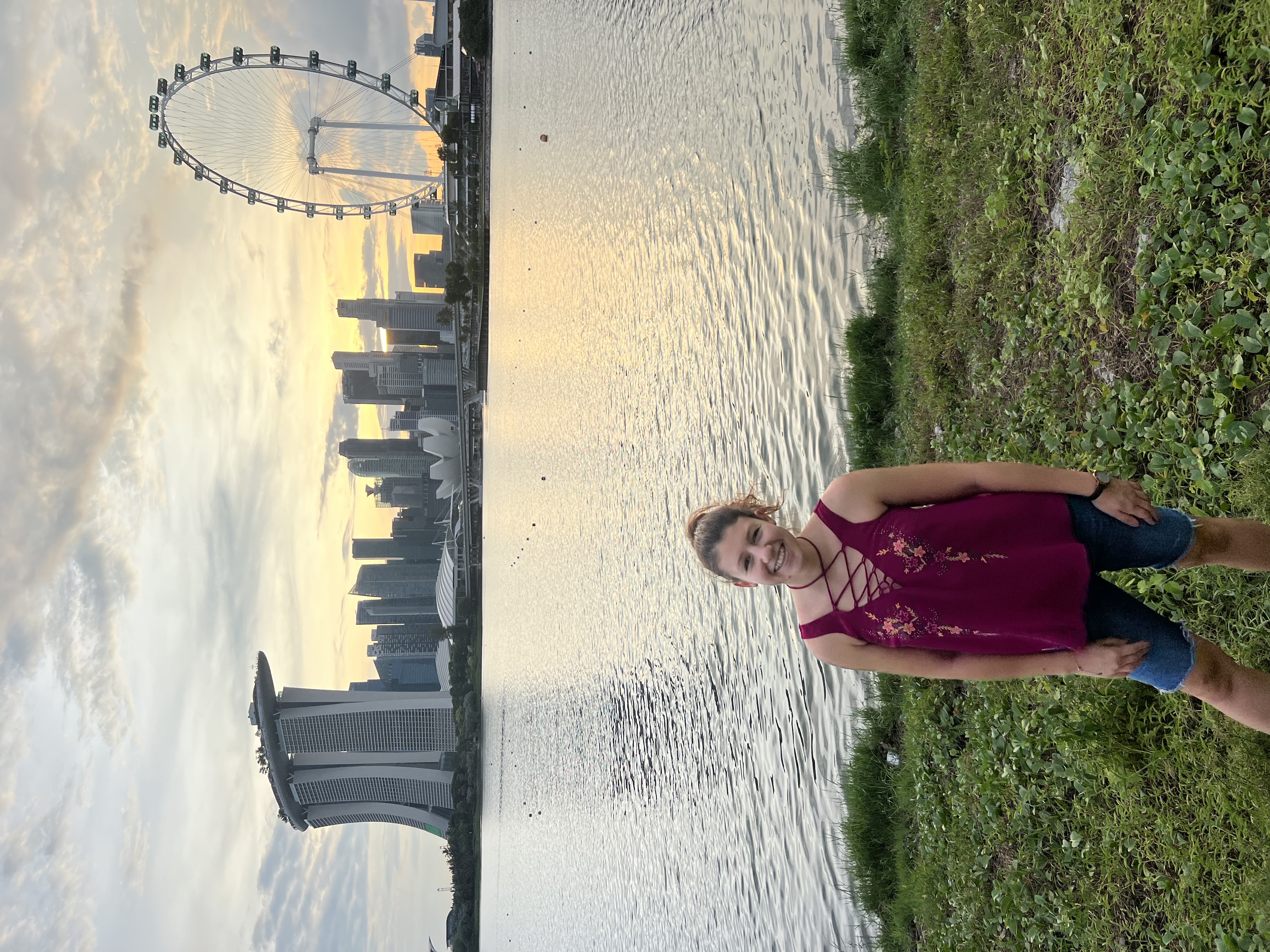 Kristina standing in front of Singapore's iconic skyline featuring Marina Bay Sands and the Singapore Flyer. While researching Entropica Labs, she read up about Singapore and was excited about moving to a place that many people had spoken highly of.
Quantum leap to Singapore
While quantum technology is still years from being applicable in everyday life, its proponents hope it will one day give a boost to humanity's existential problems like speeding up earthquake predictions and shorten the process of drug discovery.  
But there are errors in quantum algorithms that must be mitigated first. This is something Kristina worked on at Entropica Labs, which develops quantum algorithms for optimisation problems. 
"Those hard problems in logistics, for example," she explained. "A famous one is the travelling salesman problem. If you are a salesman and want to visit different cities, you usually want to optimise for the shortest or the fastest route. This problem gets very hard when you scale the number of cities. The community is testing new methods that could leverage quantum computers to find better paths more efficiently."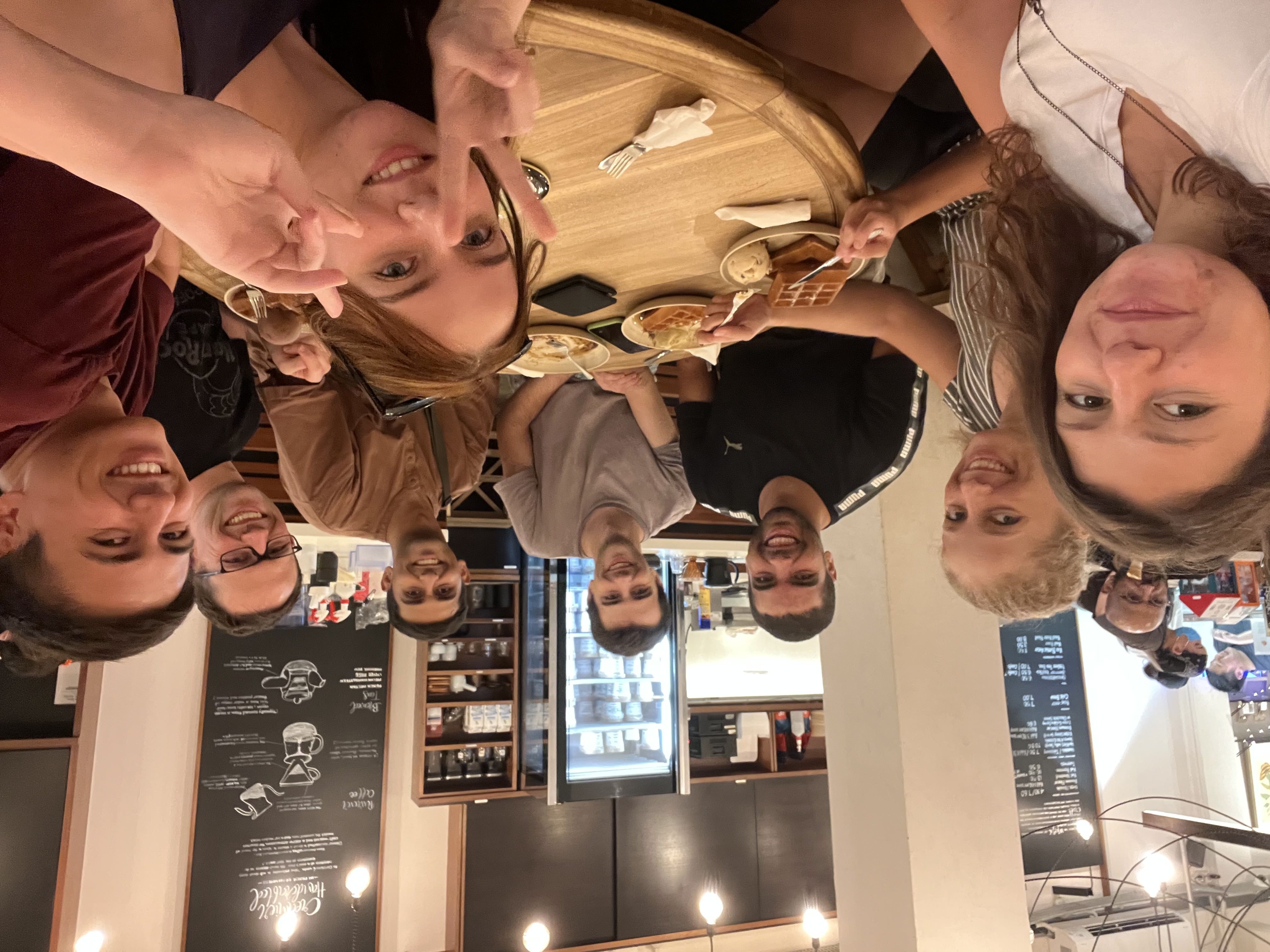 Kristina enjoying a waffle after work with her teammates from Entropica Labs.  
During her apprenticeship, Kristina pored over research papers, code, and helped the team improve its open-source python library for quantum optimisation using the Quantum Approximate Optimisation Algorithm (QAOA).  "What I like is that they are really thinking about scalability in the quantum computers of tomorrow, and how exactly to make them useful," she said. 
Being at Entropica Labs was her first time working on quantum computing in the industry, and it was eye-opening.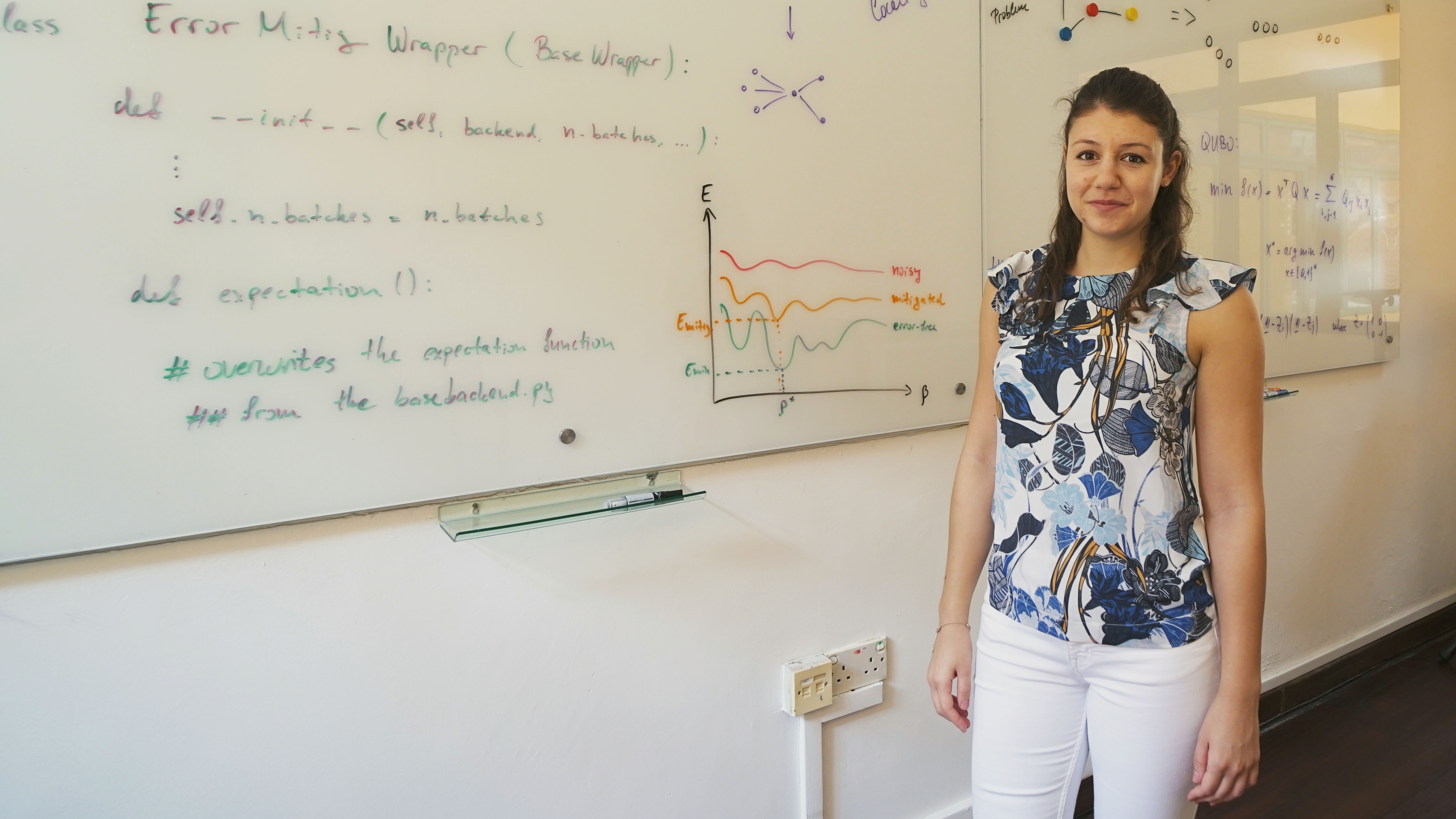 Kristina in front of the work she was doing for optimisation.  
"I had to make design decisions and communicate them with the team, and understand not only what I have to do, but also how to (develop code) in the most user-friendly way possible. This is something I never had to deal with before."
Connecting with community
Thanks to the startup's established partnerships with quantum hardware companies, its researchers can test their algorithms on real quantum devices through the cloud.​​ 
Her stint at Entropica Labs gave her opportunities to meet other bright minds in the field – and not just within the company, whose team members hail from about 10 different countries.  
For instance, she and her colleagues had an inspiring day of scientific discussions at the Centre for Quantum Technologies at the National University of Singapore, and also met the founder of fellow startup Horizon Quantum Computing, Dr Joe Fitzsimons, for a game of laser tag.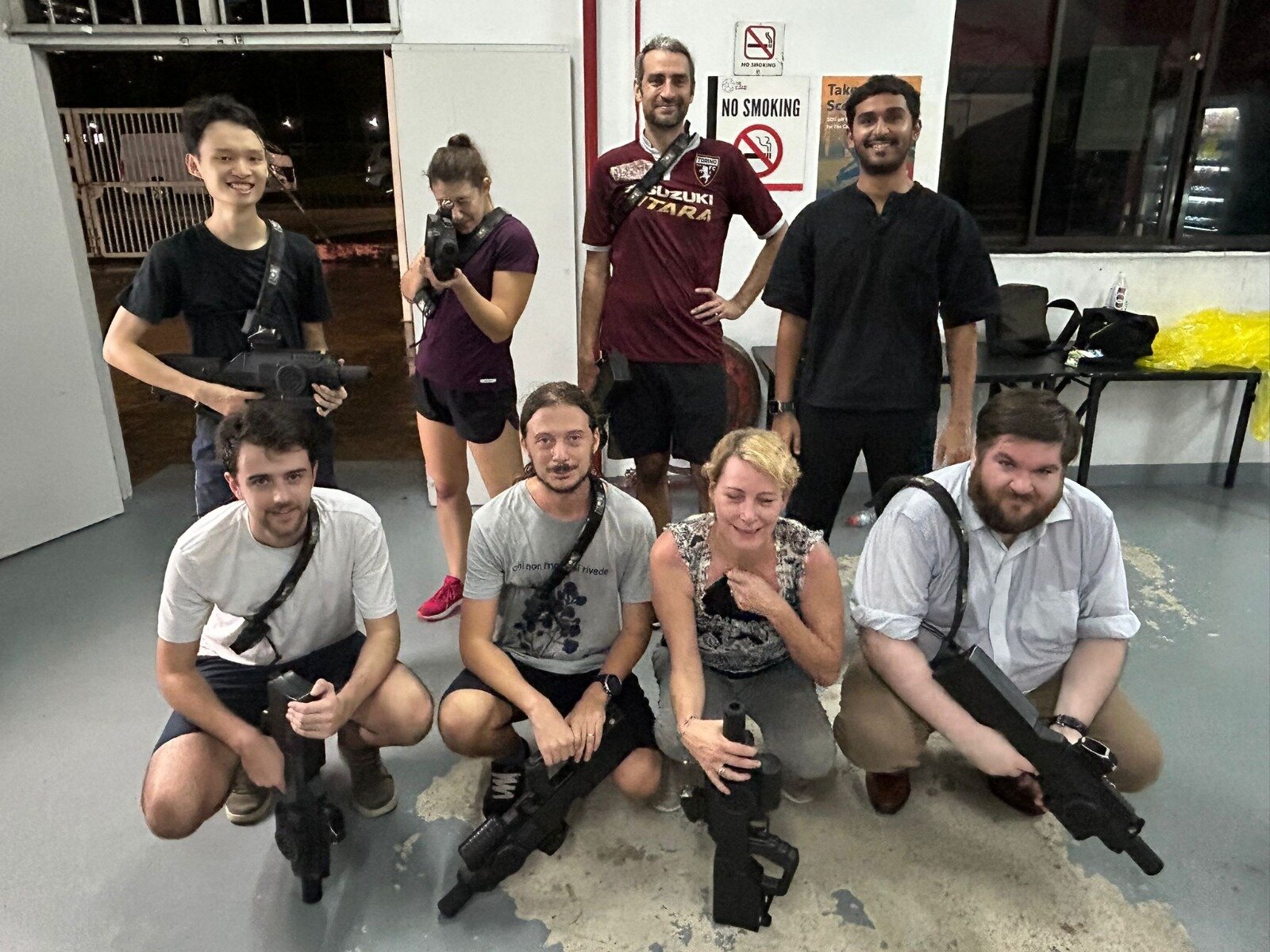 Kristina (second row, second from left) at a game of laser tag with folks from Singapore's quantum landscape including CEO and Co-founder of Entropica Labs Tommaso Demarie (on Kristina's right) and Horizon Quantum Computing founder Dr Joe Fitzsimons (first row, first from right). 
Kristina believes Singapore has a "really good quantum landscape", which spans academia, research groups, startups, with a healthy flow of talent locally and from abroad. 
The city-state has been stepping up its investments in quantum computing. In 2022, it launched the National Quantum Computing Hub, National Quantum Fabless Foundry, and National Quantum-Safe Network – slated to receive at least S$23.5 million under Singapore's Research, Innovation, and Enterprise 2020 plan. 
"The quantum landscape here is quite promising and very much resembles the ecosystem I've experienced in Switzerland, and also the UK," Kristina said. 
It expands your professional network and helps you make friends from all around the world. It's one of the best decisions I've made. 
New possibilities
Kristina urges students at her alma mater ETH Zurich to consider similar apprenticeships. "It expands your professional network and helps you make friends from all around the world. It's one of the best decisions I've made."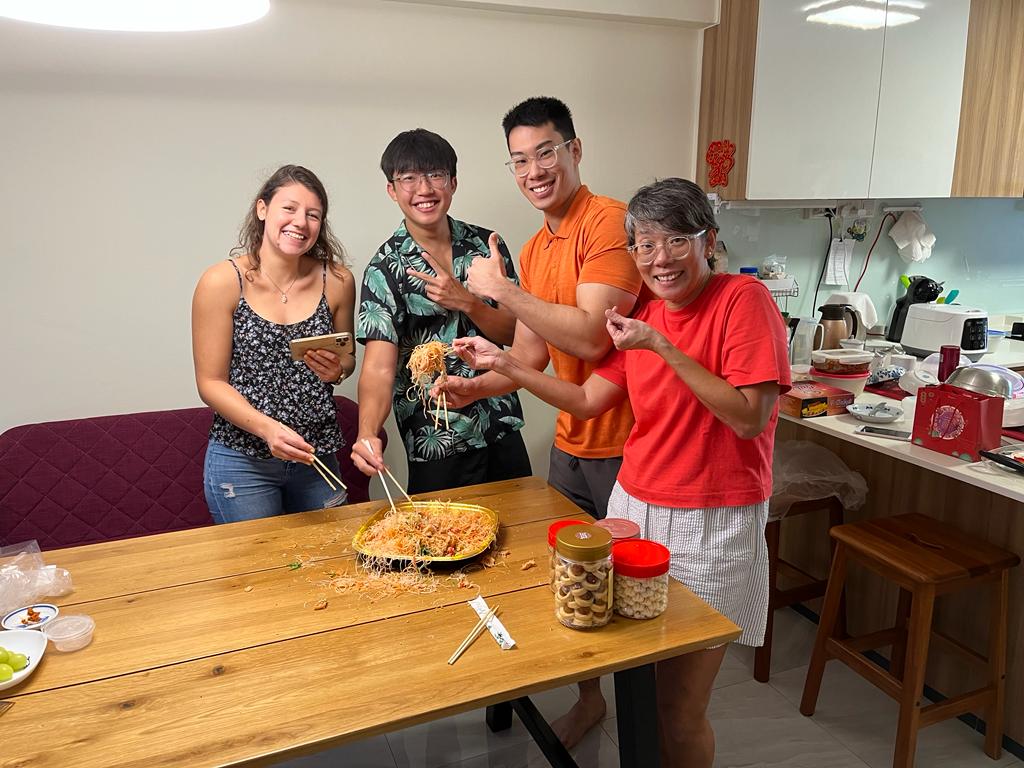 Kristina was invited to her Singaporean ​​friend's home over Chinese New Year to celebrate the festival just like a local would.   
Later in the year, she will begin a PhD in Austria in the field of quantum information theory and computation.  
​​​While she's returning to academia for the time being, her experience in Singapore has exposed her to "multidisciplinary and multicultural teams", she added, and made her more aware of the career paths available to her. Not just in astronomy, physics, and IT – but also in areas such as product management, business, and being a startup entrepreneur or founder. 
But perhaps most importantly, her greatest takeaway is the feeling that she's now part of something bigger.  
"Just this feeling of belonging to a group of people who are very young, motivated and a little bit idealistic," said Kristina, "but we believe that we're building the future." 
Find out how you can be a part of SGInnovate's Talent Programmes here: https://www.sginnovate.com/career-development-jobs