Back to all blogs
Careers in Deep Tech: From code of law to coding for cybersecurity
Before embarking on a tech career, Shazina Zaini pursued her bachelor's degrees in Law and Commerce at the University of Western Australia. A few years later, she returned to school to study a double major in Computer Science and Business Information Systems at Murdoch University. This led Shazina into the tech industry, starting out as a software engineering intern at MicroSec, where she is now a senior developer. A cybersecurity startup and SGInnovate portfolio company, MicroSec provides enterprise-grade security solutions to safeguard critical infrastructure and Internet of Things systems, which form the building blocks of smart cities.
Tell us more about what MicroSec does, and what you do at work.
Traditionally, large-scale industrial operations run on systems that would not have been connected to the Internet. In recent years, however, everything is increasingly becoming automated, and equipped with some sort of network connection. When things are connected through the internet, that automatically renders the system vulnerable to cybersecurity attacks.
Issues such as ransomware, hacking into physical facilities and leaking sensitive information all pose a great risk to privacy and safety. Once there is room for an attack, there could be disastrous consequences across the entire network. MicroSec's cybersecurity platform solution is specifically designed to protect such critical infrastructure and industrial enterprises, given that these large-scale systems can only operate safely in a certain way.
My daily tasks include attending meetings to discuss ongoing work, having discussions with teammates about new features, programming and debugging.
By joining a startup, I knew I could access opportunities that would not necessarily be afforded to me if I were to join a more established company.

Shazina Zaini, Senior Developer, MicroSec
You have such a wide range of qualifications – What led you to a career in tech in the end?
Even before I studied Law at university, I was already interested in technology. News from around the world has often covered how problems are being solved by technology — and all of that has always sounded interesting to me. I didn't really have much experience in programming before pursuing my Computer Science degree, but I thought that the problem-solving nature of the work would appeal to me more. Now, I find the outcomes of my work more tangible. If my approach isn't working, I can see where the error is and find ways to make it work
At the same time, I felt that I'd face high barriers to entry in many other industries. For example, if you qualify as a lawyer, you may only be allowed to practice in a particular jurisdiction. When I was looking to change careers, I briefly considered traditional engineering, but again, you would have to accumulate a certain number of years of experience before you achieve Chartered status.
Meanwhile, in programming and tech, you tend to face much lower barriers even when you're trying to venture into different fields over the course of your career. It is possible to get certifications for very specific products or skill sets, but by and large, it is not a strict requirement when pursuing opportunities in this industry. People are using tech to solve problems all the time and advancements come at a very quick pace. Placing restrictions on how people can work would defeat the purpose of using these technologies.
How did you find out about MicroSec and what led you to join this startup?
After completing my Computer Science degree, I decided to search for jobs with startups, and found that MicroSec was looking for interns. At that point in my career, I was pretty much a startup myself. By joining a startup, I knew I could access opportunities that would not necessarily be afforded to me if I were to join a more established company. It has worked out well, though, as I became the first person to join the company after the co-founders.
At MicroSec, our work essentially combines software engineering and cybersecurity. That appealed to me from the very beginning because software engineering jobs and cybersecurity jobs are traditionally very separate roles.
What contributed to your decision to continue building your career in this industry?
Beyond my interest in software engineering and cybersecurity, it's also because MicroSec provides a good work environment. For example, other workplaces might have a culture of staying late at work—that's not the case with us. People on the team are civil and kind.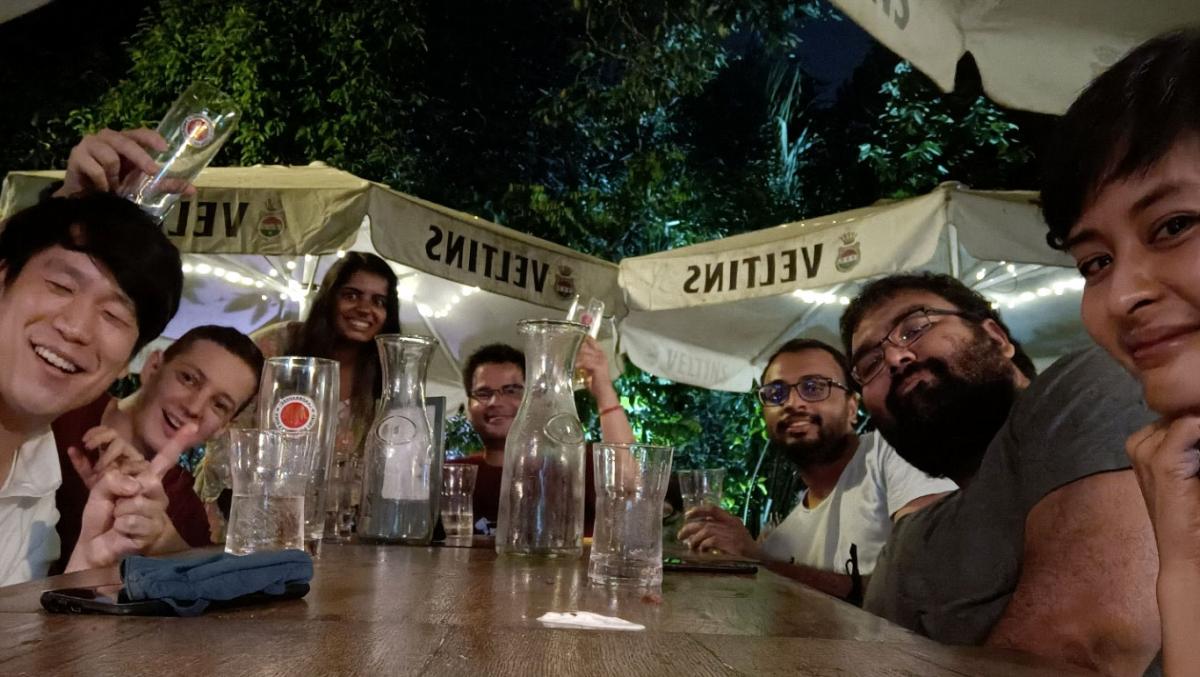 Shazina (extreme right) and the MicroSec team enjoying a night out
After being here for a long time, and just knowing how other workplaces can be, I can say we have a very good team culture. I have always appreciated it and hopefully we can all contribute to keeping this work environment the way it is.
How has your background in law influenced or helped in your work at MicroSec?
While studying law, I spent a lot of time writing. When people I work with say that I write well, I explain that it is because I have a bad memory—and I write knowing that I will forget things. In the company, I am known for writing detailed documents to help people with their tasks.
We once took on a project where I travelled to Indonesia for several weeks. During this time, I was also involved in preparing written documents for the client. Besides conducting research, I had to present the technical information in an easily digestible form. The writing skills I developed as a law student came in handy then as well.
What do you love most about your job?
What I appreciate most about the work that developers do is that we get very comfortable with getting things wrong. That is essentially what debugging is. When we write code, there inevitably will be mistakes, and when we run tests, the programmes can and will fail. We get used to figuring out why we failed and then fix it.
Also, many people who enjoy programming enjoy gaming as well, because they both revolve around little wins on a day-to-day basis. When we solve something, we feel a nice sense of enjoyment—a bit like getting through a stage of the game. There's always a learning curve, even after years of experience.
Want to build a career in cybersecurity? Learn more about SGInnovate's talent programmes and how you can equip yourself with the skills and experience needed for jobs in Deep Tech.