Back to all blogs
A Digital Health Passport for Travelling in a Post-COVID-19 World
As the pandemic unfolded, many countries raced to implement technologies to reduce the risk of COVID-19. Against this backdrop, SGInnovate partnered with Accredify, a local technology provider with a proven record of creating blockchain-based digital certificates, to develop the Digital Health Passport (DHP).
As the pandemic unfolded, many countries raced to implement technologies to reduce the risk of COVID-19. Against this backdrop, SGInnovate partnered with Accredify, a local technology provider with a proven record of creating blockchain-based digital certificates, to develop the Digital Health Passport (DHP).
The DHP is the first blockchain-powered solution to issue secure, tamper-proof digital COVID-19 medical records at scale. The platform was developed with the support of the National Research Foundation (NRF) and first deployed by the Ministry of Health (MOH) and Ministry of Manpower (MOM) to better manage the pandemic for migrant workers in Singapore.
As resumption of travel begins globally, the DHP is extending its application to boost safe travel and verification at the borders based on a national health certificate framework co-developed by the DHP team and Government Technology Agency (GovTech), MOH and others in Singapore. We find out how the DHP was catalysed through SGInnovate's Venture Building efforts and such Deep Tech solutions are critical enablers to combating COVID-19.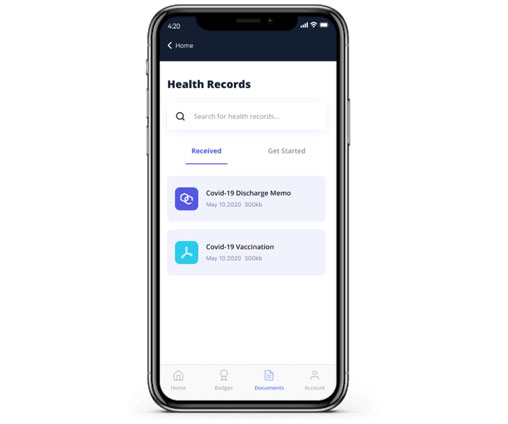 Image credit: Accredify
The Inspiration Behind the Digital Health Passport
While the DHP project only commenced in mid-2020, the idea for it had long been brewing in the mind of Simon Gordon, Deputy Director — Venture Building, SGInnovate.
"I had been thinking about how medical records and specifically, vaccination records were recorded and shared with patients for about two years. I had many conversations with different stakeholders like entrepreneurs, governments, healthcare providers, pharmaceutical companies and consumers to see if there was enough of a problem to build a system around. We found that there was a problem but there was not enough motivation, except from the consumer, to solve the problem. And the business case did not work," said Gordon.
Things quickly changed, however, with the onset of COVID-19. The pandemic opened up the perspectives of the different stakeholders, who were seeking innovative solutions to the data management of COVID-19 related health records.
"As the pandemic tested Singapore's healthcare sector, SGInnovate saw a gap in the large-scale management of medical records and an opportunity to develop a solution to enable a trusted authentication process — deployable at scale — for healthcare practitioners and authorities working at the frontline that can support the safe reopening of the economy," said Gordon. "We were also envisioning how travel would resume: Travellers would need to show negative test results issued by clinics or labs. In the future, they would have to present proof of vaccination." 
Moreover, at the time, test results came in the form of physical documents. The team quickly recognised that paper-based solutions would not provide the level of trust or assurance that airline or immigration officials require.
"We realised that there was going to be a problem around this. That was why we approached Accredify to co-develop the DHP. At SGInnovate, when we see a really big problem and there's no available solution, we have the ability and agility to partner with startups and build these Deep Tech solutions to address the gaps," said Gordon. 
So, SGInnovate began working with Accredify to develop a digital alternative to paper-based COVID-19 health records. Tapping on SGInnovate's expertise in catalysing, developing and commercialising Deep Tech solutions for the healthcare sector, the joint team conceptualised and developed the DHP within two months to support the nationwide effort in mitigating the outbreak.
To launch the DHP, SGInnovate and Accredify held a pilot in July together with MOM. It was included as a feature in MOM's FWMOMCARE app to manage COVID-19 discharge memos for migrant workers. To date, it has verified over 2.5 million COVID-19 health records and discharge memos, allowing these workers to return to work quickly.
Following the success of the pilot, the DHP began to be extended to the travel industry to help facilitate checks and verifications on the health status of travellers as borders gradually reopen. 
"We had always aimed for the Digital Health Passport to tap on the potential of the travel industry, helping to strike a balance between public health safety and resumption of travel as economic activities restart worldwide," said Gordon.
So, the DHP team worked with GovTech, MOH and other parties to co-develop a national health certificate framework to ensure that the DHP's digitally-stored COVID-19 test results are officially recognised and adopted for smooth verification. This is a first step in answering calls for uniform global testing guidelines by international transport authorities and global airline alliances, which will help countries open up their borders to travellers once again. 
Gordon emphasised that the rapid development and adoption of DHP would not have been possible without the collaboration of MOH, as well as support from GovTech and other parties.
Facilitating Secure, Private and Tamper-Proof Record-Sharing
A simple-to-use yet powerful solution, the DHP is a blockchain-based platform that issues tamper-proof, verifiable medical documents for individuals which can be stored in a digital wallet. It enables the secure and private sharing of healthcare records relevant to COVID-19, while at the same time facilitating quick access and immediate verification of the documents. 
Furthermore, the DHP helps streamline the documentation processes of healthcare organisations. It also eases their administrative burden by automating the verification of medical documents, such as COVID-19 discharge memos and swab results, and eliminating paper-based documents, which require extensive effort to manage and organise, and can easily be misplaced or tampered with.
Individual users, on the other hand, can use the DHP mobile app to have their records easily verified by officials using a QR code. This allows them to provide authentic and readily-available healthcare information to authorities, workplaces, immigration personnel and more — all without the need to reveal personal health information or carry around cumbersome paper-based documents.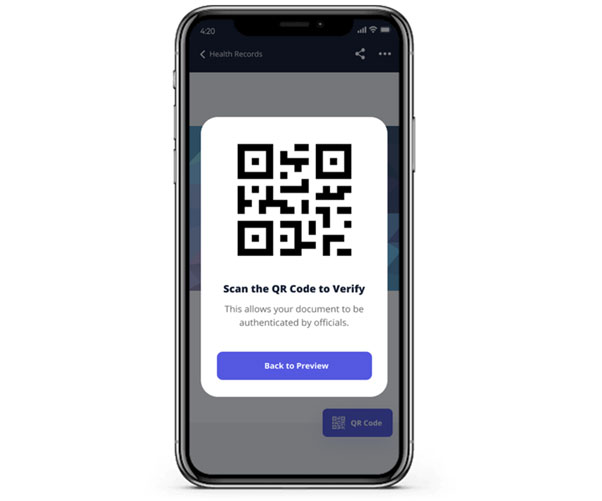 Image credit: Accredify
Travellers will also be able to consult the DHP app for a pre-departure checklist of the required health declaration and travel documents at each destination country, whereby the app will feature a locator for nearby clinics that issue COVID-19 tests. While the DHP is already in use by clinics and hospital groups, the user-facing app will be made available on the App Store and Google Play Store by the end of January 2021.
The DHP will also part of a trial by the Singapore Airlines to validate travellers' medical records to facilitate the return to air travel. Clinics in Kuala Lumpur and Jakarta will issue digital test result certificates that travellers can use to seamlessly and quickly progress through immigration checkpoints.
Besides boosting the travel sector, there are plenty of other use cases of the DHP, too. For instance, it will allow people to prove their compliance with the entry requirements for large venues and events.
"There are many challenges related to data interoperability in healthcare completely unrelated to COVID-19 as well. We have already been approached by stakeholders about a number of specific pain points that they believe we can help with," added Gordon.
Unlike other COVID-19 passports, the DHP uses blockchain technology to enable the decentralised and secure storage and transfer of information rather than using a centralised database. Data is traditionally captured in centralised database where it can be verified against a single source of information. For sensitive healthcare information having a centralised database of information creates a huge security risk. By using blockchain, the DHP allows us to deliver the same verification without the risk of centralising data to a single place. Individuals can also rest easy as people will store and control their own data.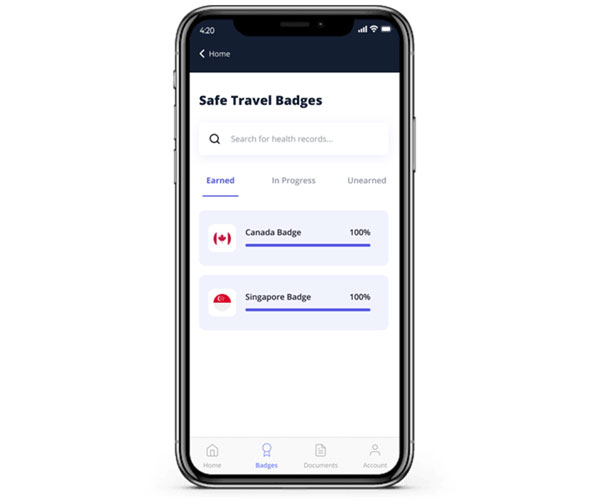 Image credit: Accredify
The role of Deep Tech in fighting COVID-19
By streamlining workflows and eliminating paper-based documents, the DHP has helped to significantly lighten the load of personnel in government, healthcare and human resources — functions that are already burdened with pandemic response.
Meanwhile, these authentic, digitalised records will also help facilitate people's return to work and play a major role in rejuvenating Singapore's travel sector. 
In the same vein, blockchain and other forms of advanced technology will be crucial to helping Singapore recover from the pandemic. One example is the use of AI to model how the virus is spread through air droplets when a person coughs or sneezes. Big data analytics is also helping governments understand pandemic outbreaks and predict the likelihood of a new wave.
Startups in Singapore have also stepped up to fight COVID-19 with Deep Tech solutions, from developing more rapid and scalable sample collection and testing methods to delivering remote medical services.
Other notable areas of support include IoT tracking and tracing solutions, monitoring systems with facial recognition, and robots that encourage social distancing and assist with sanitation.
Developing such solutions will require extensive resources, not to mention time and talent, noted Gordon. This is where technology providers can benefit from a thriving Deep Tech ecosystem to accelerate their product development for swifter market readiness.
Interested to tap on SGInnovate's Deep Tech expertise and network to build your startup or partner with us as an ecosystem builder? Find out more here.