Back to all blogs
Defining Deep Tech's Next Chapter
In an article by the National Research Foundation, Dr Lim Jui, CEO, SGInnovate, defines Deep Tech's next chapter by talking about how Deep Tech's momentum can be sustained.
What is Deep Tech?
Deep Tech is a catchy term without a formal definition. It means different things to different people. At SGInnovate, our "house" view is as follows: Deep Tech flows from Deep Science and Deep Thought. It demands a high degree of specialisation both at the point of invention and at the point of application, yet it is almost always multidisciplinary as well. AI is the exemplar of this unique combination of depth and breadth. It's not just about clever coding; it also takes reference and understanding of "distant" fields of study in psychology, neural networks, linguistics, for example. Similarly, although one could argue to a lesser extent, the development of mRNA therapeutics goes beyond molecular biology to demand a deep understanding of medicine, immunology, pharmacology, and logistics.
At a working level, we will look at emerging – and potentially platform - technologies arising from relatively recent research with the potential for strong intellectual property protection. "Relatively recent", is of course, context-sensitive. For digital technologies, this could be a few years. For biomedical technologies, it can be significantly longer, stretching to a decade, sometimes more – again, using mRNA therapeutics as an example, they did not just "show up" in response to the pandemic but represent the culmination of more than a decade of work.
SGInnovate has played an important role in raising awareness of Deep Tech and is at least partly responsible for its currency in Singaporeans' everyday conversations on business and technology. Many investors who had previously been deterred by the complexity and cost of Deep Tech investments are now flocking to it, recognising its potential for creating new vistas of economic growth de novo. Whether it is the commercial space industry, or electric vehicles, or cybersecurity, to name but a few, Deep Tech is creating whole new industries where none existed before, serving as a critical engine of economic growth and new, high-value job creation.
The latter is especially relevant for Singapore in the global race to attract and retain talent.
Deep Tech's biggest draw, however, is its problem orientation. Increasingly, it is recognised for its potential to solve challenging problems that transcend political boundaries – the pandemic response being a case in point. In fact, research suggests that 97% of deep tech ventures contribute to at least one of the UN's sustainable development goals. Targeting such global challenges offers Deep Tech startups the opportunity to look beyond local constraints and scale globally while generating significant economic value.
Imagine the multitude of ways food production could be transformed if we combined AI with additive manufacturing, or the ability to turn the body into a bioreactor, manufacturing its own vaccines and medication. The potential is limitless, and the impact will be tremendous.
Our Deep Tech report card
Thanks to prudent long-term investments made in Singapore's RIE ecosystem, our foresight has enabled our innovation ecosystem to grow, even amidst increasing competition and disruption. Over the past few years, the landscape has changed dramatically and many notable home-grown Deep Tech companies have emerged, including Singapore's first Deep Tech unicorn, Nanofilm, whose record-setting listing was Singapore's biggest in recent years. As a further indication of confidence in this growing momentum, Temasek also recently announced an annual commitment of SGD 1 billion specifically for Deep Tech across a wide range of domains.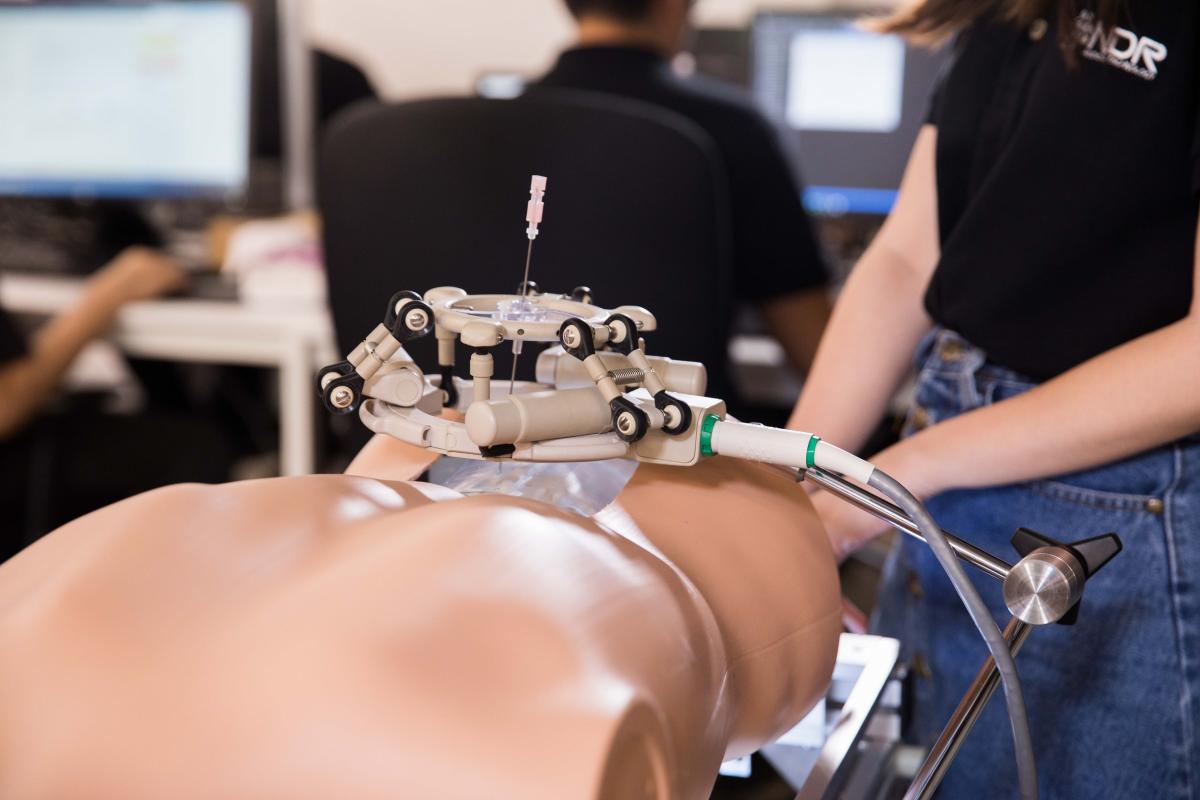 NDR Medical's surgical robotics system is driven by AI and image processing, and assists surgeons in needle guidance during minimally invasive surgery.
Many of the innovations developed by our local Deep Tech startups already play an active role in making daily life healthier, more secure, and sustainable. For instance, Dimuto's work to digitise produce supply chains is improving the visibility of our global trade networks and creating new economic opportunities for farmers and agrifood companies. Meanwhile, UNL's micro-location technology is building an 'Internet of Places', turning any location into a unique address, potentially connecting billions to the global digital economy. Others like Shiok Meats and Biofourmis go even further to offer us a preview of things to come, shaping how we eat, stay healthy and connect with each other. These are just a handful of the many Singapore-born Deep Tech startups cementing our country's reputation as a place where ideas are birthed, and boundaries are pushed.
While Singapore has made massive strides in growing our startup and innovation ecosystem in recent years, we must look towards building an entrenched, thriving, and respected Deep Tech economy. If it is to become the engine of future growth that we want it and need it to be, we need to step up investments into commercialising our rich substrate of research across our IHL's and research institutes in order to extract full economic value and societal impact from it.
Sustaining our Deep Tech momentum
Time and time again, startups continue to prove to be the best transducers of Deep Tech commercialisation. Theirs is the role of a keystone species in an ecosystem – one whose existence is core to the vibrancy and growth of this Deep Tech Economy.
Yet despite their rise in profile, Deep Tech startups continue to face a number of challenges that stand in the way of their full potential, whether it's the need for patient capital or the unequal levels of interest from investors across different areas of Deep Tech.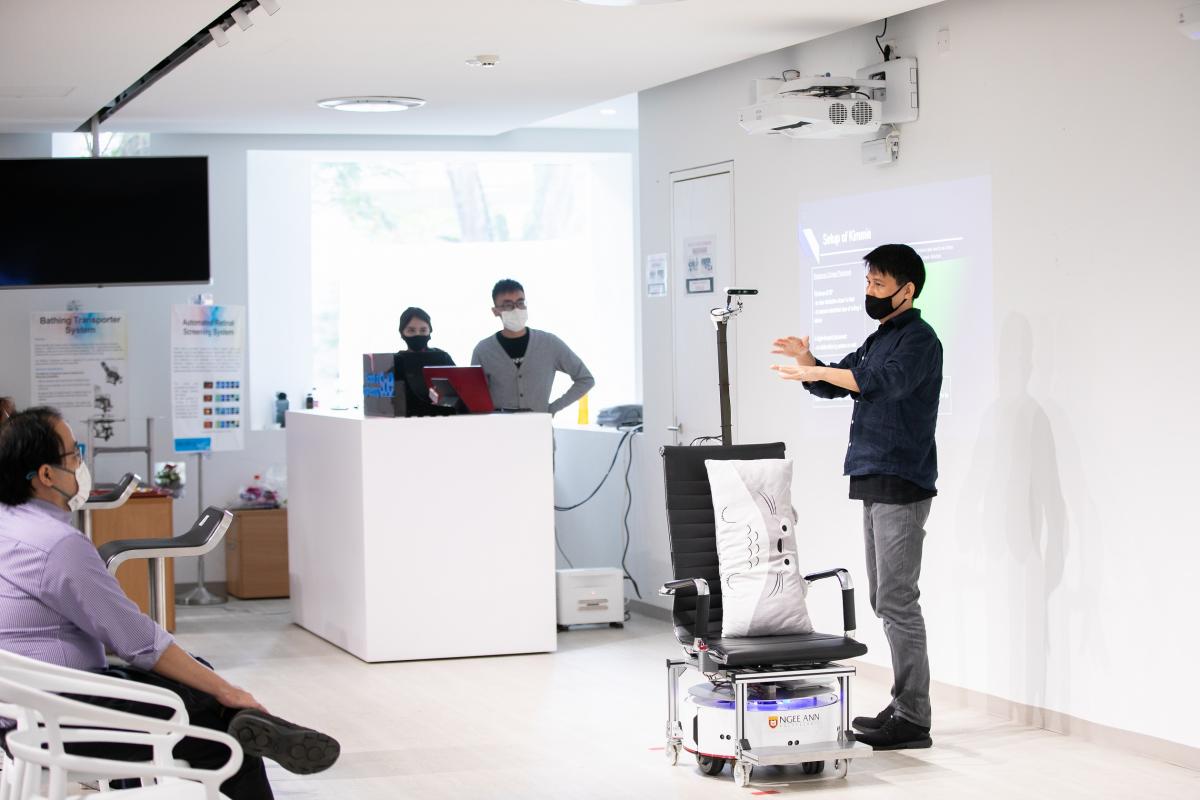 SGInnovate conducts talent development programmes such as Power X, which equip trainees with skills to embark on new careers in Deep Tech through on-the-job training with partner companies.
As a relatively new player, SGInnovate has had the unique opportunity to reimagine how these challenges can be addressed. Together with our partners, we've engineered a 'triple helix' strategy to support Deep Tech innovators – adopting a long-term approach to investing in high-potential emerging technologies, bridging critical talent gaps and building a thriving ecosystem that fuels collaboration and partnership. This integrated network of resources combines the strengths of a strategic fund like SGInnovate, with those of VCs, and other public and private partners, while simultaneously looking at startups' holistic needs beyond funding.
As each partner lends their specific expertise or creates new opportunities for test-bedding and market access, this symbiotic and mutualistic relationship forms the backbone of our Deep Tech economy and offers a fertile ground for research translation and the development of emerging technologies.
Our relationship with Deep Tech will continue to grow and evolve alongside the ecosystem's needs as we dive deeper into its potential to address some of our biggest existential challenges. Only by remaining closely attuned to these needs and collaborating will we be able to help our much-valued startups scale and usher in the Deep Tech economy.
This article was first published to Issue 15 of the National Research Foundation's (NRF) RIE News magazine. Download the full edition of the magazine at the NRF website here.