Back to all blogs
Making The Pivot from Psychology to Cybersecurity
Melissa Chee has a varied career background, ranging from special needs education to running a home baking business. She joined the PowerX Cybersecurity programme in 2022, and is expected to complete her attachment with cyber risk management company Protos Labs in April 2023.
Can you tell us more about your career journey so far? Why did you decide on a role in cybersecurity?
After being an autism educator for four years, I left my job and had the opportunity to go overseas for a while, but I had to come back earlier than expected because of COVID-19. This was a period of uncertainty where I hadn't decided what to do with my career, but I knew that I had to start exploring options. While operating a home-based baking business, I continued to think about my long-term career plans.
All this was happening at a time when most people started working from home, and businesses went online. At the same time, there were also many reports of cyberattacks. Reading and learning about these incidents made me realise that even though technology is useful, it also exposes users to certain vulnerabilities. The importance of cybersecurity became clear to me then. Technology has always been an interesting field to me, but I didn't consider making a career out of it until now.
What were some of the factors you considered when making plans to start a new career?
I heard about PowerX from a classmate in an IBM data science course that I took. One thing that attracted me to the programme was that it included six months of structured training and six months of on-the-job training – this meant that while studying, we would also get to know how an actual company works and apply some of the skills we had learnt.
You may not have any qualifications or work experience in the STEM industry, but there may be transferrable skills from your previous career that will be valuable in a new industry."

Melissa's advice for others hoping to get started in STEM roles
In addition, the programme allows me to learn not just from textbooks or notes – each module includes a hands-on project, so I was able to implement what I was taught. On top of that, our theoretical knowledge is also put to test through a Capstone Project completed over the structured training period.
Tell us more about your role at Protos Labs.
Protos Labs is a cyber risk management company. Our platform takes a threat-based approach to cyber risk management, which means that we allow companies to continuously assess their risk posture, helping them mitigate business risks and optimise resource allocation for their cybersecurity programmes.
I'm a cyber threat analyst on the cyber threat intelligence team. I conduct analysis, research and threat profiling for our projects.
Besides the skills and knowledge I'm picking up through the PowerX programme, my background in psychology has also been very helpful for me in terms of conducting research, and integrating different concepts to form data-driven decisions. For example, when building a threat profile for a company, there are many different sources and types of data – such as the techniques and motivations of a threat actor, and the industries or companies being targeted. We need to integrate the different kinds of data we get from open sources and synthesise them into a coherent narrative. This is where my critical thinking and analytical skills, honed through my studies in psychology come in handy.
What were some uncertainties you faced starting out in a new field and how did you overcome them?
I was worried about not having a STEM background, but the PowerX programme helped to alleviate these challenges. The application process includes a technical assessment, a general reasoning test and an interview where you can talk with the company and understand one another better.
I think this really helps people without a STEM background as the company also looks at the applicant's transferrable skills and potential, not just the results of a technical assessment.
Protos Labs offered to let me start in a part-time role* a month prior to the start of my traineeship as they felt that my critical thinking skills could be applied to existing tasks in the company. During this period, my duties involved conducting open-source research on the global threat landscape to support Protos Labs' cyber risk management platform. This helped me deepen my understanding of cybersecurity, and gave me a head start in the structured learning programme as I already had some familiarity with a few of the concepts taught.
Tell us about your experience as a cyber threat analyst so far.
Once I switched to a full-time role, I was able to take on more responsibilities, and was added to a new project team. Recently, I've also had the opportunity to do some coding, which is a new venture for me. My mentors were willing to let me try it, and the experience was both challenging and exciting.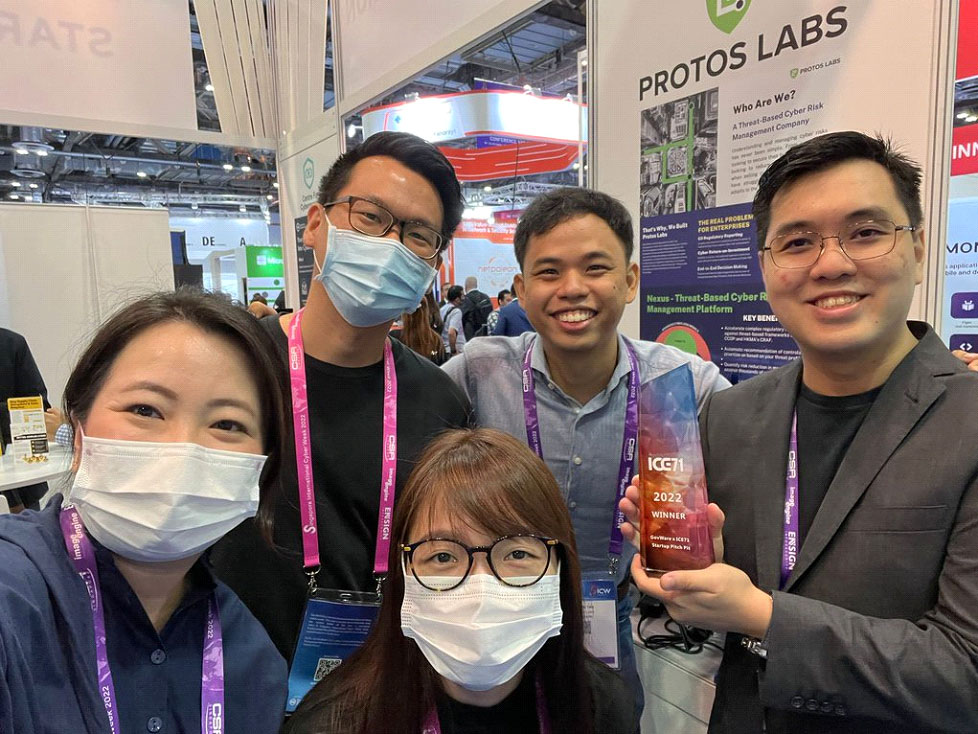 Melissa (front row, centre), with her team at Protos Labs
Working in a startup is definitely very different from what I was doing before. However, I'm glad to have joined this company because my mentors have set up a very open and supportive work culture. They're always happy to share their knowledge about the industry, as well as insights from their own career experience and the different professional pathways available in cybersecurity.
I also appreciate that they encourage us to push boundaries while providing an environment that fosters learning. There are regular check-ins with us for feedback or ideas, and they also provide guidance at appropriate junctures. This means that we can take risks with more confidence, especially with the benefit of advice from the team. Mid-career switchers need to learn faster than those who join an industry earlier, so it helps when there is strong support from the company.
What advice would you give to other professionals looking to switch careers or industries?
There is a quote from the American sitcom The Office that I find very inspiring and apt: "There are always a million reasons not to do something." The character who said it was a manager encouraging her employee to explore new options in her job.
You may not have any qualifications or work experience in the STEM industries, but there may be transferrable skills from your previous career that will be valuable in a new role. Be open to opportunities, and be willing to step out of your comfort zone to try something that sparks your interest.
If you're exploring options for careers in cybersecurity, find out more about the PowerX Cybersecurity programme.
*Part-time working arrangements with a partner company prior to the start of the official traineeship are evaluated on a case-by-case basis, and not a standard feature of the PowerX programme. Such arrangements are subject to considerations such as the trainee's existing skillsets and experience, as well as availability of both trainee and partner company for part-time roles.