Back to all blogs
NASA Space App Hackathon 2017
How to apply a human-centric approach to tackling NASA's Global Space Hackathon challenge.
This article is republished with the permission of the writer, Moses Anderson Ong. The article first appeared on Medium.
This article documents our journey of how we applied a human-centric approach to tackling NASA's Global Space Hackathon challenge, which took place in 187 locations across 69 countries. We're proud to have represented Singapore and emerged as the Global Winner in the category "Galactic Impact", which looked at the solution with the most potential to improve life on earth and/or in the Universe.  
The Hackathon's Challenge Statement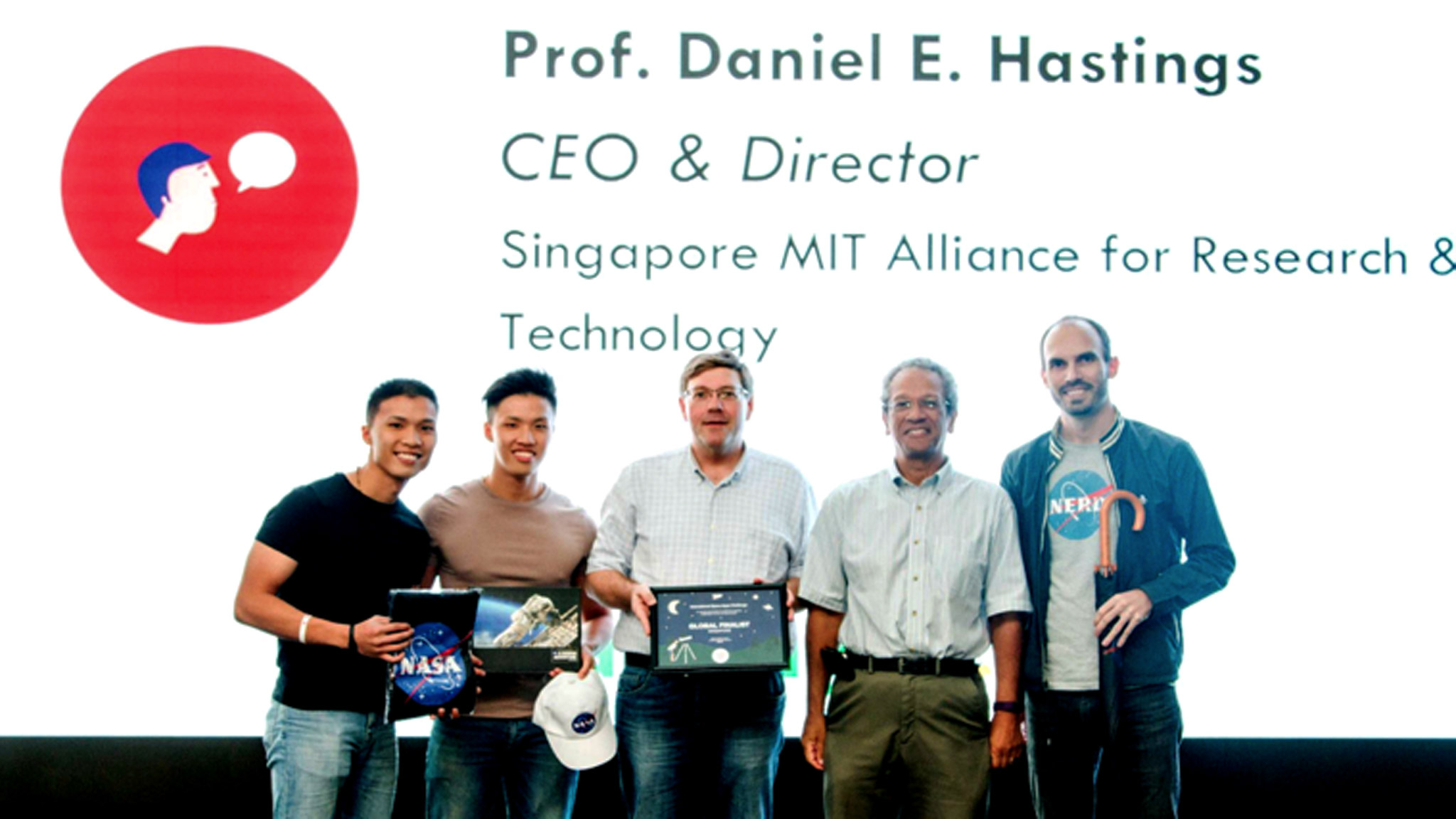 (L-R) Moses Ong, Mark Ong, Martin Sawmill, Prof. Daniel E. Hastings and Harald Battran
To calculate and visualise the radiation exposure for an actual or hypothetical polar, or a near-polar flight
Background
Our earth is constantly bombarded by radiation from our universe, including the sun. The earth's magnetic field deflects much of this radiation, protecting us from harmful effects. However, at the North and South poles, Earth's magnetic field no longer provides shielding, and instead accelerates radiation into the Earth's atmosphere. You may have seen the result of electrons colliding with our atmosphere in the form of the Aurora Borealis (Northern Lights) and Aurora Australis (Southern Lights).
While people on the ground have atmospheric protection, those at a higher altitude are exposed to greater risk of radiation. This is especially relevant to frequent travellers and those serving in the airline industry.
1st Phase: Discovery & Research
First phase of discovery and research
User Interview
We kicked off the project by setting up phone interviews with five participants – four of which are working as cabin crew, and a risk analyst from the airline industry. We wanted to understand users' understanding of radiation exposure. 
Here are some of the interview questions: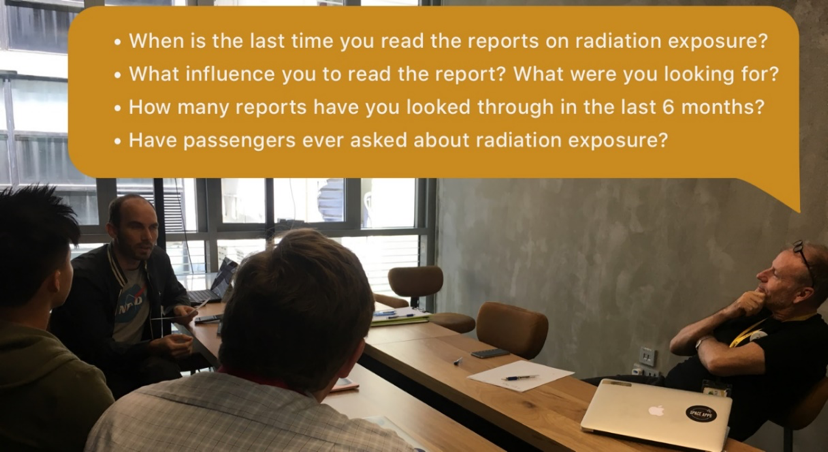 We were on Skype with Martin's aunt, who has been working as a cabin crew for over 30 years
Some of the feedbacks we gathered included:
" There is no way you could understand those reports. They are in alien language"
"On very rare instances will radiation be of concern, hence the airline doesn't place much focus on it"
"Most of us only know that when we hit our action limit (6 micro Sievert), we may need to adjust our rosters" 
Technical Research
The second part of our research focuses on the technical piece, where we extracted data points – from visualising flight paths of radiation exposure to in-flight optimisation chart and solar storm warnings. For the most part, we could not ignore our frustration with the confusing graphs and charts! How is the average layman ever going to find their answers from the below?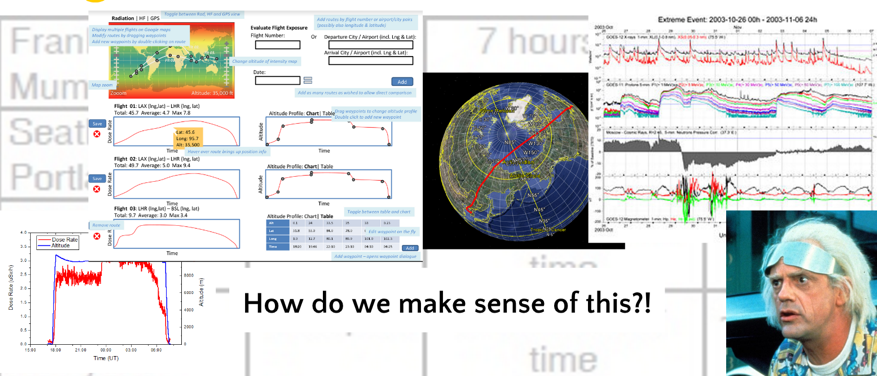 How is the average layman ever going to find their answers?
We decided to take a step back and look at available data, through the perspective of our audience – the frequent travellers. From the data below, the radiation exposure for a flight to the Bahamas was measured at 0.2447mSv. So instinctively, our next question was – what are the tangible consequences as a result?

Sievert System - calculate the cosmic radiation dose received during a flight
2nd Phase: Synthesis & Ideation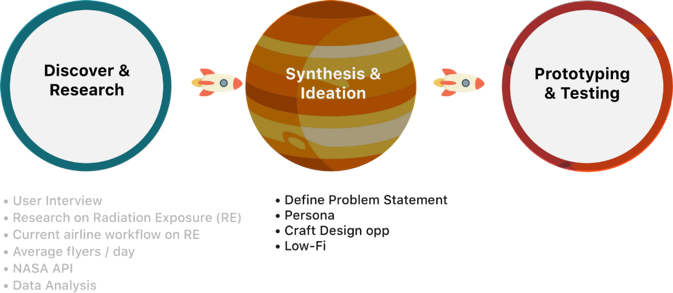 Synthesis & Ideation phase
Insights extracted
This is the stage where we consolidated all our research findings, identified patterns, and consolidated the top insights, included in the table below (arranged in order of importance):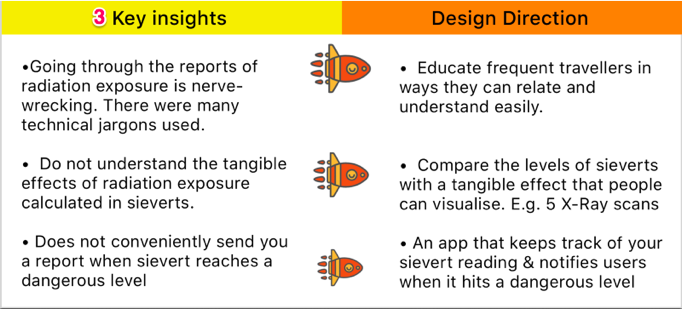 Research Findings
Customer Persona
A second framework we used to validate our users' pain points and frustrations would be the Customer Persona.
Introducing Marrisa Musk
Personas are fictional characters created to collectively represent the goals and behaviours of the users we had interviewed. Putting ourselves in the shoes of our main users, we seek to identify the key issues that were worth solving.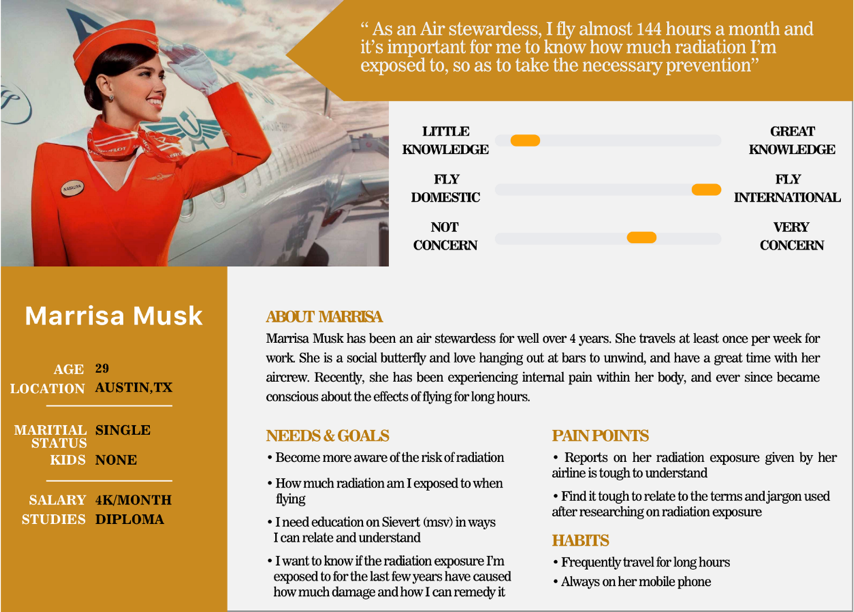 Customer Persona Example
Here are Marrisa's top three concerns:
a. How much radiation has she accumulated over the years, and how could she keep them at a safe level
b. Quantify the amount of dosage of sievert for each flight in ways she can
understand
c. Be educated on the risk of radiation exposure in simpler language
User's Journey
The last framework we did was to map out the entire journey of how Marrisa Musk goes about understanding what is radiation exposure. This contextual enquiry helps us to understand her thought processes, her feelings, and explore potential solutions to resolve those frustrations.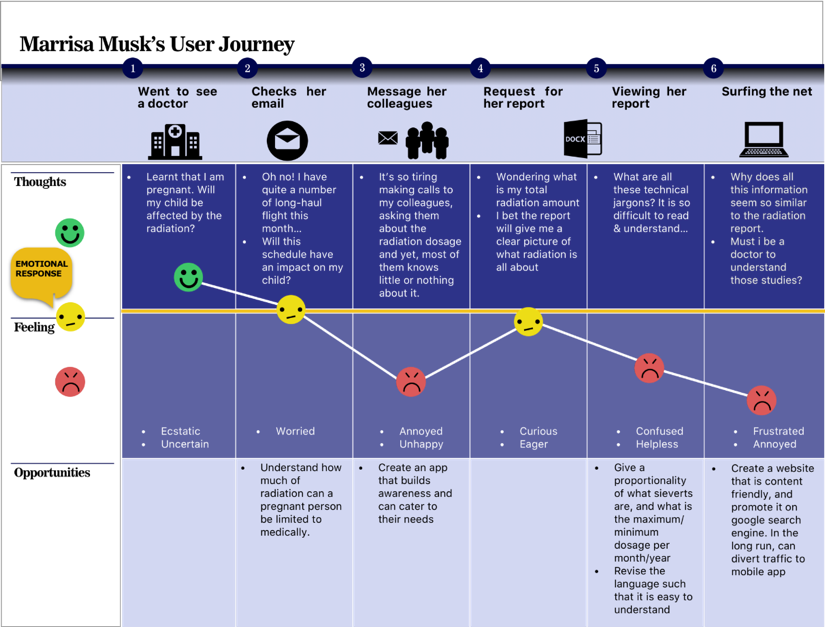 Marrisa's User Journey
3rd Phase: Ideating & Prototyping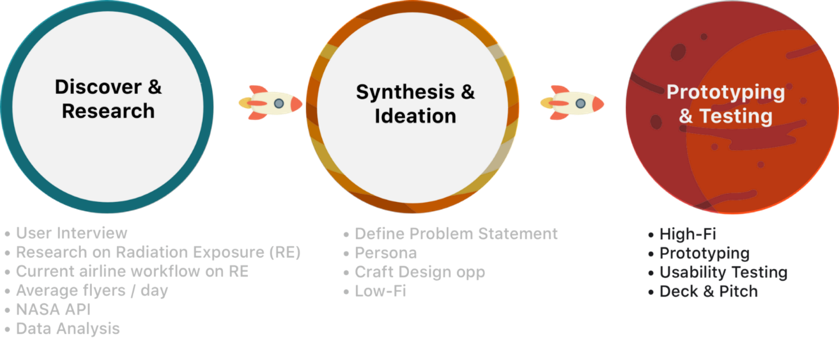 Prototyping & Testing Phase
With all the insights and design opportunities gathered, we pieced the puzzle together by translating them into sketches and wireframes.
Sketches

Sketching Low-Fi prototype and wireframing (Our teammates Mark & Harold)
User flow
This is especially useful when it comes to understanding how a user interact with our app, and the decisions they have to make to complete a task.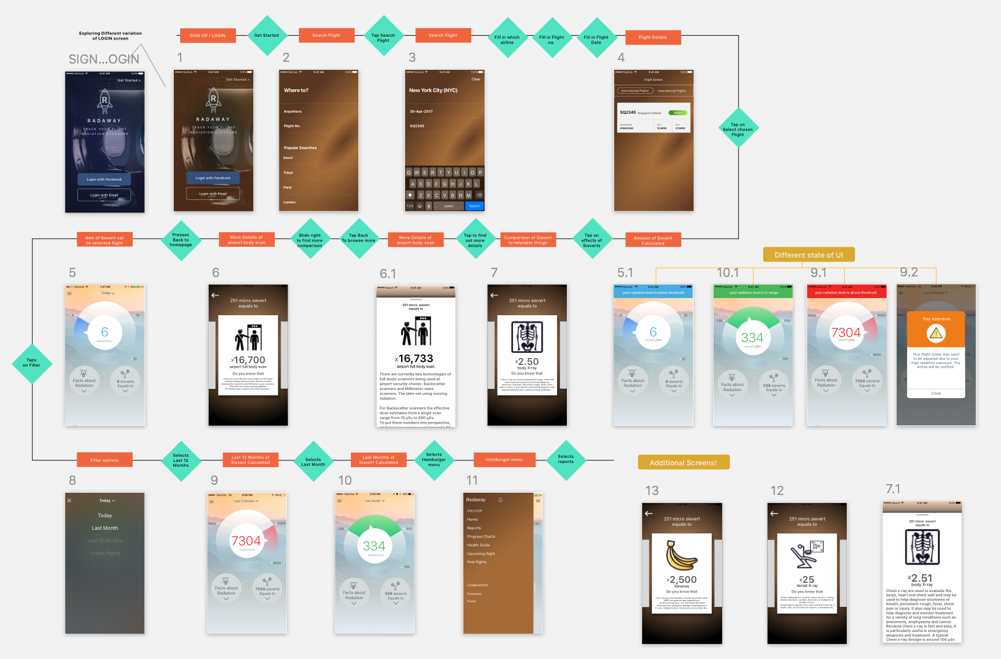 User Flow of the Radaway App
Rapid Prototyping
We went through multiple iterations before delivering the final prototype. We started off with a low-fidelity prototype, and then moved on to a high-fidelity prototype with usability testing included.
Our Pitch
I would like to be brutally honest with you about the unforgettable experience during our pitch and the whole award ceremony.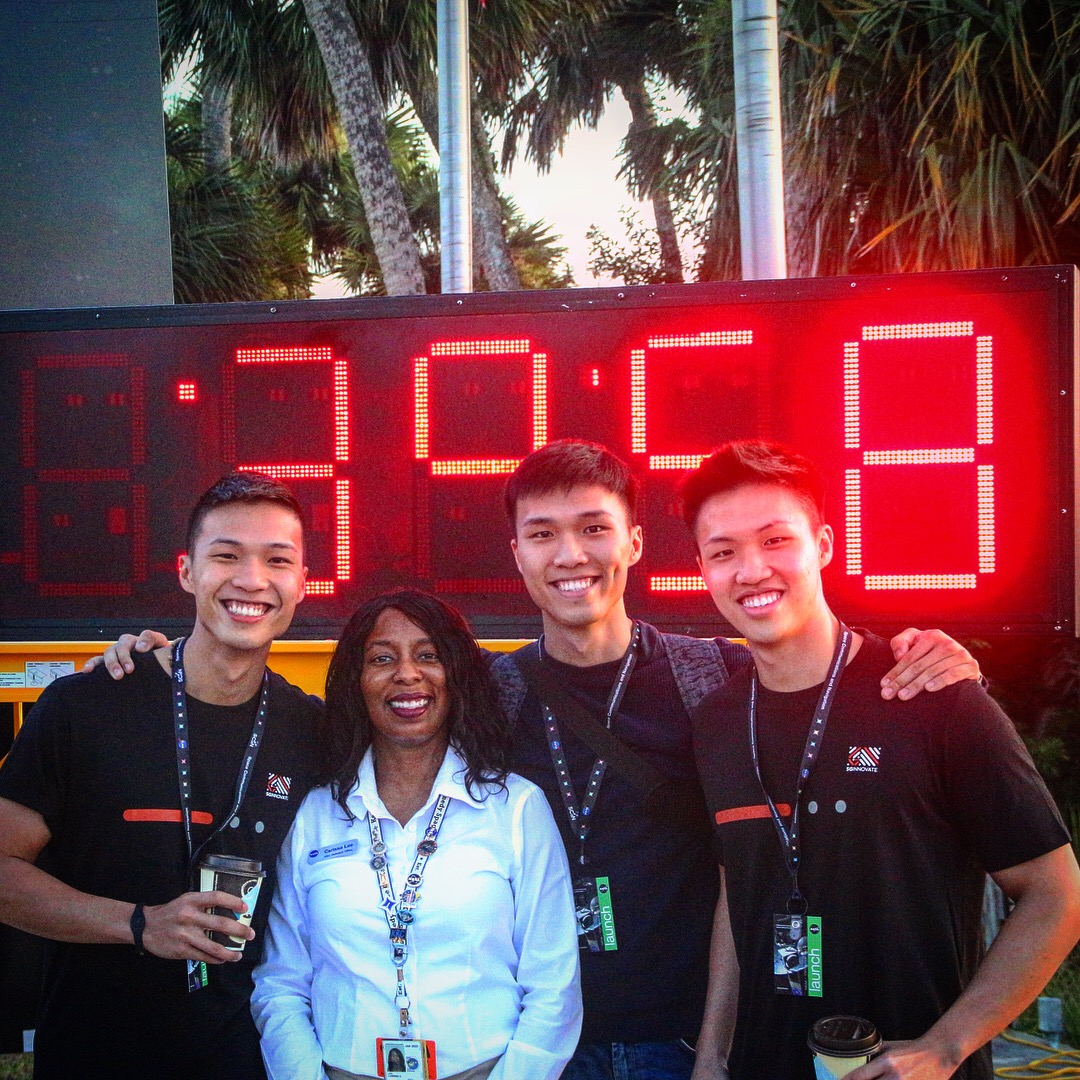 "It's Radawayyyyyyy!!"
We did not pitch as well as we wanted to. We missed a few important points and the crux of our idea wasn't well-delivered. I remembered our team just heading back to our seats in despair. On the other hand, we could see the confidence in other teams as they looked forward to hearing the results. 
The drama unfolded when the judge was about to announce the winning team. 
We felt really defeated and were all ready to cheer for the winning team, and then the winners were announced – not just once, but twice. Immediately, Harold turned his head to face us and with a puzzled look, he said, "Radaway???". He then stood up, and screamed, "It's Radawayyyyyyy!!"
It was a very surreal moment for all of us as we ran up to collect our prizes. 
As we reflected on why we were chosen, we realised that what really set us apart from the other teams was our central focus on people.
We would like to express our heartfelt gratitude to the team at SGInnovate who stood by us and supported us in our efforts. 
It is truly a once in a lifetime experience to be given the rare privilege to be so close to the launch of NASA's TDRS-M satellite, and visiting the city that lives within the perimeters of the NASA Space Exploration Ground. 
One of the key takeaways from my trip is the fact it didn't matter to the space explorer how dangerous a mission is, for they live in the name of exploration and that is what makes us humans. We're made to explore.
Looking back…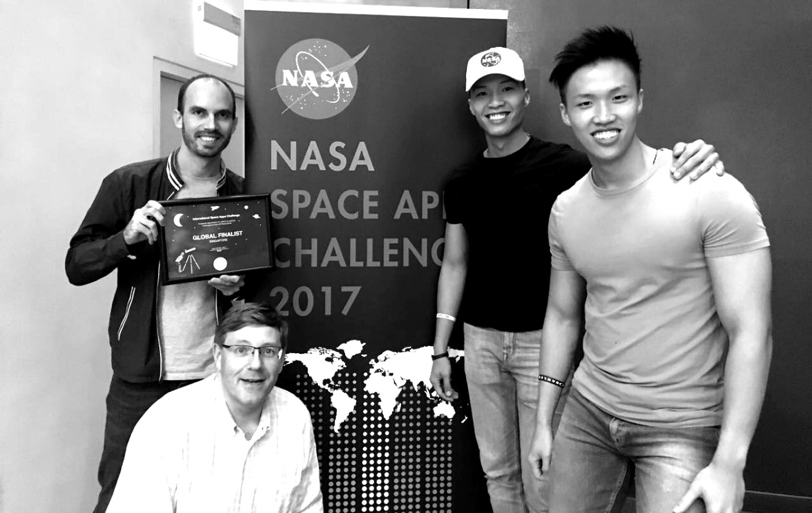 (from left) Martin Sawmill, Harald Battran, Moses Ong, and Mark Ong
I'm humbled to have met great people like Martin Sawmill, Harald Battran, Roger lles and Mark at the NASA Hackathon. Although we've only worked together for a mere two weeks, we had a lot of fun, and I'm sure we have all returned with many great lessons learned, and more importantly, a deep sense of fulfilment.
TEAM RADAWAY!!