Back to all blogs
The role of CDMOs in supporting Singapore's MedTech startup landscape
The path-to-market for medical technology startups can be a long and challenging one. In a conversation with Willy Koh, CEO, Racer Technology and leader of the Singapore MedTech Consortium (SMC), we take a closer look at how emerging medical technology businesses in Singapore can find help navigating this journey by connecting with contract development and manufacturing organisations (CDMO).
---
Medical technology (MedTech) is one of Singapore's fastest-growing industries. The sector contributed over S$15 billion to the country's economy in 2020, up from S$2.4 billion in 2005.
Experts also predict that MedTech's momentum will continue to gather speed. With governments everywhere facing the pressures of rising healthcare costs, ageing populations and the increasing prevalence of chronic diseases, demand is growing for innovative solutions to provide safer, more efficient healthcare at more affordable costs.
However, MedTech firms can face major hurdles on their journey to success. Challenges include much longer research and development (R&D) gestation periods compared to other technology companies. A new drug or medical device can also take months or even years to go through the rigorous qualification and validation processes linked to achieving certification. That can mean a relatively long horizon to profitability, with plenty of development expenses incurred along the way.
"This is where partnering with a specialised CDMO can help," says Willy Koh, CEO, Racer Technology and leader of the Singapore MedTech Consortium (SMC). "These companies can provide equipment and expertise that a MedTech firm may not have in-house, such as the procedures and protocols required to have products certified quickly. That way, they can gain the support they need to accelerate product development and reach their goals more efficiently and economically."
Helping to bring products to market faster
By integrating development and manufacturing services – and performing many steps under one roof – partnering with a CDMO could help MedTech companies reduce the time it takes to get a product to the market.
"CDMOs can support companies looking to outsource just one or two steps in the process, or they can act as full-scale co-creators – from providing assistance with conceptualisation to support in development and design to ensure the product is manufacturable in a cost-effective way," says Mr Koh. "Some may even become an investor in the product."
The business benefits of working with a highly experienced partner can be considerable, given the wide-ranging and often highly specialised fields of knowledge that are required to develop MedTech products. For example, CDMOs can help companies navigate the complex drug development frameworks required by regulatory bodies such as the Food and Drug Administration (FDA) in the US and equivalent bodies in Western Europe.
"Partnering with a CDMO can help ensure clean data sets and stronger regulatory submissions," Mr Koh says. "That can help satisfy regulatory bodies' questions and ensure faster clearance or approval times. Ultimately, this means a shorter time to market and a shorter time to revenue."
Reducing costs and building expertise
CDMOs can provide help at any time during the development process. "Some companies might prefer to keep parts of the development work in-house, such as proprietary data in the form of a master chip or reagent formulation. Security protocols can play a role here," says Mr Koh.
However, he believes the risks involved with changing a process late in development should drive engagement with a CDMO early on. That can ensure substantial savings on expenditures such as specialised lab equipment, facilities and personnel with the relevant expertise.
"In my experience, partnering from the prototyping stage onwards can be especially beneficial. An experienced CDMO will ask the right questions and help tailor a company's efforts so that testing, identifying flaws, learning and rebuilding can take place more efficiently. That way, a prototype can be reviewed, streamlined, and have areas of improvement identified, before it's made ready for mass production."
A robust CDMO ecosystem accelerating MedTech business growth
Singapore's CDMO ecosystem has been spurring MedTech innovation since 2003. That's when Enterprise Singapore – then known as SPRING Singapore – encouraged Racer Technology to mentor a handful of MedTech startups and help them boost their manufacturing capabilities.
Realising that many startups had little understanding of the manufacturing process, Mr Koh and his team of engineers then spearheaded the formation of the SMC in 2008. "Today, as a consortium of close to 85 leading manufacturers, distributors and venture capitalists, we're able to provide end-to-end manufacturing solutions in areas including in-vitro diagnostics, wearables and life science tool consumables," he reports.
"As well as offering CDMO services, we also help MedTech firms forge new connections with angel investors and venture capitalists to grow their business." Mr Koh points out that robust support for the MedTech industry also comes from government funding, academic expertise and collaboration opportunities with healthcare institutions.
"For example, hospitals within Singapore's three public healthcare clusters may offer partnerships to local startups. These can enable them to test out their products in a clinical setting, among other things," he says.
Nurturing commercially successful solutions
Partnerships between CDMOs and startups have yielded many examples of success. Among Racer Technology's many CDMO partnerships is one with Clearbridge Health, a precision medicine firm with products including drug tests and hereditary cancer diagnostics tools.
Working closely together, Racer helped the Singapore-based firm build an innovative cancer cell retrieval system, which is able to separate and enrich wholly intact and viable circulating tumour cells from small amounts of blood.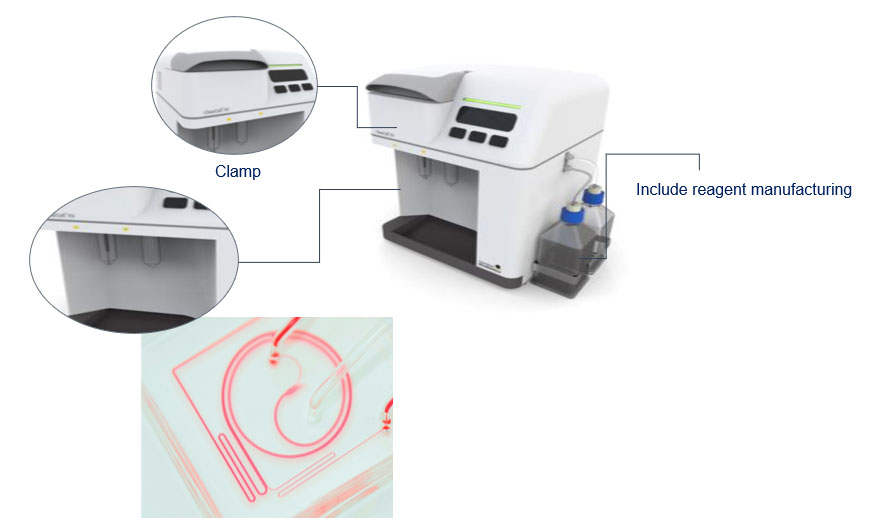 A prototype of the cancer cell retrieval system, which Racer and Clearbridge Health worked together to build
"We supported Clearbridge in their efforts to translate promising laboratory research into a successful commercial product, providing our expertise on steps including developing a microfluidic chip, building a workable prototype, then undertaking a redesign for mass production. We also invested in the company," says Mr Koh. Building on that early milestone, Clearbridge has greatly expanded its portfolio and capabilities. Today, it's a listed company with a network of medical centres, clinics and labs across Asia.
Vivo Surgical, a surgical technology and robotics manufacturer, also benefited from such a partnership. Racer helped the firm to build the Klaro, a device that solves key lighting challenges in operating theatres, such as the need to provide a clear view of deep surgical cavities.
"We helped Vivo create a working prototype," says Mr Koh. "We also helped it market the product, which included taking it to exhibitions and trade fairs in Europe. That worked very well and helped the company secure more larger orders.

A prototype of the Klaro, which solves key lighting challenges in operating theatres
Other outstanding innovators that Racer has helped mentor include Biorithm, a producer of advanced pregnancy care solutions, and Biofourmis, which specialises in personalised predictive care, including wearables.
How to evaluate a potential CDMO partner
For companies seeking to emulate these successes, what should they look for in a CDMO partner?
"Make sure they have the capabilities and experience to support you across the development spectrum, as well as production. For example, a good CDMO should be able to help with prototyping and the design stage," advises Mr Koh. In his view, the ability to advise on regulatory submissions is also key, as is a proven ability to keep costs and timelines in check.
"Also ensure that there is a capability for high-mix, low-volume production, not just mass runs. If a firm simply wants a small, one-off batch of a product for a clinical trial, for example, can the CDMO cater for that?"
Most importantly, evaluate how well the CDMO fits with your organisation. Mr Koh puts it this way: "Do they offer a collaborative approach that has your best interests at heart? Can they help you step up your commercial capabilities so you can look ahead and plan for future needs? Ideally, you want the partnership to leave you well positioned to embrace the next wave of growth for your company – both in Asia and across the world."
Learn more about how MedTech startups in Singapore can accelerate their development journeys at SGInnovate's Community events.