Back to all blogs
Careers in Deep Tech: Making my mark in robotics and automation
A tinkerer and builder at heart, Brenda Woo loves creating things from scratch. She is now translating her passion into robotics and carving out a career in the industry. She graduated in 2020 with a Bachelor's of Engineering in Mechanical Design and Manufacturing Engineering, and now works as a Manufacturing Engineer at Flex.
---
What sparked your interest in bioengineering, and later, mechanical design?
I have always been interested in finding out how things are conceptualised and constructed, which made engineering a natural progression. I also took triple science for my O levels, so I was wondering how I could best combine biology, which I enjoyed, and my interest in physics; leading me to pursue a diploma in bioengineering.
Later, I became increasingly drawn to mechanical design — wanting to understand how systems run and analyse the data from these processes. My interest in biology dipped as I went through my college years, but I continued to enjoy figuring out how things work, including building models using Lego bricks and all sorts of figurines. This was where mechanical design came in.
What first drew you to robotics?
My undergraduate course was anchored in mechanical design and manufacturing, while also incorporating automation. This — together with several science fiction movies — sparked my fascination with robots. I recognised that robotics would be the way of the future, so I wanted to be part of that and get my foot in the industry.
Tell us more about how you transitioned from an intern to a full-time mechanical engineering role!
During my course, the curriculum required me to complete an internship followed by a capstone project. Because the project at SESTO Robotics, a provider of Autonomous Mobile Robots (AMR), was a design project, and the scope was relevant to my degree, I was able to combine my internship work with my capstone project as well.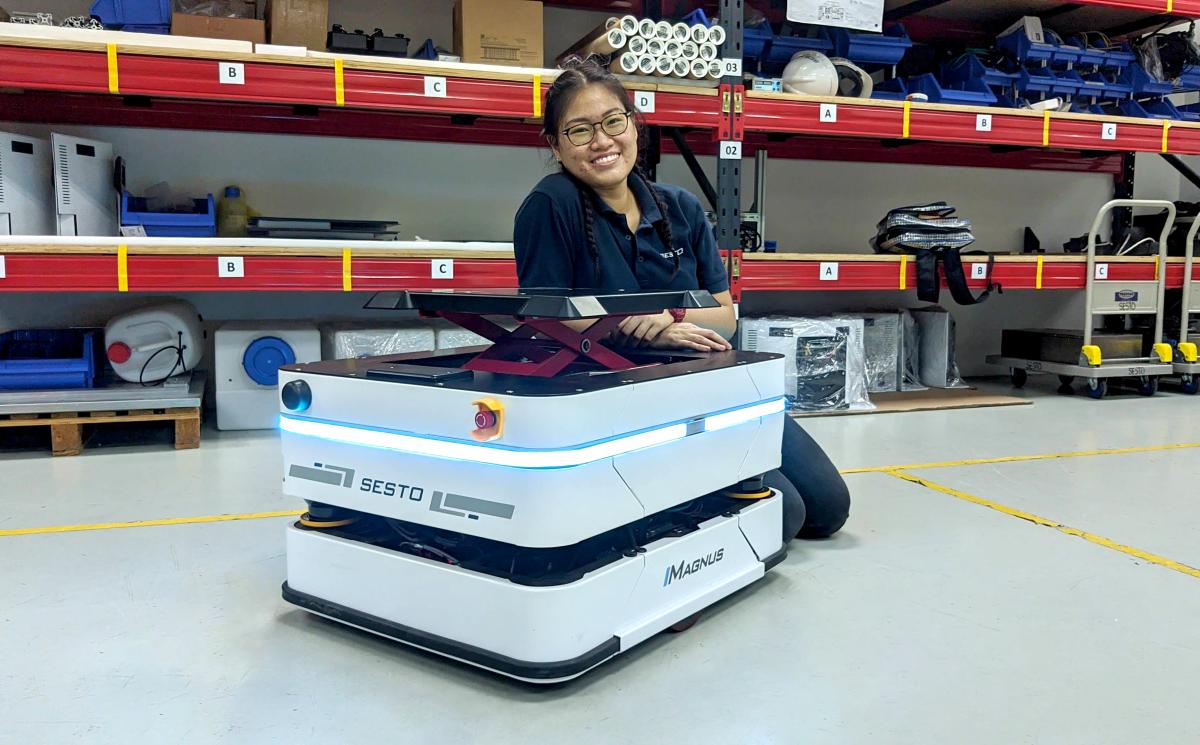 Brenda with the SESTO Magnus, the company's autonomous mobile robot aimed at the manufacturing and healthcare industries.
Towards the end of my capstone project, the COVID-19 pandemic hit, and the government put out various apprenticeship job listings. My then direct supervisor told me about an opening and asked if I would be interested in joining the team. I agreed because I wanted to continue working on AMRs, and after 11 months of apprenticeship, I secured a permanent role as a mechanical engineer.
Based on your experience so far, why is robotics so important?
Robotics is part of the bigger shift towards automation which has the potential to transform different industries from manufacturing and semiconductors to pharmaceuticals. It is highly versatile, and even a little innovation can go a long way.
Pursuing a career in tech is not for the faint-hearted, but it is doable. It takes a lot of hard work; it requires the ability to grasp concepts quickly and apply them in developing practical solutions.

Brenda Woo, Manufacturing Engineer, Flex
Not a lot of companies have really embraced automation. Industrial operations in Singapore, especially the manufacturing side, still rely on manual systems that may not be so smart or fully intuitive. While many companies still focus on how to do things faster manually, but instead we should ask, "How we can make machines work for us?" We need to look at how we can work with robots and understand how such technologies can positively change the workplace such as improving services for customers or increasing productivity.
What have been some of the interesting projects you've worked on so far? Has the journey been what you expected?
I did a lot of hands-on work when I started out as an intern. This was very beneficial for developing my skills because it was not something we got to do in university. I made many frames for testing so we could easily install and try out different components as we worked to improve our robots. I then moved on from basic parts like building jigs to focusing on developing and upgrading specific features of the robot, such as performing docking tests.
While working on these projects, I also often shift between different tasks — from computer-aided design to outfield testing. When I am in the zone of designing, I may not realise that I have messed up certain aspects. It's only when I perform hands-on testing or other parts arrive that I would see the design come to life and realise there are other things that should have been considered. It is a very iterative process—a cycle from conceptualising and designing to fabricating and putting everything together. After assembling and testing the robot, we look at how we can improve the next cycle, so development always takes time.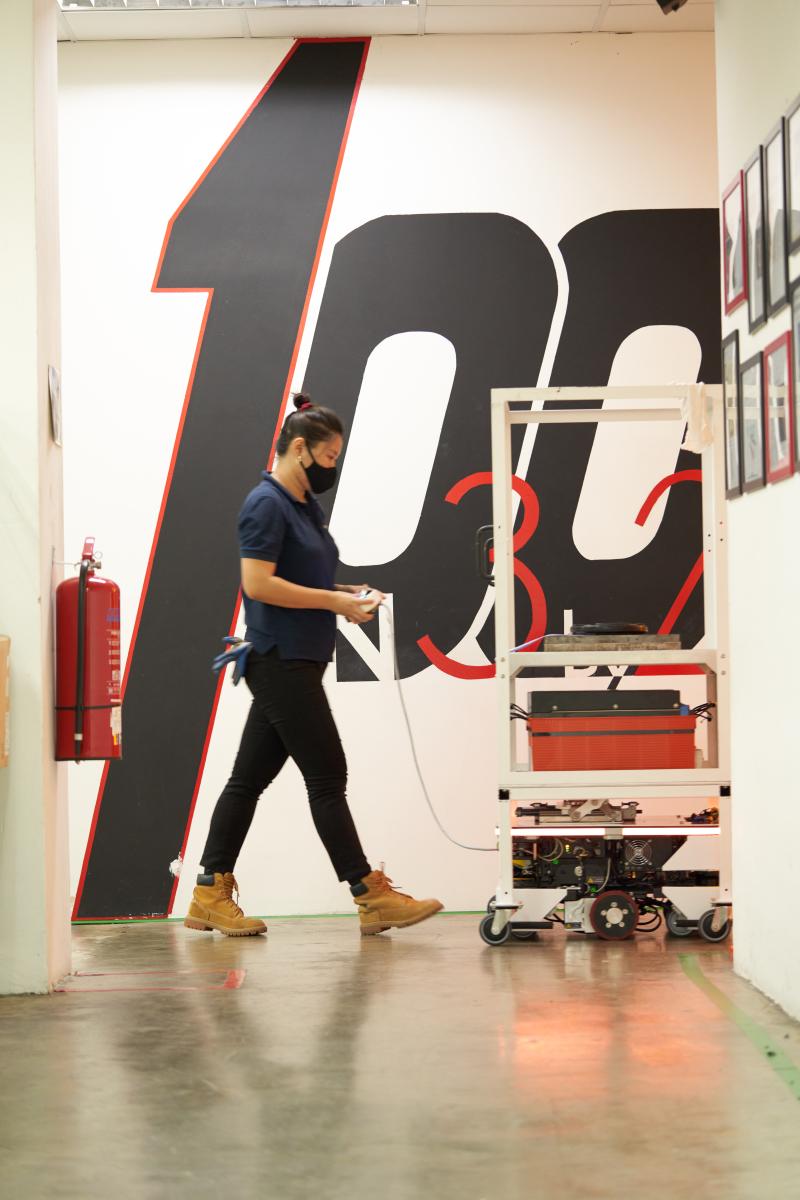 A member of the SESTO team conducting a Magnus test run.
Having embarked on my current role as a manufacturing engineer at Flex, I am looking forward to opportunities where robotics can be applied in the manufacturing sector while ensuring that the production lines run smoothly. This has been quite a shift from my design and R&D work at SESTO and I look forward to the joys and challenges ahead.
How can we better support people, especially women, to thrive in the tech sector? Can you share any advice to women looking to pursue an engineering career?
Pursuing a career in tech is not for the faint-hearted, but it is doable. It takes a lot of hard work; it requires the ability to grasp concepts quickly and apply them in developing practical solutions. One factor that has helped me as a woman in engineering is being outspoken. When it comes to voicing out ideas or critiquing certain things, I would not be afraid to speak my mind.
It is also not easy to find other females in tech or engineering fields. My class of 70 people only had 11 females. When you find women that you can stand with, it is very important to be there emotionally for them, and they will be there for you as well. It is also helpful to hear another female tell me that I can do it or that I do not have to worry because the difficulties will be over soon. That kind of encouragement means a lot.
Beyond women supporting women, it is also important to have the men support women. My supervisors at SESTO were very encouraging. I was the only female mechanical engineer for some time. When I faced a certain issue, my male supervisor was very supportive about what I was going through. It is important to have these open conversations in the workplace and create a support system for everyone to succeed.
Want to build a career in robotics? Join SGInnovate's talent programmes and equip yourself with the essential skillsets to embark on this profession.