Back to all blogs
Summation Soundbites: Combining an accounting background with computer vision engineering
A conversation with Tan Yi Geng, who tells us more about his experience making the switch from a background in accounting to a tech role at Deep Tech startup Eureka Robotics through the Summation programme.
Q: Tell us more about yourself and what you did at Eureka Robotics.
At Eureka Robotics, my responsibilities included building and improving Eureka Robotics' training and deployment pipeline, and working on projects relating to computer vision, like one that involved using structured light to reconstruct 3D objects from 2D images.
I also helped to develop a native application used to train classification, detection and segmentation models. These models are then fed as part of the inputs to Eureka Robotics' controller, which ultimately decides how the robotic arm should move to pick items like lenses or gears, etc.
Q: What about computing attracted you, and how did you end up getting involved in computer science?
When I was studying accountancy, we did some basic programming in Excel, and I found it very intellectually stimulating to automate processes to solve problems and to do in half a second what a manual process would take an hour to do. I really enjoyed writing code and seeing the impact of that code.
Hence, after completing my Accountancy degree, I decided to do a Masters of Computing at the National University of Singapore (NUS). That was when I had the opportunity to become an apprentice through the Summation programme, and I took on a six-month apprenticeship at Eureka Robotics.
When it came to choosing an area of technology focus for the programme, I wanted to stay away from fields I was already familiar with, such as FinTech or data science. Instead, I decided to focus on artificial intelligence and computer vision, as they are up-and-coming fields.
Q: Did you face any friction or challenges when transitioning from accountancy to computing?
When I first joined the computer science programme, it did feel like I was thrown into the deep end, as there are so many different computing languages and areas of focus. I didn't know where to begin. Thankfully, some friends in the field gave me a couple of pointers to get started.
Later on, as I was searching for an internship, it felt like most companies were looking for someone with more years of experience in coding or computer science. At the start of the apprenticeship, I technically had only six months of computing experience as I was about mid-way through the Masters of Computing course.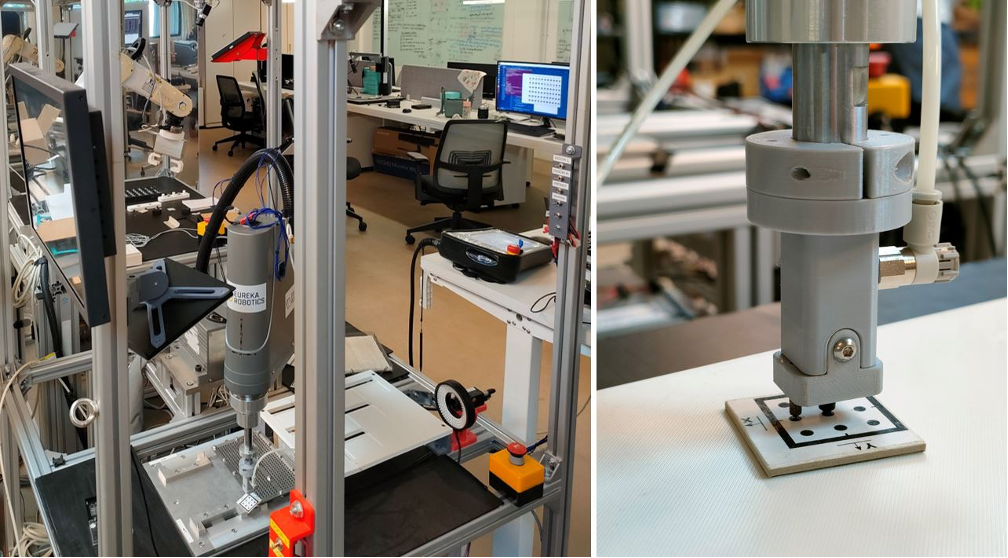 Thankfully, the work at Eureka Robotics allowed me to tap on skills I had been expanding on. They code primarily using Python (which I find is one of the easier programming languages for beginners), allowing me to get started quickly. Working there also provided insights into how Machine Learning is used practically, which was different from the YouTube courses I had been viewing. The internship with Eureka Robotics boosted my confidence a lot as it showed that I could do what was expected of me.
One good thing about this field is that even without the 'standard' paper qualifications, you can still match your abilities up to what's required for the work by putting in the effort to read up and learn in your own time.
Q: What helped you in your transition from accounting to technology?
Hearing about the experience from friends who studied computer science helped put me at ease. I also came across a past radio interview with another Summation alumna, Ong Wei Ching. She interned at Holmusk, an AI startup, and took on technical roles even though she was a social science student at university then. Hearing about how she transitioned from a non-technical background to data science gave me the confidence to take the step too.
Q: Has your experience in business school made a difference as you take on a tech role?
Having past training from a very different field has been helpful for me at a company like Eureka Robotics, as my business background has taught me to consider the end-user or customer needs when programming, instead of leaving technical handling and know-how to the end user, which may make the user experience a complex and difficult one.
Being able to bring different perspectives to a small team also gave me the opportunity to drive additional value at a startup.
Q: What else are you working on at the moment?
I'm working on some personal projects, and getting hands-on with mobile app development. I'm also learning about Spring, a framework that greatly helps with building Java applications. For instance, it allows me to spin up a basic website with connected databases and security features much more easily and quickly than when I use Vanilla Java. Because computing and its applications change so quickly, I believe it's important to keep yourself updated and make sure you're always up-to-date with the latest developments, tools, and platforms.
Q: What drew you to the Summation Programme, and how has the experience been?
Summation is clearly different from other internships or jobs I've applied for. It has exciting projects and the detailed job descriptions on the Summation website make it obvious what each company offers. Additionally, the clear insights into what others have experienced convinced me to join the programme.
The whole experience has been a real boost to my confidence. In particular, the mentorship aspect was very important to me, and I really enjoyed my time there as I learned so much from everyone at Eureka Robotics. They are super smart, and were excellent mentors who were way more skilled and experienced than me.
Q: Any lessons to share regarding Summation?
We need not be afraid to ask questions. Of course, ensure that you have done your research beforehand to have a more focused idea of what you want to ask, and perhaps even have the ability to contribute to a discussion too – after all, no one knows everything!  I would recommend an internship at a startup, as they are smaller and will allow your voice and opinions to be heard while providing you with the breadth of experience.
Are you looking for an apprenticeship that will give you real-world experience with fast-growing Deep Tech startups? Learn more about how you can kickstart a career in Deep Tech with SGInnovate's Summation programme.