Back to all blogs
Decoding talent challenges in Singapore's biotech sector
SGInnovate's latest whitepaper, Bridging the Talent Gaps in Singapore's Biotech Sector, outlines the current and future growth trajectory of the industry, and the talent challenges facing companies in this sector. In this preview, we uncover how these hurdles have arisen and the opportunities to close the talent gap.
Singapore's biotech sector is on the rise. According to life sciences digital platform BioSpace, the global biotechnology market size is expected to balloon from US$852.88 billion in 2020 to US$3.44 trillion by 2030. Mirroring worldwide trends, local biomedical companies raised a record US$600 million in funding from January to September 2021, a significant uptick from the year before.
As a leading research hub in close proximity to major Asian markets, Singapore also provides an ideal spot for companies to further their research and development (R&D), as well as manufacturing and commercial capabilities. This complements an already thriving startup ecosystem that invites different stakeholders to collaborate and innovate.
However, of the five key elements making up Singapore's biotech ecosystem – talent, therapeutic assets, infrastructure, technology and funding – the human resource is in short supply.
In SGInnovate's latest whitepaper on the talent challenges facing the biotech sector, we highlight how talent challenges may affect continued growth of the ecosystem, and the strategies that stakeholders in the community can adopt to navigate these difficulties.
Navigating the talent conundrum
To keep Singapore's biotech sector growing, talent shortages at different levels must be addressed. The priority is to create a cycle that powers the active, ongoing development of junior, mid-level and senior talent to help grow the ecosystem.
In Singapore, while talent shortages are expected across all levels, the gap is predicted to be most acute at the senior, C-suite level.
Qualified talent from universities helps to fill junior- and mid-level positions in biotech startups; mid-level managers can train newcomers in the relevant competencies. In contrast, getting qualified people to helm roles at the C-suite level is considerably more difficult, as these openings require experienced individuals who combine deep scientific expertise with an understanding of commercial needs, in areas such as fundraising and business strategy.
At the same time, this level also faces a more severe 'brain drain'. Industry experts have noted that when a biotech company is thriving, people in junior and mid-level roles will more likely remain. Professionals in senior roles, however, often will move on to take up positions in larger biotech companies after gaining enough experience – a common career move that has been similarly observed elsewhere in the United States and Europe.
On a global level, the proliferation of more biotech startups worldwide also means that the competition for talent is further intensifying.
With talent gaps riddling the biotech landscape, Singapore has begun to form initiatives to address these challenges.
Opportunities to close the talent gap
As the public and private sectors continue their support for biotech startup ecosystem growth, more opportunities are opening up for researchers to gain experience in the industry, especially at the junior-level. There are also training programmes designed to facilitate junior level training, such as A*STAR's T-Up Programme.
For mid-level managers, biotech firms can help them advance in their careers through platforms that help broaden their range of experience and perspectives. For example, companies with dual campuses can enable internal swaps and allow talent to relocate on a short-term basis to a different biotech ecosystem that the organisation also operates in.
The whitepaper also noted several other types of training schemes for managers. Suggestions included programmes that provide an alternative progression track for professionals in related industries like the pharmaceutical and agribioscience sectors. Meanwhile, those with PhD and post-doctoral qualifications can enter cross-industry programmes in academic institutions to work on long-term biotech industry projects and develop their field experience.
At the top level, C-suite professionals require a strong grasp of commercialisation and funding issues, and can gain critical experience through different advisory and fellowship options. Key initiatives that ecosystem stakeholders can implement include the creation of advisory networks that have strong ties with venture capital firms and other investors.
In addition, the whitepaper also highlighted opportunities to build community platforms that provide further support for senior-level executives. This can provide less experienced chief executives with the necessary exposure to develop professional connections, which is essential to company-building tasks such as building a suitable board of directors with the right expertise.
Working together to support ecosystem growth
The potential uplift for the biotech sector when developing solutions around building talent goes beyond mitigating hiring challenges. Designing pipelines for high-calibre talent, and fostering a positive environment for their growth, is critical to ensuring long-term success of companies in this industry.
These goals to alleviate Singapore's biotech talent challenge can only be reached if ecosystem stakeholders collaborate to overcome barriers to implementation. By pre-emptively directing public sector resources to achieve its biotech aspirations, Singapore can expand its repertoire as a hub in the Asia-Pacific region.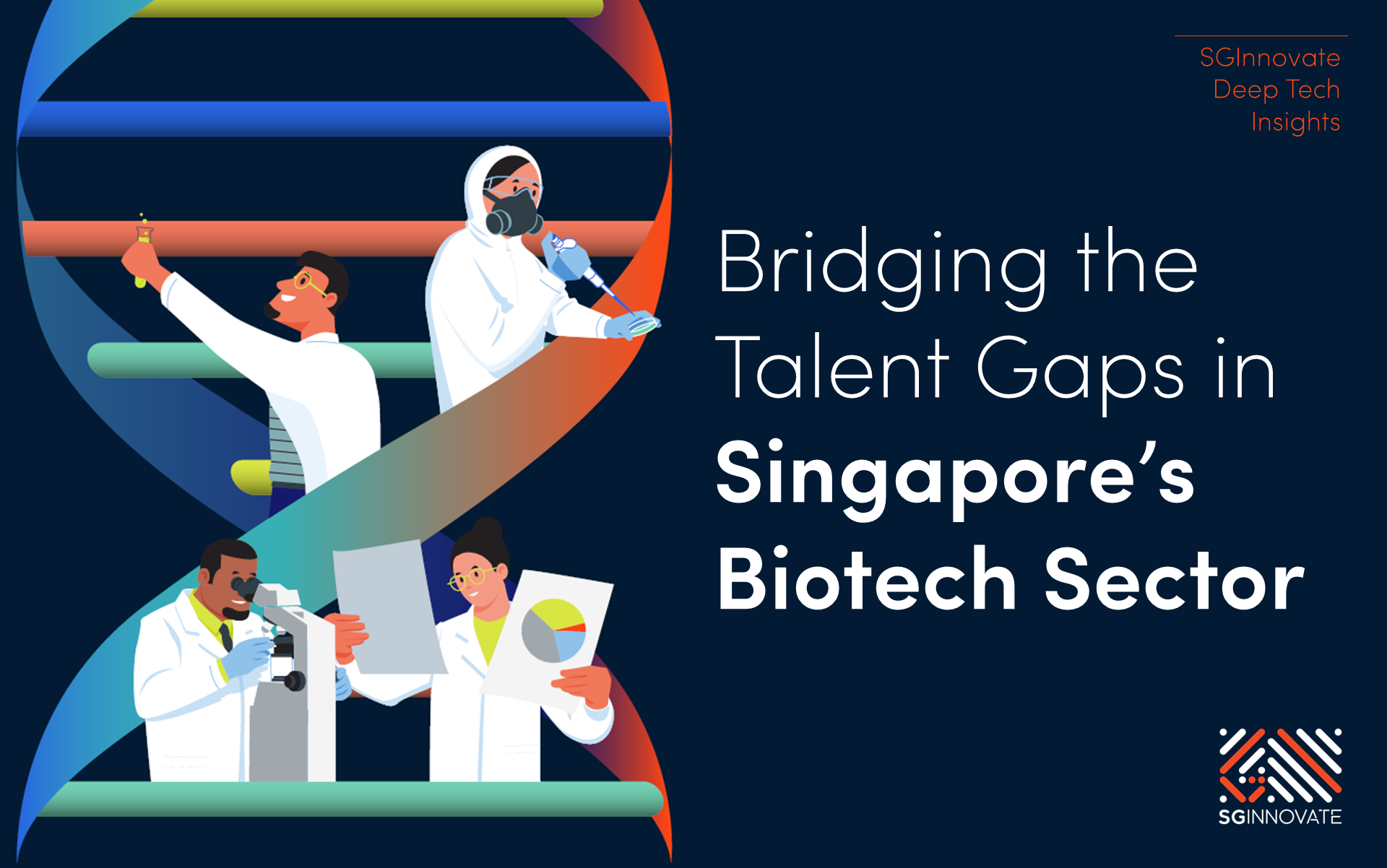 Download Bridging the Talent Gaps in Singapore's Biotech Sector to get more insights on Singapore's biotech landscape, key challenges faced and how companies are working to address the talent shortage.